A poetic story of one woman's love of the sea and her work protecting marine life
A poetic story of one woman's love of the sea and her work protecting marine life
---
Review by Charlie Connelly
The current popularity of 'nature writing' – or, more accurately, landscape-related memoir – has produced a glut of titles of inevitably variable quality. These books can often disappear into dense, overwrought description by authors without the writing chops to pull them off successfully, so I was a little apprehensive when I picked up Spring Tides. I needn't have worried. Within a few pages, it was clear that Fiona Gell is too good a writer with too much to say to fall into the trap of self-indulgence. 
Her title is well chosen: spring tides reveal things rarely visible and thanks to this elegantly written book, the marine life and culture of the Isle of Man sing from the page, interwoven with an impassioned call for co-operation between fishing communities, politicians and the wider public to create marine protected areas. 
The Isle of Man can feel like a microcosm of Britain and Ireland, albeit one with a proud, distinctive culture and people (it's notable that when Gell leaves for university she takes the ferry to 'Heysham, Lancashire, England'), meaning that the book's wider message about the need for action on how we use the sea applies way beyond the island.
Born and raised on Man, Gell returns after completing her studies, which are spent 'almost constantly immersed in dead fish and fish guts', to devote herself to its fragile coastal ecosystem. Stories from her Manx childhood and generations of island ancestors combine with her journey to becoming the island's marine conservation officer, lifting Spring Tides beyond a sleeve-tugging ecological clarion call to a heartfelt and authoritative memoir by a person formed and sustained by the island's natural environment. 
From her selection of a new car by considering whether a dead porpoise might fit into the boot to a potential suitor's invitation to see his collection of dried bats sealing the romantic deal, Spring Tides brims with quirky anecdotes rooted in love for a unique place as well as delivering an important message through expertise lightly worn. After all, anyone who can get this excited about eelgrass has to be worth listening to. 
More to read…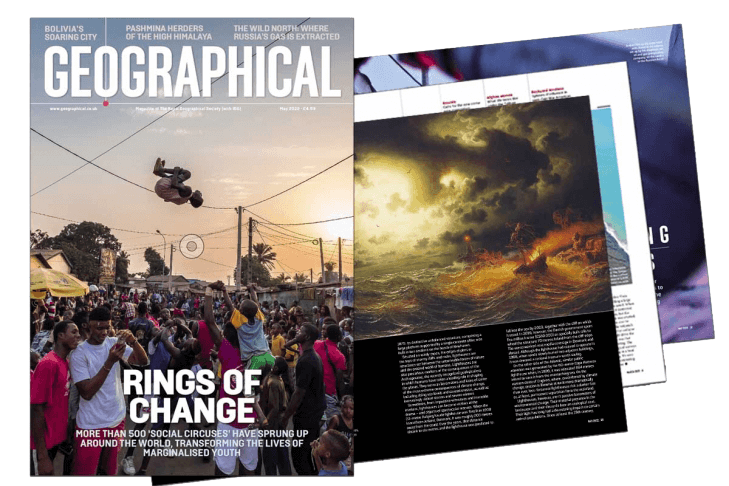 Subscribe to our monthly print magazine!
Subscribe to Geographical today from just £3.40 per month. Our monthly print magazine is packed full of cutting-edge stories and stunning photography, perfect for anyone fascinated by the world, its landscapes, people and cultures. From climate change and the environment, to scientific developments and global health, we cover a huge range of topics that span the globe. Plus, every issue includes book recommendations, infographics, maps and more!
Stay connected with the Geographical newsletter!
In these turbulent times, we're committed to telling expansive stories from across the globe, highlighting the everyday lives of normal but extraordinary people. Stay informed and engaged with Geographical.
Get Geographical's latest news delivered straight to your inbox every Friday!