Plotting the path to a sustainable future – Nottingham Trent's new BSc (Hons) Climate Change degree
---

At NTU, we want to make sure our graduates are leading the way in building a green, low emission and climate-resilient future. That's why we've launched a new BSc (Hons) Climate Change degree for 2022 entry.
The need to address the climate emergency is now clear and pressing. Following COP26, our response is more important than ever. A key part of this is ensuring people have the knowledge, skills and attributes needed as our economies transform. Passionate climate change experts are required to help lead within business, government and the public sector, non-governmental organisations, and research.
The new course examines the interactions between climate, ecosystems and landscapes. It evaluates the human impacts on biophysical systems, on components of the climate system and the reciprocal impacts on human activity. Study topics include the effectiveness of different climate and energy policies, the performance of policy interventions, and adaptation strategies, all within the context of debates about environmental governance and environmental justice. Climate change isn't just a dimension to this course – it is the course.
Taking a multidisciplinary approach and exploring climate change from every angle, there are a range of modules studied in each year:
Year One modules
Earth Systems
Atmosphere, Weather and Climate
Geographies of Global Change
Global Environmental Issues
Practical and Professional Skills
Climate and Society
Year Two modules
Experimental Design and Analysis
Geographical Information Systems and Spatial Analysis
Global Climate Emergency
The Biosphere in a Changing Climate
Sustainability
Natural Hazards and Disasters
Final year modules
Dissertation
Environmental Justice
Mitigation and Adaptation in Practice
Energy for a Low Carbon Future
Water Resources (optional)
Natural Resource Management (optional)
Applications of Remote Sensing (optional)
Global Agriculture and Food Security (optional)
The Cryosphere (optional)
Based at NTU's Brackenhurst Campus – a 200-hectare rural estate that acts as an outdoor classroom – the course emphasises putting theory into practice. From Geographical Information Systems (GIS), renewable energy solutions and an innovative vertical farming set-up, to conservation methods and natural flood management, there's a huge range of professional tools, technology and facilities right on site.
Stay connected with the Geographical newsletter!
In these turbulent times, we're committed to telling expansive stories from across the globe, highlighting the everyday lives of normal but extraordinary people. Stay informed and engaged with Geographical.
Get Geographical's latest news delivered straight to your inbox every Friday!
The degree is taught by a passionate team who work together on applied research addressing climate change in fields as diverse as ecology, wildlife conservation and environmental science. The course features hands-on learning and boasts an exciting range of work-like experiences, industry placements and sustainable field trips.
The course is designed to put graduates in jobs that tackle some of the planet's toughest issues. Climate change adaptation is a challenge for the whole economy, and there are careers available within:
adaptation advisory and analytics services
sustainable energy use and generation
insurance and reinsurance
environmental law
local and national government
national and international NGOs
sustainable transport and logistics
food security and agriculture
environmental consultancy.
Find out more about the course and how to apply on our website.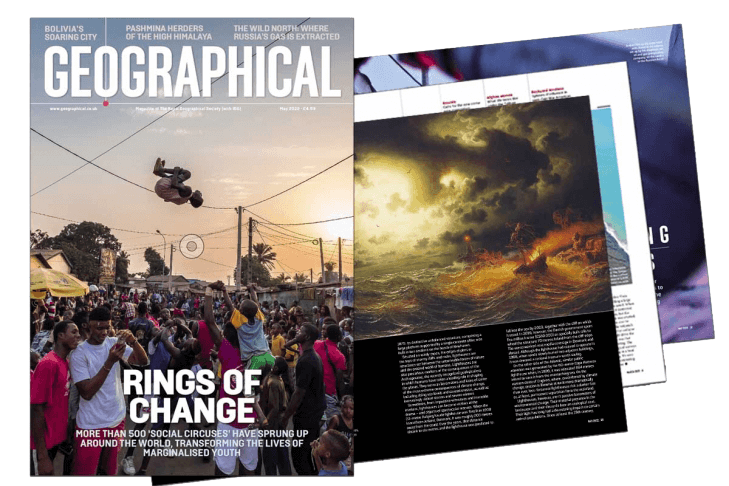 Subscribe to our monthly print magazine!
Subscribe to Geographical today from just £3.40 per month. Our monthly print magazine is packed full of cutting-edge stories and stunning photography, perfect for anyone fascinated by the world, its landscapes, people and cultures. From climate change and the environment, to scientific developments and global health, we cover a huge range of topics that span the globe. Plus, every issue includes book recommendations, infographics, maps and more!