Build your career and boost your job prospects with a degree in Geography or Earth Sciences at Aberystwyth University
---
The Department of Geography and Earth Sciences at Aberystwyth University is one of the largest and oldest departments of its kind in the UK. We have been offering Geography for over a century, and Earth Sciences for even longer. We recently added Sociology to our portfolio, born out of 100 years of social science research at Aberystwyth University. All of our courses are available as three or four-year schemes, with an optional Foundation Year, integrated Year in Industry or integrated Year Studying Abroad. Find out more.
Our students are taught by world-renowned and award-winning academics during each year of their degree. Our key themes include: Quaternary environmental change, glaciology, river catchment processes, geomorphology, remote sensing and GIS, sustainability, globalisation, urbanisation, rural change, cultural and historical geography, and political studies.
We offer a variety of fieldtrips in stunning locations to contextualise content taught in the classroom. Laboratory classes, computer practicals and seminars are also at the heart of our teaching, providing our students with a range of opportunities to develop their core skills.
Aberystwyth is the best university in Wales, and of all the universities featured in The Times/Sunday Times Good University Guide 2020, is one of the top five universities in the UK for overall student satisfaction.
---
Research with excellence
DGES has world-leading researchers in their respective fields. In the most recent Research Excellence Framework (REF2014), DGES was positioned in the top ten of UK Geography departments with regard to its research power, providing a measure of the quality of research, as well as the number of staff undertaking research. Furthermore, 100 per cent of our research was classified as having either outstanding or very considerable impacts in terms of their reach and significance. As our teaching is research-led the case studies, articles and books that we draw on in the classroom are routinely those that have been developed by our own staff.
---
Your future
Over 97 per cent of our recent graduates were in employment or postgraduate study within six months of completing their degree. This is testament to the way we ensure that each student develops a range of highly sought-after skills that prepares them for further university education and life in the workplace. In a rapidly shifting global economy, our graduates are adaptable and able to draw on a range of transferable skills, ensuring that they are always in demand. Our graduates have, for example, found employment in environmental consultancies, planning, the civil service, research, journalism, and education, to name a few.
---
Geographical talks to Mark Whitehead
Mark, a professor in the Department of Geography and Earth Sciences, talks about why you should study Geography, what course to take and why you should consider Aberystwyth.
---
Contact
Come and visit us at Aberystwyth University to find out more about our courses and opportunities!
Geography & Earth Sciences, Aberystwyth University, Llandinam Building, Penglais Campus, Aberystwyth, SY23 3DB
• Tel: +44(0) 1970 622 606
• Email: [email protected]
• Facebook: AU Geography & Earth Sciences
• Twitter: @AU_DGES
• Instagram: @AU_DGES
Stay connected with the Geographical newsletter!
In these turbulent times, we're committed to telling expansive stories from across the globe, highlighting the everyday lives of normal but extraordinary people. Stay informed and engaged with Geographical.
Get Geographical's latest news delivered straight to your inbox every Friday!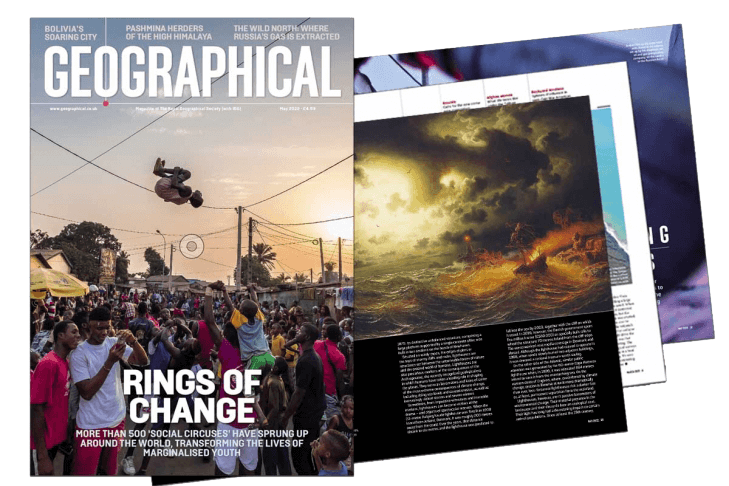 Subscribe to our monthly print magazine!
Subscribe to Geographical today from just £3.40 per month. Our monthly print magazine is packed full of cutting-edge stories and stunning photography, perfect for anyone fascinated by the world, its landscapes, people and cultures. From climate change and the environment, to scientific developments and global health, we cover a huge range of topics that span the globe. Plus, every issue includes book recommendations, infographics, maps and more!