Explore the world's most pressing social and environmental challenges in a UK top 20 Geography department with 100% student satisfaction (NSS 2020)
---
The Department of Geography and International Development (GID) takes pride in providing future-focused undergraduate and postgraduate courses that are oriented towards understanding – and addressing – the world's most pressing social and environmental challenges. At the heart of our programmes is a commitment to transposing geographical learning into graduate careers where you can tackle those challenges head-on. This is enabled through formal full-time work placements of up to five weeks in duration at the end of Year 2, and through bringing industry professionals into lectures, workshops and modes of assessment.
GID offers programmes that seek to provide you with the knowledge and skills to engage with the defining social and environmental issues of our time – from global challenges of climate change, poverty and migration, to more local concerns such as vulnerability to flooding, political (dis)engagement, digital exclusion, and (un)sustainable lifestyles. Whether you choose a BSc or BA pathway through our Single Honours Geography programme, or you combine Geography with Natural Hazard Management (Combined Honours), you can explore your interest in both the physical and human dimensions of our discipline.
All of our courses can be taken as a three-year programme, or as a four-year programme with the third year spent studying abroad at a partner institution.
Field and Laboratory Work
Fieldwork is an integral part of our programmes. You will experience your first field trip in Induction Week, and have the opportunity to join our first-year residential trip to Snowdonia in your second term. In Years 2 and 3, depending on your interests and the modules that you select, you might visit Derbyshire to explore environmental hazards, North Wales to monitor coastal change, Manchester to investigate 'smart cities', Sheffield to hear first-hand accounts of the experience of refugees, Barcelona to investigate how cultural politics have shaped the urban form of the city, Almería to explore the arid geomorphology of badlands, Geneva to meet with staff from the United Nations, Naples to investigate risk mitigation plans around Mount Vesuvius, Norway to survey changing glacial landscapes, or New York to research impacts of immigration.
All students will also do some laboratory work in Year 1; lab work in subsequent years depends on module selection. Our sample preparation and analytical laboratory is well-equipped, and is used by students to investigate a wide range of environmental processes and issues. This includes: geochemical and biological indicators of environmental contamination; microfossil analysis to investigate past climate and sea-level; sediment erosion and deposition; and microplastic concentrations in fluvial and coastal systems. Additionally, we have a geomatics laboratory for GIS teaching, as well as a newly refurbished Map Room, which provides additional computing facilities and an exclusive quiet study space for GID students.
---
Staff expertise and research
Teaching in GID is informed by staff research expertise; often we draw directly on our current research during lectures and workshops. Staff expertise and research interests cover a wide range of contemporary topics across physical geography and geology, human geography and international development, and natural hazard management. Examples of recent research activity include: identifying rapid climate change events during glacial and interglacials; novel application of LiDAR to monitor coastal change, and of high resolution satellite imagery to map slope instability; hydrological and landscape responses to recent and ongoing glacier recession; Iake and catchment system disturbance and recovery from historical mining pollution; digital exclusion in remote rural areas; the impacts of Covid-19 lockdowns on household consumption; the role of video games in public understanding of geopolitical events; and young people's environmental activism.
Stay connected with the Geographical newsletter!
In these turbulent times, we're committed to telling expansive stories from across the globe, highlighting the everyday lives of normal but extraordinary people. Stay informed and engaged with Geographical.
Get Geographical's latest news delivered straight to your inbox every Friday!
Graduate outcomes
Data from the most recent Graduate Outcomes survey (2017-18) shows 88.4% of our graduates were in employment or further study 15 months after completing their undergraduate degree, with a further 2.9% about to start a job or course of further study.
GID students have progressed into a wide range of graduate careers in sectors including: planning; utilities; transport; environmental consultancy; risk management; international development agencies; renewable energy; construction; financial services; and teaching. Many also go onto postgraduate study, including PhDs. GID graduates are regularly welcomed back to the department to speak to current students about work in their chosen sectors.
---
Visit us
We offer a variety of opportunities to visit us throughout the year. Covid-19 restrictions mean that our plans for on-campus events have been put back this year but we would love to welcome you to one of our virtual events. Over the coming months, we will be hosting Virtual Open Days and Virtual Campus Tours, as well as online events designed specifically for our 2021 applicants and the Kitchen Sessions, our popular online lecture series. You can also register your details on our website so that we can let you know when we are able to welcome you on to campus again in person.
---
Contact info
If you would like to know more about any of our programmes, please email [email protected] and we will direct your enquiry to the appropriate Programme Leader. You might also like to see what we're up to by following us on Twitter @gidchester or Instagram @gidchester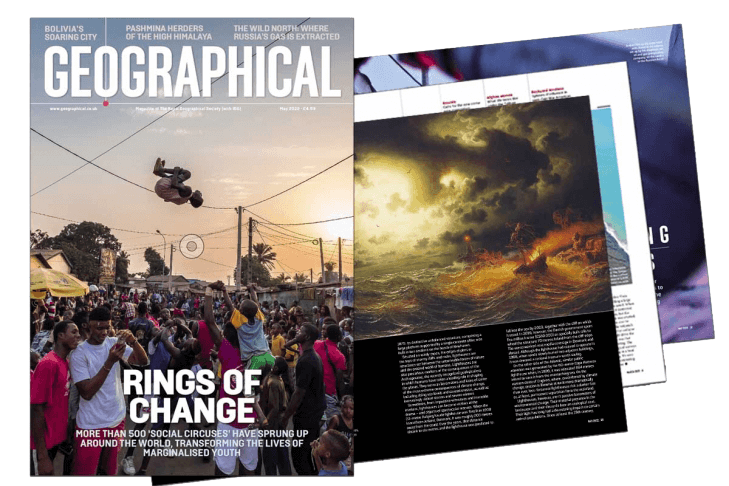 Subscribe to our monthly print magazine!
Subscribe to Geographical today from just £3.40 per month. Our monthly print magazine is packed full of cutting-edge stories and stunning photography, perfect for anyone fascinated by the world, its landscapes, people and cultures. From climate change and the environment, to scientific developments and global health, we cover a huge range of topics that span the globe. Plus, every issue includes book recommendations, infographics, maps and more!