Address the grand challenges and kickstart your career with a degree in Human Geography from Cardiff University
---
Cardiff University's School of Geography and Planning is one of the top schools of its kind in the UK, and we are ranked in the top 100 in the 2022 QS World University Rankings by Subject. Our work addresses the grand challenges facing the world today, applying critical thinking and practical knowledge in solving economic, environmental and social problems.
---
Our programmes
Human geography is the study of our world and our relationships with systems, policies, cultures and social behaviours. We examine where we live, how we live and how we want to live.
Our undergraduate Human Geography, and Human Geography and Planning degree programmes explore the changing nature of spaces and places, the relationship between society and space, and make connections between the local, regional, national and global levels. To enable this, we welcome students from diverse backgrounds with a range of interests, experiences and skills.
We provide you with the knowledge and critical understanding of the intricate relations between the natural and human world, and an awareness of how places outside your everyday experience are created. You'll learn how to use your knowledge to shape the views and actions of elected decisionmakers, the voluntary sector and industry, in order to improve society.
Experts in the field
You'll learn from lecturers and researchers who are working at the frontline of the geography and planning disciplines. They will challenge you to think differently, independently, and creatively about the world in which we live, and you'll graduate ready and equipped to tackle the issues that matter to you most.
However, while we're working on the big issues, we never lose sight of supporting your individual ambitions, nurturing your interests, and ensuring you maximise your experiences with us. We'll encourage you every step of the way, champion your ideas, and celebrate your successes.
---
Building your career
You can also be confident that by completing a degree in Human Geography with us, you're paving the way for success in your career. We'll challenge your thinking, introduce you to new perspectives and knowledge, and encourage you to think critically and creatively about issues affecting where and how we live. Our aim is to empower you with the skills, drive and confidence to chart your own path.
We understand the importance of professional experience while studying. Accredited by professional bodies, you can apply your knowledge in practice by taking a work placement module in the second year. We also offer the opportunity to gain industry experience in your area of choice, and develop the skills and connections to accelerate your career by undertaking a professional placement year.
Stay connected with the Geographical newsletter!
In these turbulent times, we're committed to telling expansive stories from across the globe, highlighting the everyday lives of normal but extraordinary people. Stay informed and engaged with Geographical.
Get Geographical's latest news delivered straight to your inbox every Friday!
If you would like to continue your study, we offer a range of postgraduate taught programmes that address contemporary policy and research issues. Our courses are recognised by academic and policy communities both domestically and internationally, with several programmes offering professional recognition.
With 96 per cent of our undergraduate students in employment and/or further study, due to start a new job or course, or doing other activities such as travelling, 15 months after the end of their course (HESA data), your academic achievements will help you succeed in your chosen career.
---
'Human Geography offered the chance to study a range of topics in a way that no other degree would be able to. It's unparalleled in its ability to offer interesting, challenging, and diverse topics of study. On countless occasions it has changed my perspective of the world, the relations I have with others, and my ability to critically analyse arguments, which are at the forefront of global discussion.
'In all honesty, this degree rarely felt like work. Instead, I was offered a platform to explore what I was truly passionate about. There was an evident passion for research-led learning and I was privileged enough to be taught by researchers who were at the top of their field and this was reflected in the way they engaged with the content and students.'
Matthew Ellis, BSc Human Geography (alumnus)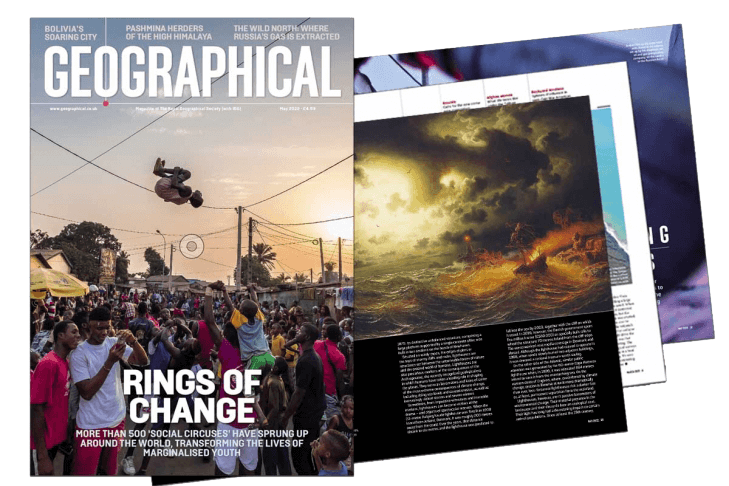 Subscribe to our monthly print magazine!
Subscribe to Geographical today from just £3.40 per month. Our monthly print magazine is packed full of cutting-edge stories and stunning photography, perfect for anyone fascinated by the world, its landscapes, people and cultures. From climate change and the environment, to scientific developments and global health, we cover a huge range of topics that span the globe. Plus, every issue includes book recommendations, infographics, maps and more!