Creatures with psychoactive properties, including the Colorado River toad, are being traded on the dark web
---
Wildlife with psychoactive properties are being routinely traded on the dark web – sites that aren't searchable or accessible via standard web browsers – suggesting that these species, including the Colorado River toad (Incilius alvarius), are becoming part of an illegal drug trade.
It's well known that illegal wildlife trading takes place online, with websites such as eBay and Facebook Marketplace, as well as forums and messaging apps, proving the most popular means to buy and sell species. However, a study by the University of Adelaide revealed that wildlife is also now being traded on dark web marketplaces – home to the sale of illicit substances and a platform which is notoriously difficult to access and subsequently monitor – which spells danger for the species being sold.
Out of the 153 species found, almost all are known to have psychoactive effects. They include the Colorado River toad – also known as the Sonoran Desert toad – which secretes a psychedelic toxin known as 5-MeO-DMT; and the South American tree Mimosa tenuiflora, the bark of which contains the potent hallucinogen DMT.
---
Enjoying this article? We have thousands more for you.
Get immediate access to over 1,000 Geographical magazines in our archive back to 1935.
Sign up today and you will soon be travelling back through time reading all our amazing features of the last eight decades PLUS... you also get to enjoy every new issue of Geographical each month going forward in both print and digital formats.

Simply press the button below to choose the perfect package for you.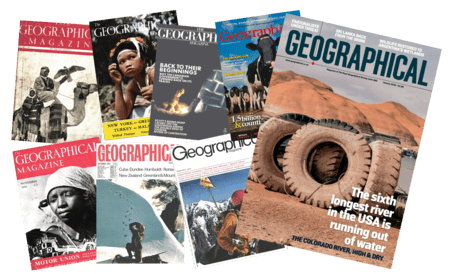 ---
Related articles
'While we did find small numbers of animals traded, the vast majority of advertisements were for plants and fungi,' said leader of the study, Dr Phil Cassey.
'Most plants were advertised for their use as drugs, often as psychedelics, but some for their purported medicinal properties,' he continued.
The recreational use of psychoactive toads
The Colorado River toad – native to the Sonoran Desert – secretes toxins containing the psychadelic 5-MeO-DMT via paratoid glands behind its eyes, a self- defence mechnaism meant for the amphibian's survival against predators such as racoons and birds.
But the increasing use of the toxin for recreational purposes – which figures such as Joe Biden's son, Hunter, and Mike Tyson have reported using – led the National Park Service in the US to warn visitors to stop licking the toads to harness the psychoactive substance contained with the venom earlier last year.
By extracting the toxins from the glands and forming a paste to then smoke, recreational users can experience a trip which can occur in just ten to thirty seconds. These effects can continue for an hour – but the risks associated with ingesting the substance range from sleep problems to persistent psychosis. It is currently listed as a Schedule I controlled substance, defined as having no medical purpose and the high potential for abuse.
According to Robert Villa, president of the Tucson Herpetological Society and a research associate with the University of Arizona's Desert Laboratory on Tumamoc Hill, there is no sustainable way to collect the toxin from the Colorado River toad.
'Toads offer those secretions in a defensive context, in a stressed and violent context,' Villa said.
'Ultimately, people are self-medicating at the expense of another creature.'
Despite the abundance of these toads – which can grow up to 18 centimetres (7 inches) and are the largest in North America – in desert regions of Arizona, the species faces a declining population in New Mexico – and is almost entirely extirpated in California, with some believing this plummet is due to the increasing trend to utilise the toad's toxins.