Study shows the extreme measures wandering salamanders use to escape predators
---
Scientists have revealed how tiny salamanders can survive a fall from some of the world's tallest trees. Wandering salamanders, which live in the canopies of California's coastal redwoods, leap from the treetops when they're ambushed by a predator, dropping down to safety far below.
But, unlike flying squirrels, tree frogs and other gliding animals, salamanders don't have membranes or skin flaps.
Dropping the amphibians into tiny, salamander-sized wind tunnels to simulate a fall, the researchers discovered that they stretch out their limbs and tail instead, controlling their fall like a skydiver would and successfully slowing their descent by as much as ten per cent. The salamanders could also be seen gliding and turning, using their legs and tails for control.
'To observe salamanders, which are generally associated with ponds and streams, in the air is a bit unexpected in and of itself,' said Christian Brown, lead author of the study. 'Most surprising to us was the exquisite level of control that the more arboreal salamanders had in the vertical wind tunnel.' Wandering salamanders proved to be particularly adept at this compared to other species that were introduced to the wind tunnel, despite not seeming to possess the features required for controlled aerial movement. Not only able to slow themselves down, they also used 'fine-scale control in pitch, roll, and yaw to maintain upright body postures, execute banking turns, and glide horizontally,' added Brown.
As well as allowing the amphibians to avoid ending up as prey, this ability to parachute and glide could simply be a more efficient way of moving down the giant trees they live in. Brown says that science has barely scratched the surface in studying the redwood canopy ecosystem and its unique fauna.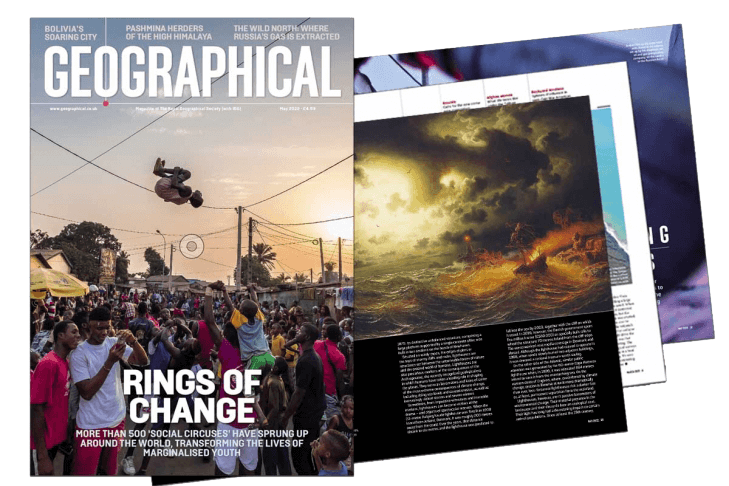 Subscribe to our monthly print magazine!
Subscribe to Geographical today from just £3.40 per month. Our monthly print magazine is packed full of cutting-edge stories and stunning photography, perfect for anyone fascinated by the world, its landscapes, people and cultures. From climate change and the environment, to scientific developments and global health, we cover a huge range of topics that span the globe. Plus, every issue includes book recommendations, infographics, maps and more!