Researchers debunk the myth that water in Africa is scarce, blaming poor management of existing reserves instead
---
In 2018, Cape Town came very close to running out of water. Plans for 'Day Zero' – switching off the municipal supplies and leaving four million residents without water – were narrowly avoided, but water scarcity is a growing concern for countries across the African continent.
A report published in 2020 by the World Meteorological Organization highlighted Africa's disproportionate vulnerability to climate change. The populations of more than half of its nations are predicted to double by 2050, and it's warming faster than most of the rest of the world. By the 2040s, all of its glaciers could be gone. However, new research by WaterAid and the British Geological Survey (BGS) suggests that an overlooked solution to Africa's water problem lies right under people's feet.
'Groundwater is a fantastic resource that can buffer us against the impacts of climate change,' says Virginia Newton‑Lewis, a senior policy analyst at WaterAid. Found in aquifers and cracks in soil and rock, groundwater is abundant throughout Africa, where, unexposed beneath the ground, it's at less risk from pollution and evaporation. The report revealed that most African countries have enough to survive at least five years of drought, and many more than 50 years.
There are dangers to over-exploiting groundwater. In parts of South Asia, the amount of extraction is too high for underground reservoirs to be replenished by rainfall. Overuse in Pakistan, which allocates 94 per cent of its pumped groundwater for agricultural irrigation, can lead to village wells running dry. It can also cause soil damage and the build-up of salt, while poor regulation and insufficient expertise can result in contamination from poorly sealed bore holes that let fertilisers and pesticides leak in from farmland, along with disease pathogens from nearby sanitation areas.
However, according to Alan MacDonald, BGS groundwater resilience lead, around two per cent of Africa's stored groundwater is renewed by rainfall every decade, including 'much of the groundwater in populated parts of Africa'. Most countries south of the Sahara Desert could extract enough to supply each person with 130 litres per day without using more than a quarter of the renewable groundwater, and many would use less than ten per cent.
The type of groundwater utilised is all important. Much of the groundwater pumped in North Africa is non-renewable 'fossil' groundwater, and MacDonald says that levels are falling as a result. 'You shouldn't be creating an unsustainable demand on a resource that you would then deplete for future generations,' adds Newton‑Lewis. 'But it shouldn't be necessary to extract from fossil groundwater in sub-Saharan Africa to meet demand for basic human needs.'
Currently, under-investment and poor management of resources mean that millions don't have enough clean, safe water. Newton-Lewis believes that the situation in South Asia is partly to blame. 'In the past, stories of the kind of groundwater crises faced in South Asia have dominated the headlines and it has overshadowed this huge untapped potential in sub-Saharan Africa,' she says. Reaping its benefit will require investment in research, the mapping and monitoring of groundwater resources, more training for local people in sustainable use and extraction, and more governance. 'It isn't an intractable problem – it's a problem of political and financial prioritisation. This investment is the missing piece needed to complete this water-security jigsaw puzzle.'
Stay connected with the Geographical newsletter!
In these turbulent times, we're committed to telling expansive stories from across the globe, highlighting the everyday lives of normal but extraordinary people. Stay informed and engaged with Geographical.
Get Geographical's latest news delivered straight to your inbox every Friday!
---
Read more…
Latest posts by Bryony Cottam
(see all)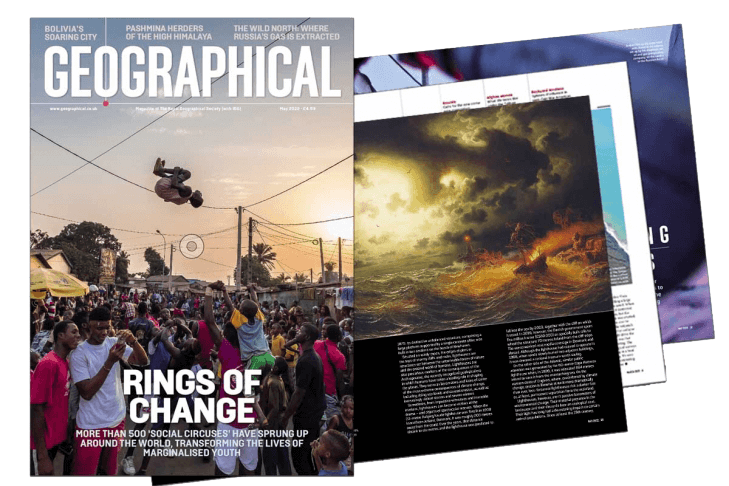 Subscribe to our monthly print magazine!
Subscribe to Geographical today from just £3.40 per month. Our monthly print magazine is packed full of cutting-edge stories and stunning photography, perfect for anyone fascinated by the world, its landscapes, people and cultures. From climate change and the environment, to scientific developments and global health, we cover a huge range of topics that span the globe. Plus, every issue includes book recommendations, infographics, maps and more!