Tim Marshall looks at Sweden and Finland joining NATO and what it means for Europe's strategic geography
---
Europe's strategic geography is changing – to NATO's advantage. The addition of Finland and Sweden to the existing 30-country alliance means that all of the Baltic Sea's littoral states except Russia will be NATO members. This, in effect, turns the Baltic into NATO's 'mare nostrum'.
Both Nordic countries have highly professional armed forces equipped with state-of-the-art military hardware. Sweden has the Patriot long-range air-defence system, builds its own fighter jets, has formidable anti-submarine ships, and, in the shape of the island of Gotland, an 'unsinkable aircraft carrier' bang in the middle of the Baltic. It's situated about 160 kilometres off Stockholm and 320 kilometres from the headquarters of Russia's naval base in the exclave of Kalingrad. Control of Gotland equals control of much of the Baltic's sea and air space.
Finland has one of the strongest artillery forces on the continent and world-class intelligence and cyber agencies, and has just bought 64 F-35 fighter jets, considered to be the world's most modern combat aircraft. Both countries have conscription; Finland can mobilise reserves of up to 280,000 troops. Both are upping their military budgets, their armed forces are up to NATO standards and, having frequently exercised with the alliance, are ready to 'plug and play' within the NATO system.
At the moment, NATO has a 1,200-kilometre border with Russia. Finland's membership will add another 1,300 kilometres of inhospitable frontier for Russian forces to have to consider. The inclusion of the two will give NATO a whole new range of ports and air bases, and the ability to reinforce the Baltic states more easily. In the event of conflict, if Finland and Sweden are in NATO, any Russian ships or aircraft venturing into the Baltic can be attacked from every direction.
NATO's new 'strategic concept', announced at this summer's Madrid summit, does away with the post-Cold War 'tripwire' deterrence formula and returns to the old Cold War policy of deterrence by mass. 'Tripwire' assumed a small number of troops in Eastern European was enough to deter Russia because Moscow knew that killing them would bring in NATO's full force. The lesson from Ukraine is that if Moscow learns from its failures early in the war, in the future it may be able to roll into the Baltic states and achieve a victory before NATO can get there.
Now the alliance will beef up troop numbers in the frontline states and stockpile heavy equipment there in order to allow extra troops to arrive at speed. As UK defence secretary Ben Wallace put it, there is now a 'determination to shift from an emphasis on warfighting contingency to persistent presence for containment'.
Finland and Sweden can play a key role in this. Certainly, President Putin's scope for risking an 'adventure' in the Baltics is hugely diminished. In the year it could take for each NATO state to approve their accession, Moscow will have some serious thinking to do. Can it afford to position more troops closer to the Finnish border? Can it meet the extra firepower brought to bear in the Baltic? Can it afford not to?
Stay connected with the Geographical newsletter!
In these turbulent times, we're committed to telling expansive stories from across the globe, highlighting the everyday lives of normal but extraordinary people. Stay informed and engaged with Geographical.
Get Geographical's latest news delivered straight to your inbox every Friday!
Finland's and Sweden's membership will also connect NATO with the 'High North'. Finland borders the Kola Peninsula, which hosts Russia's Northern Fleet (including its nuclear-armed submarines), which patrols the Arctic. The peninsula is a gateway between the Arctic Ocean and the North Atlantic and although the two Nordic states don't have direct access to those waters, both have the ability to help monitor Russian activity there.
They are also members of the Arctic Council, a body likely to continue to grow in importance as the effects of climate change open up a year-round northern sea passage between Europe and East Asia. If the Arctic's natural energy resources become obtainable, then competition for access means the Arctic Ocean is likely to become a contested region. Even China, which considers itself a 'near Arctic' state, may get involved.
The Nordic countries' decision to walk through NATO's 'open door' policy is focused on the Baltic. The effects are much wider.
---
More geopolitics…
Latest posts by Tim Marshall
(see all)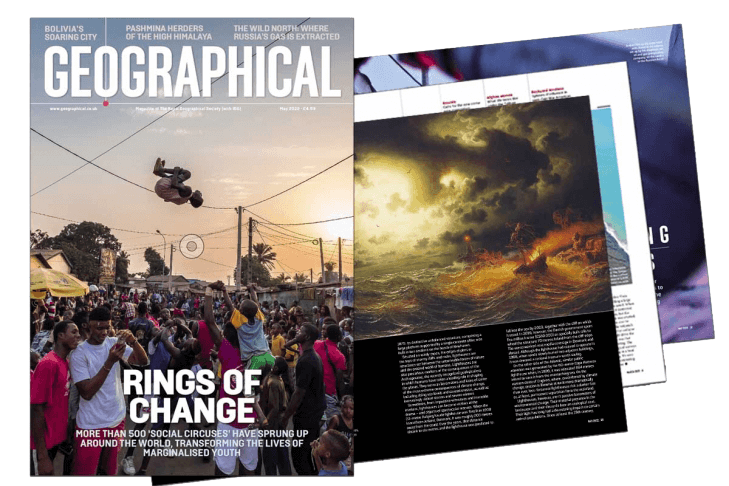 Subscribe to our monthly print magazine!
Subscribe to Geographical today from just £3.40 per month. Our monthly print magazine is packed full of cutting-edge stories and stunning photography, perfect for anyone fascinated by the world, its landscapes, people and cultures. From climate change and the environment, to scientific developments and global health, we cover a huge range of topics that span the globe. Plus, every issue includes book recommendations, infographics, maps and more!