Rory Walsh traces the English Civil Wars through the heart of London and its three most powerful institutions – the monarchy, the government and the church
---
Walk • Urban • London • 3 miles • Web guide
A chilly winter morning. A bearded man, wrapped in layers against the cold, walks through St James's Park. A small dog scurries by his side. A row of trees stands like sentries, their bare branches a mass of spears. A muffled chirrup and the man checks his phone. Until then the scene recalled another winter walk. On 30th January 1649, a bitterly cold day, King Charles I crossed St James's Park on the way to his execution. Under armed guard and with his dog Rogue for company, the king wore two shirts to stop him from shivering.
I'm following Charles I's footsteps with geographer and military historian David Flintham. Flintham's interests have led him to Europe, America, and South Africa. His passion though is the English Civil Wars. 'It began when I was a boy when I saw the film Cromwell at the cinema. I've been fascinated by the period ever since.' Four decades later, he has written three books about the conflict and continues to research London's Civil War defences. 'London was at the heart of events', he explains. 'It has been said that the Wars began and ended in Westminster, at points 500 metres apart.'
Starting from Trafalgar Square, Flintham's Civil War London walk stops at the Houses of Parliament, Westminster Abbey, St James's Palace and three Royal Parks. These are some of the most famous places in Britain, yet the route looks behind the postcard picturesque. The familiar is rendered strange, and gruesome. There are hangings and hauntings, executions and exhumations. In recent years, Britain has been described as a land divided. Yet nothing compares to the mid 17th century when the country became a republic.
On the southern side of Trafalgar Square, beside the statue of Charles I on horseback, Flintham provides some background: 'Charles I and Parliament disagreed about various issues and became mutually suspicious of each other. Charles even shut down Parliament for eleven years.' Fanning the flames of their antipathy was religion: 'England had been a Protestant kingdom for more or less 100 years. Yet Charles I married a Catholic, Henrietta Maria of France.' Events boiled over in 1642, when the king interrupted Parliament to demand the arrest of five MPs.
The attempt was unsuccessful and Charles I fled London. Throughout the land, support split between the monarchy (Royalists) or Parliament (Parliamentarians). Both sides began raising armies and preparing for war. Allegiances varied town by town, village by village, even family by family. 'The Civil Wars were a national conflict fought locally,' says Flintham. Geography was key. Throughout our walk Flintham highlights just how much Britain's geography shaped its history.
To unlock the story of the Civil Wars we meet the central characters. On Whitehall we pause at Banqueting House, where a small plaque marks a huge event. On a balcony above, Charles I was executed under charges of treason. The monarchy was outlawed a week later and replaced by a Parliamentarian executive council. This was eventually run by a Lord Protector. Outside the Houses of Parliament, we come face-to-face with a statue of this man: Oliver Cromwell.
'Before the wars, Cromwell was a gentleman farmer. By 1649 he was at the head of the Parliamentarians' New Model Army. He later became a king-like figure, ruling the country until his death,' says Flintham. Cromwell is both loved and loathed, and remains controversial. When his statue was unveiled (in 1899) there was vocal opposition from monarchists and Irish nationalists alike. The strong feelings he evokes are illustrated across the road.
Stay connected with the Geographical newsletter!
In these turbulent times, we're committed to telling expansive stories from across the globe, highlighting the everyday lives of normal but extraordinary people. Stay informed and engaged with Geographical.
Get Geographical's latest news delivered straight to your inbox every Friday!
St Margaret's Church is almost dwarfed by neighbouring Westminster Abbey's gothic splendour. Flintham points out a tablet on the church wall. The simple inscription tells a complex tale. 'During the 1640s and 1650s a number of leading Parliamentarians were buried in Westminster Abbey. When the monarchy was restored they were reburied in a common grave.' The tablet lists 21 people, including Cromwell's mother Elizabeth, who now lie in the grounds of St Margaret's.
Cromwell himself was also buried in Westminster Abbey, yet his name is absent from the memorial. His final resting place is elsewhere and concludes the walk. To reach it we cross St James's Park, then continue into Green Park. Along the way, Flintham reflects upon the logistics of the wars: 'Think about what you need to fight a war. We have this popular image of the musketeer, yet his musket, musket balls, clothes, must all come from somewhere. And that's just one soldier. Armies need feeding and housing too, it's a huge undertaking.'
Geographical resources shaped military ones. Two centuries before the Industrial Revolution, Britain's populace was mostly rural and more evenly spread. Towns provided valuable supplies of soldiers, weapons, and raw materials. 'The most important commodity was gunpowder,' says Flintham. 'Making and transporting it required lots of water, so gunpowder works were usually by a river.' The country chief arsenal was at the Tower, 'most production though was in the Lea Valley to prevent accidentally blowing up the City'.
Topography also shaped tactics. 'Despite popular opinion, the Civil Wars were decided by sieges rather than battles,' Flintham says. A siege's duration was shaped by location, especially where a town, village, or existing fortress already used natural landscape defences. 'Oxford, for example, is almost an island, while Shrewsbury is at a bend in a river.' Other flashpoints were strategic ports, like Hull, Bristol, Chester and King's Lynn.
As the Parliamentarian seat of power, London was an obvious Royalist target. Early in the Wars, Royalist attacks reached Brentford. 'The Parliamentarians built a massive ring of defences around the capital. There were ditches, ramparts, forts – including one at Hyde Park Corner.' Parallel with Park Lane, the edge of Hyde Park rises in a hummocky ridge. This bank of earth is the sole survivor of the Parliamentarian fortifications. Like the memorial at St Margaret's Church, these humble remains are almost hidden in plain sight.
The walk concludes near Marble Arch. At the junction of Oxford Street, Edgware Road and Bayswater Road is a triangular traffic island. Three baby trees surround a circular plaque in the pavement. 'This is the site of the Tyburn Tree, a wooden gallows,' Flintham explains. 'Oliver Cromwell died in 1658 and within two years the monarchy was restored. Possibly on King Charles II's orders, Cromwell's body was removed from Westminster Abbey and posthumously hanged here.'
That wasn't the end. Cromwell was buried at Tyburn in an unmarked grave – minus his head. While Charles I was decapitated and stitched back together for burial, Cromwell was interred intact then beheaded for eternity. His head was spiked onto the roof of Westminster Hall, where it remained for 30 years. It is now buried at his former college, Sidney Sussex in Cambridge. As half-full buses sweep past, Flintham and I exchange friendly farewells before we too go our separate ways.
---
Go to the Discovering Britain website to find more hikes, short walks, or viewing points. Every landscape has a story to tell!
Latest posts by Rory Walsh
(see all)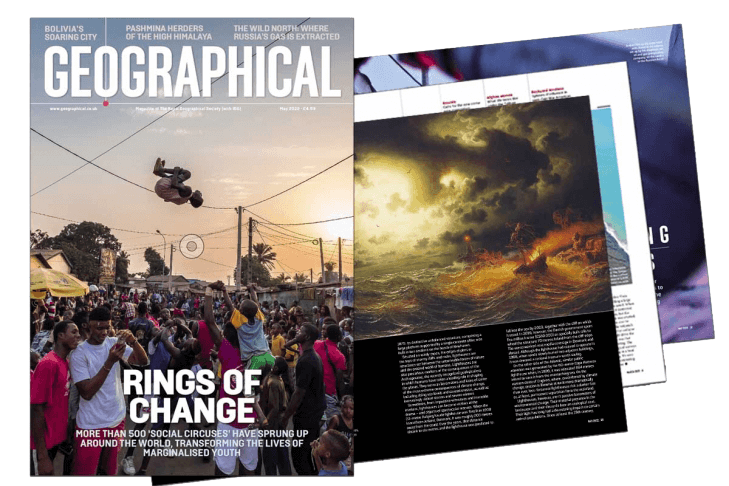 Subscribe to our monthly print magazine!
Subscribe to Geographical today from just £3.40 per month. Our monthly print magazine is packed full of cutting-edge stories and stunning photography, perfect for anyone fascinated by the world, its landscapes, people and cultures. From climate change and the environment, to scientific developments and global health, we cover a huge range of topics that span the globe. Plus, every issue includes book recommendations, infographics, maps and more!
Stay connected with the Geographical newsletter!
In these turbulent times, we're committed to telling expansive stories from across the globe, highlighting the everyday lives of normal but extraordinary people. Stay informed and engaged with Geographical.
Get Geographical's latest news delivered straight to your inbox every Friday!