Pilot and photographer Kacper Kowalski captures stunning landscapes from the sky in his home country of Poland
---
People have been dreaming about flying since the very beginning,' says architect turned pilot and photographer Kacper Kowalski. For Kowalski, who abandoned a career in his father's architecture studio to follow his passion, photography began as a means to an end: spending more time in the sky.
Taking aerial photographs for clients paid for a hobby that Kowalski says soon became an obsession. He still spends much of his time flying solo, often at a relatively low altitude of 150 metres, in the region surrounding his home city of Gdynia on Poland's Baltic coast. While piloting either a gyrocopter or paraglider, both of which have open cockpits, he operates a traditional hand-held camera to get his shots. Multitasking like this took more than 25 years to master, and still gets tiring.
It's a job that was much easier before the drone revolution, when aerial photography was still a novelty, but Kowalski insists that the drones' arrival has simply spurred him on to keep looking for new horizons. Over time, bored of taking photos for a pay cheque, he began to question how his work could serve a greater purpose. 'The world is no better off when I'm flying, so I started to think, "What else can I do?"'
In his first project, Side Effects, he set out to document the effects of human activity on our environment. From his vantage point looking down over forested Pomerania in northern Poland, he asks: 'Is this real nature? Are these virgin forests or am I looking at a landscape that has been altered to suit our needs?' When Poland's Vistula River burst its banks in 2010, it devastated nearby Sanomierz, a town that will face even greater threats from flooding as the climate warms. In his images, Kowalski tries to capture the impact of the cataclysm in universally recognisable images – the submerged railway, cemeteries and playgrounds.
His intent is to document, without judgement, the full spectrum of human activity, always with an eye on different perspectives. 'Sometimes I fly over industrial areas and I know that I will see some prohibited beauty from above, because those areas can be spectacular.'
His next project, Event Horizon, which won the Science and Natural History Picture Story category in Pictures of the Year International 79, will be published as a book this autumn by 1605 Publishers.
Insights

Purpose
'For me, it's a language for sharing. It's about opening my eyes and sharing my observations with other people.'
Stay connected with the Geographical newsletter!
In these turbulent times, we're committed to telling expansive stories from across the globe, highlighting the everyday lives of normal but extraordinary people. Stay informed and engaged with Geographical.
Get Geographical's latest news delivered straight to your inbox every Friday!
Inspiration
'My inspiration comes from people who reflect on our awareness of what we see, and the ways we perceive the world around us. For example, Polish painter Władysław Strzemiński, who, in his book The Theory of Vision, explored how artistic perception has constantly evolved from a time when we were hunter-gatherers.'
Advice
'Ask yourself, "Why do you want to push the button? What is it that you would like to say?" Think of it like writing – what would you say to someone who took the time to read your work?'
Website: www.kacperkowalski.pl
Instagram: @kacperkowalski_
Latest posts by Bryony Cottam
(see all)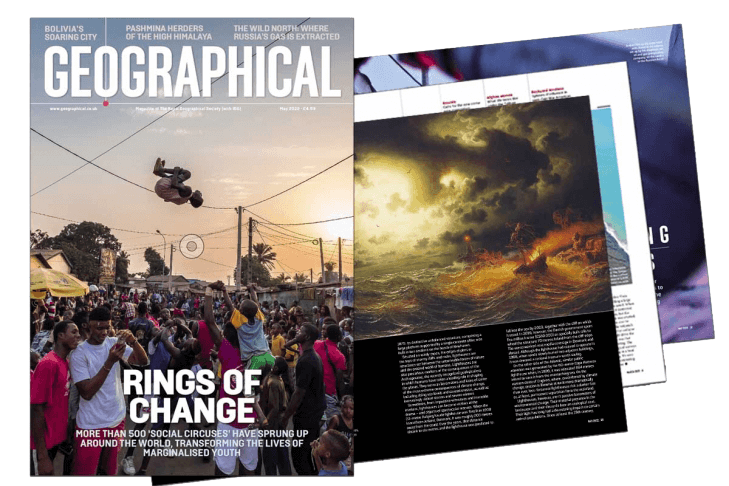 Subscribe to our monthly print magazine!
Subscribe to Geographical today from just £3.40 per month. Our monthly print magazine is packed full of cutting-edge stories and stunning photography, perfect for anyone fascinated by the world, its landscapes, people and cultures. From climate change and the environment, to scientific developments and global health, we cover a huge range of topics that span the globe. Plus, every issue includes book recommendations, infographics, maps and more!