Elizabeth Wainwright reviews Birds, Beasts and Bedlam: Turning My Farm into an Ark for Lost Species by Derek Gow, published by Chelsea Green Publishing
---
If I left my house and followed the winding Devon lanes west, I would reach Coombeshead Rewilding, the 120-hectare home of Derek Gow, who has transformed his Devon farm into a wildlife-breeding centre. Coombeshead is a haven for beavers (the subject of his first book), as well as water voles, lynx, wildcats, harvest mice and more. 
After buying his farm almost two decades ago, he began farming livestock. But 'things always went wrong… after many seasons of sales, the lambs or calves I produced barely covered their costs. I understood that the chemicals I used on them would kill all other life but I suppressed this certainty.' It became increasingly difficult to suppress and Gow began to notice loss – of curlews and voles, of meadow pipits, lizards and more.
Many of the species Britain once hosted are gone and of the surviving species, one in seven is threatened with extinction. Much of our landscape is dead, says Gow, but this book isn't an attack on farmers – Gow is one. 'As individuals I like farmers very much. It's the great false idol of the industrial machine that so many unblinkingly worshipped that's the problem.'
And so, in 2018, Gow began again, choosing to relinquish the livestock he had been rearing for more than a decade. People were bewildered by his actions, but Gow's strength of will tears down fences, literally and metaphorically. His work today is collaborative, alongside farmers, conservationists and others. The greylag geese were his first reintroduction. Four breeding pairs 15 years ago have now multiplied into flocks of hundreds that fly over his cottage. 
At a time when farming is undergoing a great transition, with subsidies soon to be used to support environmental management, this book suggests that reintroducing lost species might help in that transition. Gow shares his vision of providing 'a fulcrum for a movement that can supply seeds. Seeds of hope, seeds of thought, seeds of training and of ability. To build a network of people of all sorts and ages who will help each other.' His book is a passionate invitation into that vision. 
---
Read more…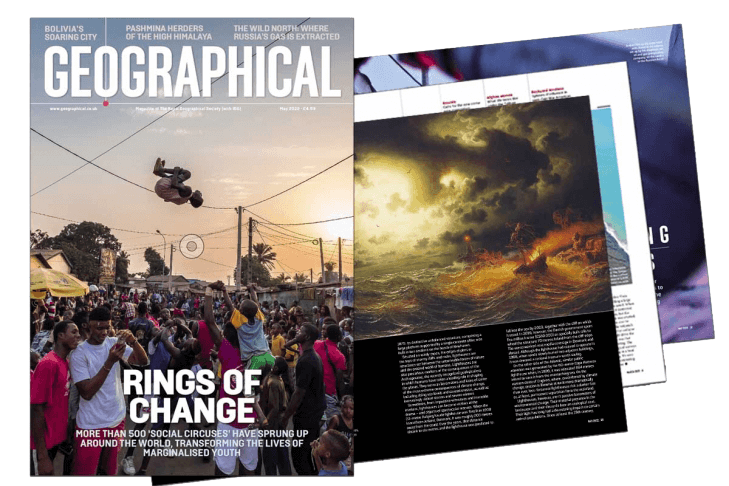 Subscribe to our monthly print magazine!
Subscribe to Geographical today from just £3.40 per month. Our monthly print magazine is packed full of cutting-edge stories and stunning photography, perfect for anyone fascinated by the world, its landscapes, people and cultures. From climate change and the environment, to scientific developments and global health, we cover a huge range of topics that span the globe. Plus, every issue includes book recommendations, infographics, maps and more!