The zoological collection of Chicago's Field Museum contains an astonishing array of birds which provide an insight into the causes of biodiversity loss
---
An extract from Extinction: Our Fragile Relationship with Life on Earth by Marc Schlossman and Nathan Williams
---
Fourteen years ago, my nine-year-old twin sons, Ben and Theo, and I were given a tour of the zoological collections at the Field Museum in Chicago by John Bates, associate curator of the bird collection at that time. At one point in the tour, he opened a drawer that contained an astonishing set of bird specimens, some of which were extinct species. We picked them up, held them and read the handwritten labels. It was a rare opportunity to see species such as the ivory-billed woodpecker and the passenger pigeon up close, without a glass case between us and them. My overpowering thought at that moment was that these animals are gone. Forever. The last chance to see them is here, right now, in our hands.
John generously gave me access to the bird collection in 2008 and I began making photographs of endangered and extinct species in the botanical and zoological collections. I started the project because I felt that the key causes of biodiversity loss weren't receiving enough public exposure and debate. Over ten years, I photographed 82 species whose stories collectively illustrate these driving factors: climate change, disease, habitat loss, invasive species, overexploitation, pollution and the wildlife trade ~ Marc Schlossman
Bird life
While describing a new species of Deinonychus, a theropod dinosaur, during the late 1960s, the eminent paleontologist John Ostrom noticed certain anatomical similarities between his specimen and modern birds. This led him to resurrect the now widely accepted hypothesis that birds are the descendants of dinosaurs, nearly a century after it was first proposed by Thomas Henry Huxley, nicknamed 'Darwin's Bulldog' due to his vehement support for the theory of evolution by natural selection. Consequently, the Cretaceous-Tertiary mass extinction event didn't wipe out the dinosaurs – their descendants, birds, are alive and well with nearly 10,000 living species.
The oldest known bird in the fossil record, Archaeopteryx, was discovered by quarrymen near Bavaria in the mid-19th century. This strange creature of the Jurassic period has a number of attributes more typically thought of as reptilian than avian, such as teeth, a bony tail and clawed fingers. However, it's the presence of feathers that identifies it as a primitive form of bird. Originally believed to have evolved for the purpose of temperature regulation, feathers are outstanding, lightweight aerofoils, facilitating the avian conquest of the skies. Indeed, while Archaeopteryx was unlikely to have been a strong flyer, some modern birds are astonishing aeronauts. One of the most impressive is the Arctic tern (Sterna paradisaea), a species that undertakes an annual migration from its Arctic breeding grounds to the Antarctic, where it overwinters. The circuitous route taken to fly between the two poles adds to the total distance travelled substantially, such that during its lifetime, an Arctic tern may cover the equivalent of three round trips to the moon.
At the opposite end of the spectrum, numerous species have independently evolved an entirely ground-dwelling lifestyle. This is very commonly observed among species confined to islands, where, without the risk of mortality from terrestrial predators, they could abandon their powers of flight. The dodo (Raphus cucullatus), a giant, flightless member of the pigeon family endemic to the remote Indian Ocean island of Mauritius, was one such example. Evidently, it was the inaccessibility of its insular home that provided sanctuary from all natural enemies until European sailors first discovered the island during the 16th century. The helpless dodo provided a readily accessible source of fresh meat for the human seafarers, who slaughtered them in their droves until the last of them were killed in around 1681.
The dodo's name is now synonymous with extinction, such was the speed of its extermination, and its fate actually reflects a broader pattern observed among avian extinctions – strikingly, 92 per cent of recorded avian extinctions since 1500 were species indigenous to islands. In general, the avian communities of islands are particularly vulnerable to foreign species, against which they lack any protective behaviours. For instance, the native avifaunas of New Zealand, Australia and Hawaii have all been decimated by alien species, including rats and the domestic cat. In another notable case, several species were swiftly extirpated from the island of Guam following the introduction of the brown tree snake (Boiga irregularis), a highly efficient nocturnal predator accidentally introduced by the US military at the end of the Second World War.
Island endemics are disproportionately susceptible, but around 14 per cent of contemporary birds are also considered at risk of extinction, including many species found on the mainland. In addition to invasive species, a myriad of anthropogenic stressors are threatening bird populations across the world, with habitat loss being the most dominant reason for decline. However, as outlined in 1962 by Rachel Carson in her book Silent Spring, environmental pollution due to the overuse of certain agricultural chemicals is also particularly harmful for birds. For example, DDT, a now widely banned insecticide, causes eggshell thinning and reproductive failure. Furthermore, climate change is likely to present yet another major challenge in the future. Birds usually time their breeding events so that their eggs will hatch at a period of peak resource availability in the spring. However, warmer average annual temperatures are causing a number of annual environmental changes to occur earlier, such as the time at which leaves first appear on trees in spring. This, in turn, is causing key prey, such as caterpillars, to emerge earlier, increasing the risk of starvation. Proportionately fewer birds are threatened with extinction than most other well-surveyed taxa, but they haven't escaped the impact of human activity. With a continuation of 'business-as-usual', we're likely to see their situation worsen over the coming decades.
Lost sparrows
---
Flightless parrot
---
Last passengers
---
A success story
---
Blackbirds in decline
---
Extinct woodpecker
---
Read more…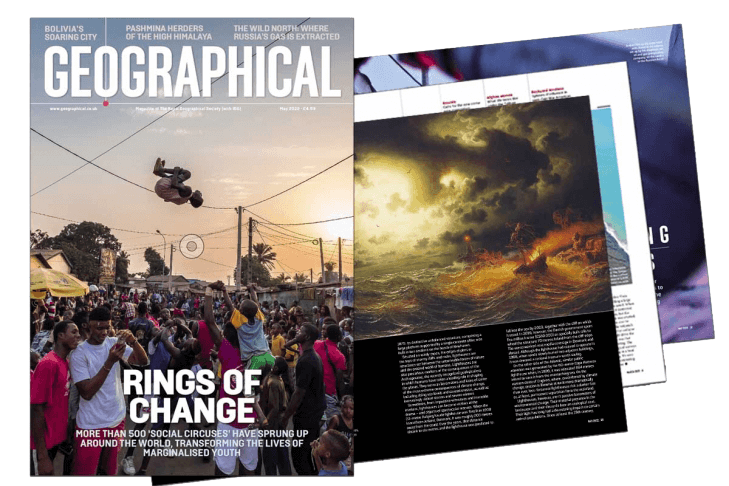 Subscribe to our monthly print magazine!
Subscribe to Geographical today from just £3.40 per month. Our monthly print magazine is packed full of cutting-edge stories and stunning photography, perfect for anyone fascinated by the world, its landscapes, people and cultures. From climate change and the environment, to scientific developments and global health, we cover a huge range of topics that span the globe. Plus, every issue includes book recommendations, infographics, maps and more!
Stay connected with the Geographical newsletter!
In these turbulent times, we're committed to telling expansive stories from across the globe, highlighting the everyday lives of normal but extraordinary people. Stay informed and engaged with Geographical.
Get Geographical's latest news delivered straight to your inbox every Friday!