The first global dataset of river avulsions reveals how and where these dramatic events take place
---
When the Kosi River burst its banks on the India-Nepal border in 2008, causing unprecedented loss of life, livelihoods and infrastructure, scientists and government officials blamed the heavy monsoon rains and poor maintenance of the river's embankments. But there was another factor that influenced this catastrophic event: the river changed its course. 
Large-scale flooding can sometimes cause rivers to suddenly change, an event known as a river avulsion. Over time, as sediment is deposited, the river channel becomes blocked, forcing the flow of water to find another path downhill. Due to the damage they cause, avulsions are sometimes called the 'earthquakes' of the river delta. In the case of the Kosi disaster, the whole river, one of the largest tributaries of the Ganges, moved 100 kilometres in a matter of days. More than three million people were displaced. 
According to Austin Chadwick, a postdoctoral scholar at the University of Minnesota, avulsions are 'very rare'; a river might change course once a decade, once a century, or less. Until recently, only a handful had been observed by scientists, making them difficult to study. But satellite imagery has allowed a team of researchers, led by the University of California Santa Barbara, to publish the first global compilation of river avulsions in the journal Science.
The team 'got lucky' when combing through satellite data from 1973 to 2020, alongside historical maps, finding 113 past avulsions that form a representative sample of everywhere on Earth for the last 50 years. The dataset demonstrates that there are three distinct types of avulsions. 'This is a long way from where we started,' says co-author Vamsi Ganti. 'A decade ago, avulsions were thought to be these chaotic and stochastic events that were not very predictable.' Instead, avulsions fit into three distinct types. In 33 instances, avulsions occurred when rivers exited confined valleys or canyons and spilled out over the lowest ground to one side or the other. Another 50 were confined to the backwaters of some of the world's largest waterways, including the Nile and the Mississippi, where floods speed up the slow currents and erode the riverbed. 
The final 30 were a new type of avulsion discovered by the team, which typically occurred on steep tropical islands such as Madagascar and Papua New Guinea or in desert environments such as Eritrea. Here, the rivers carried huge amounts of sediment which, combined with intense and prolonged flooding, pushed the avulsions far upstream, well beyond the backwater zone. These areas were previously assumed to be out of the range of avulsions, 'but now we know that there is this other type of avulsion on deltas where you're not safe,' said Chadwick.
Roughly 330 million people live on river deltas worldwide. The team hope to use their research to help predict potentially hazardous future avulsions, and to 'understand how river mobility will change in response to climate change and anthropogenic interference,' said Ganti. They have already discovered that rising sea levels and longer floods can shift avulsions further upstream. 'That is problematic, because "a little bit upstream" on the Mississippi River is tens to hundreds of kilometres,' Ganti said. 'It's not something trivial'.
---
Read more…
Stay connected with the Geographical newsletter!
In these turbulent times, we're committed to telling expansive stories from across the globe, highlighting the everyday lives of normal but extraordinary people. Stay informed and engaged with Geographical.
Get Geographical's latest news delivered straight to your inbox every Friday!
Latest posts by Bryony Cottam
(see all)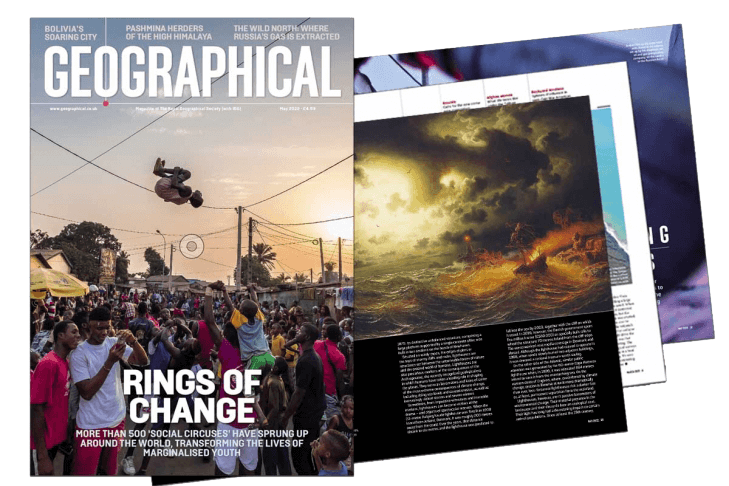 Subscribe to our monthly print magazine!
Subscribe to Geographical today from just £3.40 per month. Our monthly print magazine is packed full of cutting-edge stories and stunning photography, perfect for anyone fascinated by the world, its landscapes, people and cultures. From climate change and the environment, to scientific developments and global health, we cover a huge range of topics that span the globe. Plus, every issue includes book recommendations, infographics, maps and more!