Tim Marshall looks at the tensions in NATO over Russia's invasion of Ukraine
---
The house of my neighbour is on fire.' So says Poland's chief of armed forces, Rajmund Andrzejczak. The response of his country is to reason that not only must the fire be put out, but that the pyromaniac who set Ukraine alight needs to be persuaded not to do it again. Some countries agree. Others, however, seek only to dampen down the flames and pray that there are no more sparks.
This divide is partially geographical. The UK, Nordics, Baltic states and Poland are hawks. Poland in particular, along with the UK and the Baltics, has been vocal in seeking to mobilise support across Europe to help Ukraine defend itself. It goes further, arguing that unless Russia suffers a strategic defeat, once it has replenished its military, it will be back for another bite out of countries in its 'near abroad' – not just Ukraine. 
It's no coincidence that Poland, Estonia, Latvia and Lithuania are frontline states. So is Finland and, to an extent, Sweden, which explains their recent applications to join NATO. Some countries further from the danger appear complacent about the potential future threat (Spain, Portugal and Italy) or, due to economic interests, are nervous about confronting Russia (Germany, France, Austria and Hungary). This geographical split has led to tensions at the NATO summit in Madrid, which opened on 29 June.
Warsaw is dismayed by Germany's prevarication in sending heavy weapons to Ukraine. It fears that German and French reluctance to antagonise Russia will give weight to countries such as Italy, which have suggested that Ukraine needs to make concessions to Russia to end the war. The Baltic states share Poland's view and, given the behaviour of Putin's troops in places such as Mariupol and Bucha, are in no mood to reward the Russian president and risk having their populations face similar brutality later this decade.
Despite Germany's parliament insisting that Berlin send heavy weapons, Chancellor Olaf Scholz blocked their delivery for weeks. He talks about supporting Ukraine but stops short of saying he wants it to win. His SDP party has strong links with Moscow and was behind the now discredited 'Ostpolitik' – Eastern policy – which sought to bring Russia closer to Europe through economic ties. Germany's manufacturing base, and thus its export-driven economy, is heavily reliant on Russian energy. 
At the NATO summit we can expect to see the Baltic states asking for more NATO troops to be based in, or rotate through, their countries, and for a strengthening of naval and air power in the Baltic Sea. This would require stockpiling equipment and that requires money. 
It also means making decisions. Which troops? And whose money? Well, the Germans are rich, and Chancellor Scholz is committed to strengthening Germany's weak military. But of course, he may not want to antagonise Putin. 
Stay connected with the Geographical newsletter!
In these turbulent times, we're committed to telling expansive stories from across the globe, highlighting the everyday lives of normal but extraordinary people. Stay informed and engaged with Geographical.
Get Geographical's latest news delivered straight to your inbox every Friday!
Then there's the French. They have the strongest military on the continent and President Emmanuel Macron wants to build 'strategic autonomy' for Europe, eventually via an EU army. But this would be a NATO mission signed off by the USA.
So, who might step up? The British would offer help, as would the Poles. And then, assuming their membership is fast-tracked, there are Finland and Sweden. Both are already EU members. If they had any confidence in Macron's 'strategic autonomy' they could have pushed to make it a reality. 
The EU already has a mutual defence clause, Article 42(7), which obliges all member states to come to the aid of any other member that is the victim of aggression. Instead, both Finland and Sweden chose NATO. Sweden in particular sees NATO, with its US underpinning, as the only force capable of guaranteeing European security. Here the Nordics' position is again in line with that of the UK, Poland and the Baltics.
Finland and Sweden will bring a lot to the table. Their militaries are already better equipped and trained than those of many existing NATO members. In part, this is because after the Cold War ended, they maintained their defence levels, even as other countries cashed in the 'peace dividend'. Both have sophisticated air defence systems and Arctic-war-fighting capabilities. 
Their presence within NATO will shift the balance of power within the European wing of the organisation. It's supposed to be an alliance of equals, but firepower and commitment talk. They will want more focus on the 'High North' and on the Baltic Sea. 
That will suit Kyiv. Not because it has interests in the Baltic and the Arctic, but because it has an interest in NATO being strengthened by countries that believe that Russia is a long-term threat that could set fire to the whole neighbourhood. 
---
More geopolitics…
Latest posts by Tim Marshall
(see all)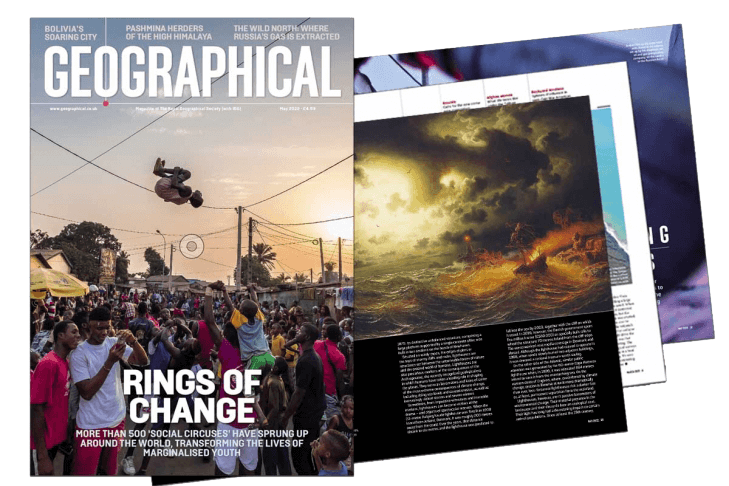 Subscribe to our monthly print magazine!
Subscribe to Geographical today from just £3.40 per month. Our monthly print magazine is packed full of cutting-edge stories and stunning photography, perfect for anyone fascinated by the world, its landscapes, people and cultures. From climate change and the environment, to scientific developments and global health, we cover a huge range of topics that span the globe. Plus, every issue includes book recommendations, infographics, maps and more!