For years, people have asked whether digital nomadism might become the new normal. There are signs that it already is
---
In the USA, 16.9 million people currently describe themselves as digital nomads, according to a study by self-employment specialists MBO Partners – more than double the number in 2019. The same study revealed that 72 million US citizens were planning to become digital nomads over the next two to three years. 'The massive rise in digital nomads is just one more sign that the workforce of yesterday is gone for good,' says MBO Partners CEO Miles Everson.
While the number of digital nomads has been slowly increasing since the mid-2010s, Covid-19 has had the single biggest impact on the way Americans work. In the UK, the pandemic has similarly acted as a catalyst in the shift towards hybrid and remote working. By 2022, 22 per cent of the UK workforce was reported to be working from home at least one day a week and 13 per cent worked from home exclusively, compared to 12 per cent and five per cent (respectively) in 2019. How many remote workers in the UK – or Europe – are also digital nomads, however, is unknown; we don't have those data yet. 'MBO is doing great research quantifying how many people there are in the USA, but there's no way of doing that on an international scale,' says Dave Cook. 'Nobody's doing it.'
Cook is an anthropologist at University College London whose research focuses on remote work and the lifestyles of digital nomads. They believe that what was once a niche, slightly strange way of life is becoming increasingly normal. 'I'm now beginning to think about digital nomadism in pre- and post-pandemic terms, because there are elements that are now going mainstream.'
---
Enjoying this article? We have thousands more for you.
Get immediate access to over 1,000 Geographical magazines in our archive back to 1935.
Sign up today and you will soon be travelling back through time reading all our amazing features of the last eight decades PLUS... you also get to enjoy every new issue of Geographical each month going forward in both print and digital formats.

Simply press the button below to choose the perfect package for you.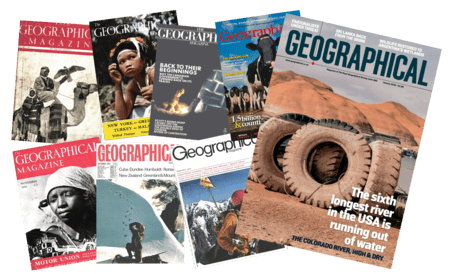 ---
Cook first encountered the term 'digital nomad' in 2015 during a field trip to the Thai island of Ko Pha-ngan (which, at the time of writing, is ranked the top destination for remote working on nomadlist.com) and has been documenting the lifestyle ever since. 'One of the things that is confusing for everybody, governments included, is that there isn't an accepted definition,' they say. 'Without this, we simply can't count or quantify who's doing it.'
To this end, Cook has identified five categories of digital nomads: Freelance, Business Owners, Salaried (the fastest-growing category), Experimental and Armchair (those with ambitions of becoming digital nomads within the next two to three years). They have also determined what differentiates a digital nomad from, say, a remote or migrant worker (or 'expat'). Digital nomads, says Cook, have the ability to work and travel simultaneously, have autonomy over the frequency and choice of new destinations, and visit at least three locations a year that aren't the home of a friend or family member. 'Of course, most digital nomads move a lot more than that,' says Cook, something that can cause tension among migrants and locals alike. 'They can get quite angry and hot under the collar over digital nomads, who tend to congregate in certain areas and co-working spaces. They talk about visiting places because they want to integrate, but they only stay for a few weeks or months.'
Digital nomadism isn't just changing the way we work, it's transforming our towns and cities, too. For many digital nomads, a lower cost of living has been one of the main attractions, and popular destinations are concentrated in South East Asia (among them Chiang Mai and Bangkok in Thailand and Canggu in Indonesia) and increasingly include the less-expensive cities in Europe and South America, such as Lisbon, Timișoara, Mexico City and Medellín. Rising costs at home could well be another motivation for some people now working remotely. 'They're more economically privileged than many of the people in the places that they're visiting, but sometimes they're escaping a cost-of-living crisis that's happening at home,' says Cook.
In some destinations, there's a growing backlash against a lifestyle seen by many to be driving gentrification and rent rises. Cook says that, through their research, they see a lot of apartment blocks in a lot of locations that are becoming de facto hotels. 'In places like Lisbon it has reached a breaking point. It's seen as a global city, but it only has a population of 500,000. Neighbourhoods have already been hollowed out.'
However, for some destinations still recovering from the pandemic, the arrival of digital nomads has been a boost for the local economy and many countries sought to attract more remote workers as travel restrictions relaxed. In 2020, Estonia became the first country to launch an official digital nomad visa. 'Now, depending on which list or website you read, there are between 40 and 100-odd of these visas,' says Cook.
This new lifestyle isn't a phenomenon that's going away anytime soon. Some estimates suggest that by 2035 there could be as many as one billion digital nomads worldwide. Cook says that, for now, most people are tethered by homes, families and social ties. But that could change. 'I think we have to ask ourselves the question, what would it look like if there were one billion people on the move in this way?