Six must-watch Netflix documentaries for geography lovers
---
By Becky Broyd
Sherpa (2015)
Climbing Mount Everest may be the dream of many an adventurer looking to push themselves to the limit, but for some Sherpa people, it's simply a day job – albeit one with considerable risks. Jennifer Peedom's film demonstrates the integral part Sherpas play in the mountaineering industry in Nepal and the sacrifices they make. After the 2014 tragedy on Everest, in which 16 Sherpas died in an icefall while preparing the route for Westerners to climb, tensions between Sherpas, their employers, the government and foreigners heightened. Both terrain and relationships remain treacherous. The film aims to increase respect for these people who help fulfil the dreams of others. Often heart-wrenching, it depicts the fight for better working conditions and offers an eye-opening account of the complexities of the Everest tourism industry.
---
Three songs for Benazir (2021)
This Academy-nominated short film follows a young Afghan man, Shaista, depicting his struggle to balance caring for his family with his ambition to join the Afghan National Army. Living in a displacement camp in Kabul and unable to return to his village, Shaista wants to make something of his life and stop working on the notorious opium farms. Having built up a friendship with both Shaista and his wife Benazir over many years, directors Elizabeth and Gulistan Mirzaei are able to provide an intimate portrait of the couple and the difficult choices they must make. Filmed before the Taliban takeover of Afghanistan, it remains a moving and insightful watch.
---
Kiss the Ground (2020)
Kiss the Ground offers an optimistic, solutions-driven view of climate change. Narrated by Woody Harrelson, the film presents soil as the missing piece in the climate puzzle, highlighting the vital importance of this overlooked component of our ecosystems. It delves into regenerative farming and permaculture, examining the huge pressure placed on farmers today and the cost of industrial-scale agriculture. The film aims to educate and encourage participation in a more sustainable future for food production.
---
Lead me Home (2021)
A poignant examination of the housing crisis impacting Americans on the West Coast of the USA, Lead Me Home follows the lives of several homeless people, demonstrating that anyone can end up on the streets. The country's vast disparity in wealth is fully on display, while plainly shot interviews lay bare a reality America doesn't want to confront.
---
Chasing Coral (2017)
Jeff Orlowski's film zooms in on the phenomenon of coral bleaching, yet another complicated cog in the never-ending wheel of climate change and global warming and its impact on our oceans in dire need for protection. By following an expert team of divers, photographers and scientists on a mission to discover why corals are vanishing at an unprecedented rate, this visually striking documentary demonstrates the far-reaching effects of climate change in our oceans while offering a stark warning of what's to come if we continue as we are.
---
Virunga (2014)
Virunga provides a raw account of the ways in which money, greed and violence can impact nature. Combining investigative reporting and nature documentary, it follows the rangers risking their lives to protect Virunga National Park in the eastern Congo along with its most famous inhabitants – the last remaining mountain gorillas. When the filmmakers become caught up in conflict, promoted by the M23 rebel group declaring war, things take a turn for the dramatic, plunging the park and its protectors into yet more peril.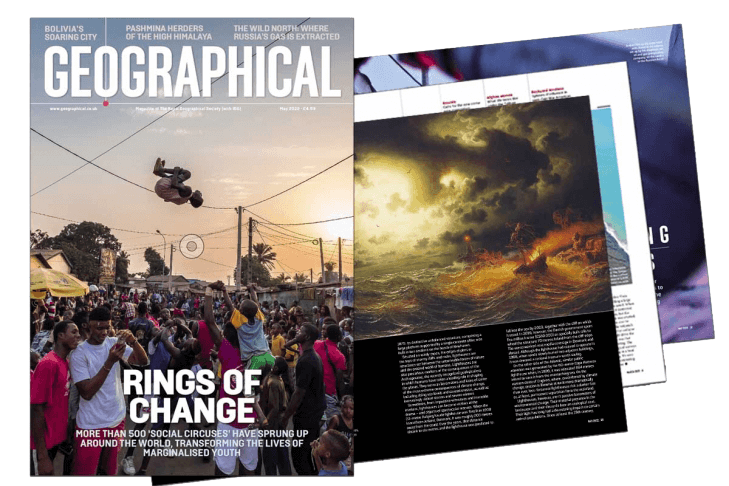 Subscribe to our monthly print magazine!
Subscribe to Geographical today from just £3.40 per month. Our monthly print magazine is packed full of cutting-edge stories and stunning photography, perfect for anyone fascinated by the world, its landscapes, people and cultures. From climate change and the environment, to scientific developments and global health, we cover a huge range of topics that span the globe. Plus, every issue includes book recommendations, infographics, maps and more!
Stay connected with the Geographical newsletter!
In these turbulent times, we're committed to telling expansive stories from across the globe, highlighting the everyday lives of normal but extraordinary people. Stay informed and engaged with Geographical.
Get Geographical's latest news delivered straight to your inbox every Friday!