Olivia Edward reviews Amy Liptrot's book, The Instant, published by Cannongate
---
Perhaps even the most healing of landscapes can lose their appeal eventually. When writer Amy Liptrot wearies of isolated shorelines, she leaves the Scottish islands of Orkney, whose wild nature had helped her recover from alcohol addiction, and moves to Berlin with just three months' savings in her pocket, a longing for 'restaurants, sexiness, conversations,' and a hope of perhaps falling in love.
She becomes part of the sublet culture – 'people always keeping their options open, skimming the surface of other countries, digitally fragmented, never committing.' All you need to know is how to ask for coffee and the WiFi code.
She starts working in a tea factory, weighing out grams of tea leaves into tiny latticed bags, a lifestyle migrant rather than an economic migrant, aware of the privilege. 'It is casual work. We have casual relationships. It is a casual city,' she writes. The longed-for love affair snaps into place in a titular instant. 'I could kiss you,' she confesses on their first date. 'Why don't you?' he replies. Chorusing around them are the city's other residents – raccoons, nightingales, goshawks, the wild migrating geese that fly overhead and the ever-present moon.
When the relationship comes crashing to a jolting halt, Liptrot is thrown back into the digital realm, searching both for him and an understanding of exactly what happened. Her candour illuminates the new layered-up geographies in which we exist now, and their implications. With phones in hand, we've become cyborgian, the places to which we travel almost hybrid as a result – part actual, part virtual – our minds melding the two into one, an at times dizzying and disorientating experience.
Liptrot excels at extrapolating scientific metaphors out into emotional terrain and turning her astute insights into prose that possesses a lyrical sheen. Post-pandemic, when so much has become 'remote', The Instant feels as though it's reporting from the frontiers of digital nomadism, describing how many of us might live, revelling in new freedoms while simultaneously drifting and weightless, aching for something to pin us down and hold us in place.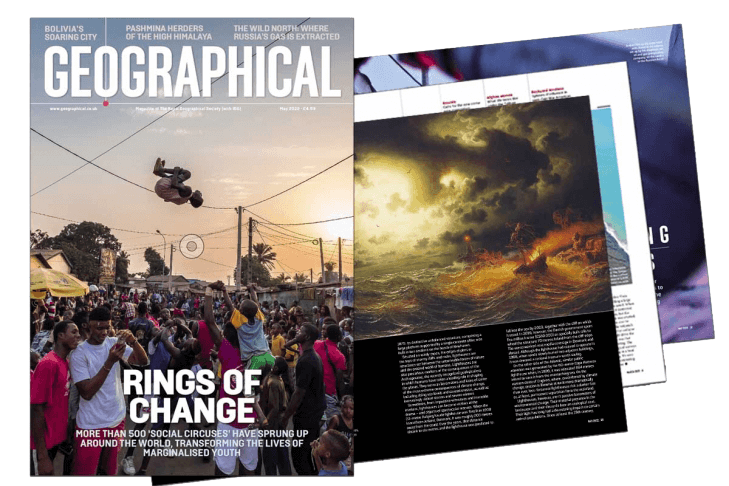 Subscribe to our monthly print magazine!
Subscribe to Geographical today from just £3.40 per month. Our monthly print magazine is packed full of cutting-edge stories and stunning photography, perfect for anyone fascinated by the world, its landscapes, people and cultures. From climate change and the environment, to scientific developments and global health, we cover a huge range of topics that span the globe. Plus, every issue includes book recommendations, infographics, maps and more!