The absolute must-see nature documentaries on Netflix in 2023
---
By Emma Simmons
In recent years we have been pampered with an ever-growing selection of first-class nature documentaries. The BBC, once so far ahead of the competition it was in a class of its own, has been joined by a host of other broadcasters. Here are a selection of some of the very best – new ones and classics. Time to go wild from the safety of your sofa, with Geographical's guide to the best nature documentaries on Netflix.
Our Universe (2022)
Our Universe combines breathtaking wildlife footage with astronomical special effects to explain the fascinating connections that steer our natural world. Narrated by THE voice – Morgan Freeman, whose dulcet tones give Sir David a run for his money. This impressive documentary use block-buster technology Hollywood normally reserves for movies about superheroes saving the universe to awesome effect. Its ambition is equally impressive – the story of our solar system and the history of all life on earth. Clearly a job for Mr Freeman.
---
Our Great National Parks (2022)
You might think with a former president of the USA fronting the show, this might just be about the glories of America. But this five-part series from the producers of Blue Planet 2, spans the globe.
---
Enjoying this article? We have thousands more for you.
Get immediate access to over 1,000 Geographical magazines in our archive back to 1935.
Sign up today and you will soon be travelling back through time reading all our amazing features of the last eight decades PLUS... you also get to enjoy every new issue of Geographical each month going forward in both print and digital formats.

Simply press the button below to choose the perfect package for you.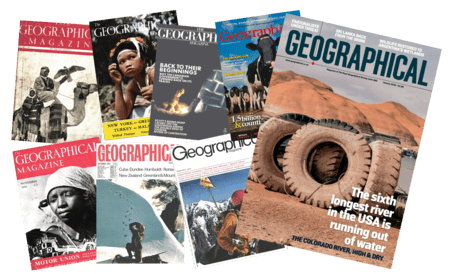 ---
From California's Monterey Bay to the Tsavo National Park in Kenya, from Patagonia to Indonesia, each episode explores a different national park and tells the story of the residents in a wonderful and often humorous way.
Barack Obama's sometimes stilted delivery (not as bad as most former presidents might have delivered), is more than compensated by the stunning footage.
You can get a tester from this enjoyable series in the trailer below.
---
Life in Colour with David Attenborough (2021)
Join the main man Sir David Attenborough himself as he unveils the captivating stories behind nature's vibrant palette, using groundbreaking camera technology to showcase the incredible ways animals use colour. Personally, I would tune in if he was just reading the Dulux colour chart – the fascinating facts revealed and the awesome footage are just added bonuses. Life in Colour is not to be missed.
---
Mission Blue (2014)
Dive deep with Mission Blue, a Netflix original documentary that follows the world's favourite oceanographer, Sylvia Earle as she travels the high seas on an urgent mission to highlight the critical condition of Earth's oceans. Directed by the Titantic's James Cameron, (no mean ocean explorer himself), he joins Sylvia in her campaign to save the oceans from global threats such as overfishing and toxic waste.
---
Virunga (2014)
The Oscar-nominated true story of Virunga provides a first-hand account of how brave rangers risk their lives to protect mountain gorillas in the Virunga National Park. Emotional, important and infuriating. Essential viewing.
For more of our suggestions on what to watch next on Netflix see our article on The best geographic documentaries on Netflix.