Study reveals that flowing air allows microbes to live deep inside sand dunes
---
A decades-long research project has revealed the way in which desert dunes move, grow and also 'breathe' humid air. Special probes used by researchers from Cornell University, the University of Rennes and the University of Nantes, showed just how porous dunes are, with tiny amounts of air seeping through them.
'The wind flows over the dune and, as a result, creates imbalances in the local pressure, which literally forces air to go into the sand and out of the sand. So, the sand is breathing, like an organism breathes,' said lead author Michel Louge.
This 'breathing' allows microbes to persist deep inside hyper-arid sand dunes, despite the high temperature.
The information could help to prevent desertification in the future, an issue that is becoming ever more urgent with the rise of global climate change. Desertification and land degradation are estimated to negatively affect 3.2 billion people globally. According to the Global Environment Facility, if left unchecked, these ecosystem changes could lead to 'food shortages, heightened impacts of climate change globally caused by the release of carbon and nitrous oxide from degrading land, and the threat of social instability from the forced migration that will result'.
Louge is also studying how microbes can help to stabilise the dunes and prevent them from encroaching onto roads and other infrastructure, often caused by deforestation or a loss of other vegetation that normally protects the dunes from strong winds.
The newly developed probe may well have other applications beyond the desert, from studying the way that agricultural soils imbibe or drain water, to calibrating satellite observations over deserts, to searching for traces of water in extraterrestrial environments.
---
More to read…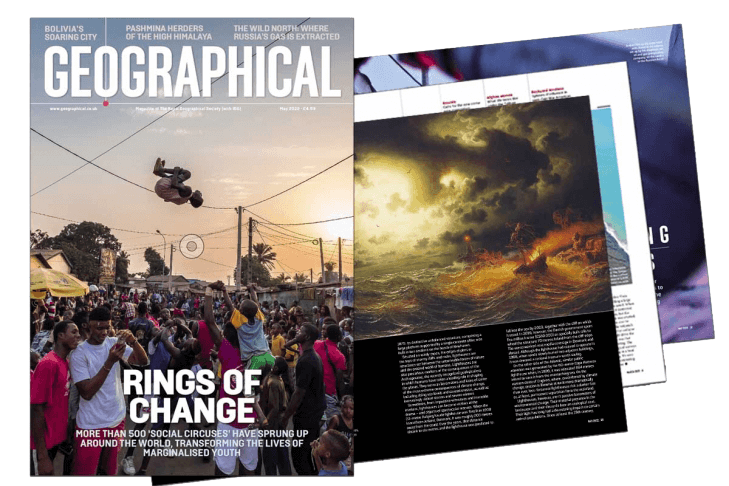 Subscribe to our monthly print magazine!
Subscribe to Geographical today from just £3.40 per month. Our monthly print magazine is packed full of cutting-edge stories and stunning photography, perfect for anyone fascinated by the world, its landscapes, people and cultures. From climate change and the environment, to scientific developments and global health, we cover a huge range of topics that span the globe. Plus, every issue includes book recommendations, infographics, maps and more!
Stay connected with the Geographical newsletter!
In these turbulent times, we're committed to telling expansive stories from across the globe, highlighting the everyday lives of normal but extraordinary people. Stay informed and engaged with Geographical.
Get Geographical's latest news delivered straight to your inbox every Friday!