Rory Walsh savours a flavour of historic Sandwich, one of England's most picturesque towns
---
Walk • Urban • South East England • 2 miles • Web guide
In the heart of the east Kent countryside, roughly halfway between Dover and Ramsgate, stands one of the county's most curious landmarks. A humble road sign attracts visitors from worldwide, including 300 contestants of a Japanese TV show. The reason? One of the limbs on this traditional white fingerpost bears the legend 'Ham Sandwich'. Ham is a quiet hamlet near Deal. Historic Sandwich meanwhile is a couple of miles north. The name isn't its only unusual quality.
Sandwich has been described as England's most complete medieval town. To Raymond Molony, FRGS and author of this walk, 'it's a jewel set in South East England'. Colourful timberframed houses line narrow winding streets. There are three medieval churches to explore, an impressive guildhall, and several rustic pubs. Secret alleyways dive out of sight and raised ramparts survey lush meadows. The town's tranquil appearance however belies a dramatic story.
'I was drawn to Sandwich because I've always been fascinated by how people make a living in changing environments,' says Molony, who is used to working in challenging places, including prolonged spells in the Arctic. Sandwich has faced more challenges than most. The town has survived plague, invasion, flooding, even earthquakes. The greatest setback of all though was a transformation in the landscape that deprived Sandwich of its livelihood.
The walk begins at a bridge overlooking the River Stour. To the right stands The Barbican, a cottagelike tollbooth spanning the road. On the left are marshy fields. The Stour below is a narrow, gentle meander lined with pleasure boats. The scene used to be very different. 'The Stour was once much wider,' Molony explains. 'By the eleventh century, Sandwich was England's fourth-largest port. In the 1400s there was a local fleet of 100 ships, many more visited from Europe.'
Sandwich thrived through its location. The town developed where the River Stour entered the Wantsum Channel. The Wantsum Channel was a 600-metre wide strait that separated the Isle of Thanet from mainland Kent. It also provided a shipping route into the Thames Estuary. Prevailing winds meant vessels could dock safely at Sandwich's natural harbour. The port became known as Sandwich Haven and the town grew very wealthy from seafaring trade.
Fortune came with a price. For much of the medieval period, England was at war with France. Sandwich was a Cinque Port, a league of five English towns that supplied soldiers and ships during wartime. When the Cinque Ports became strategic targets, Sandwich was at the frontline. 'The Wantsum Channel made Sandwich accessible but vulnerable,' says Molony. 'French troops could sail right in. Sandwich was raided several times.' The worst attack came in 1457 when 4,000 French soldiers sacked the town and killed the mayor.
Various defences were built to protect Sandwich Haven. The walk passes the attractive Fisher Gate and traces the town's earthen walls. Up on the latter, Molony highlights the scenic lawn of Sandwich Cricket Club. In medieval times this was where men and boys learned archery. Henry V's army apparently practised there before setting off to the Battle of Agincourt. 'Today boys play cricket on that field – but imagine being 12 years old and standing there with a longbow in front of a line of targets.'
Stay connected with the Geographical newsletter!
In these turbulent times, we're committed to telling expansive stories from across the globe, highlighting the everyday lives of normal but extraordinary people. Stay informed and engaged with Geographical.
Get Geographical's latest news delivered straight to your inbox every Friday!
French forces weren't the only threat. The winds and tides that carried ships into Sandwich also carried sediment along the Kent coast. Sediment deposits formed the Deal Spit, which gradually grew northwards across the mouth of the Wantsum Channel. At the same time, monks drained surrounding salt marshes for farmland. By the end of the sixteenth century, these processes of deposition and drainage had combined to devastating effect. The Stour had all but silted up.
The Wantsum Channel eventually met the same fate. The former Sandwich Haven is now two miles inland. Clues of the town's seafaring past endure in roads such as Strand Street. 'Strand' is Old English for 'bank' or 'shore' and the road once formed the quayside. The houses along Strand Street are said to be England's longest stretch of timberframed buildings. These days double decker buses rather than Genoese boats squeeze their way past.
Exploring Sandwich today recalls entering a maze. Molony suggests this was deliberate, 'it must have been confusing for potential invaders'. On a quiet mid-morning, the town feels serenely frozen in time. 'You can easily imagine the people who lived here,' says Molony, 'the merchants, sailors, fishermen, engaged in their various business.'
These residents included a group known locally as the Strangers. In 1560, Elizabeth I invited Dutch Protestants to live in Sandwich to escape religious persecution in their homeland. 'They arrived at just the right time,' says Molony. 'Sandwich Haven was declining and the Dutch introduced new ways of making a living, like weaving and new farming techniques.' The Strangers' presence remains in features such as the gable walls and ornamental brickwork that they added to their homes.
Dutch migrants also rebuilt the tower of St Peter's Church. Sandwich's trio of historic churches symbolise medieval prosperity. They also highlight a geographical advantage. Religion flourished in Sandwich because the port's location meant countless pilgrims passed through on their way to Canterbury. Sandwich has long provided a spiritual as well as physical haven. Later generations who found shelter in the town included 17th century Huguenots and Jewish refugees during the Second World War.
But peace was sometimes shattered. May 2015 saw Sandwich make headlines as the epicentre of an earthquake. The tremor, at 3am with a 4.2 magnitude, woke people as far as Southend in Essex. Sandwich had felt tectonic activity several times before. In 1580 an earthquake wrecked St Mary's Church. Repairs are still visible in the walls. Nearby Folkestone was the centre of earthquakes in 2007 and 2009, while the Dover Strait was hit in 1382, 1776 and 1950.
Sandwich made headlines again this July when Royal St George's Golf Club hosted the Open Championship for the 15th time. Sandwich has three worldclass golf courses – Royal St George's, Royal Cinque Ports, and Prince's. All three grew where Sandwich Haven shrank. The courses developed on sandy land created by centuries of tidal deposition. 'Geography is never static,' Molony reminds me. From shifting sand banks to swinging sand wedges, Sandwich's story has plenty of twists.
Perhaps the most enduring is the town's name; it has nothing to do with food. 'Sandwich' is thought to derive from the Saxon for 'sandy place'. Before it relocated to higher ground in the tenth century, the original settlement was on a riverside sandbank. The foodstuff of the same name is often linked to the 18th-century statesman John Montagu, the fourth Earl of Sandwich. Legends claim he was a keen gambler and often skipped meals to continue playing cards. His snack of choice became known by his title. As Molony says, 'There's much more to Sandwich than sliced bread.'
---
Go to the Discovering Britain website to find more hikes, short walks, or viewing points. Every landscape has a story to tell!
Stay connected with the Geographical newsletter!
In these turbulent times, we're committed to telling expansive stories from across the globe, highlighting the everyday lives of normal but extraordinary people. Stay informed and engaged with Geographical.
Get Geographical's latest news delivered straight to your inbox every Friday!
Latest posts by Rory Walsh
(see all)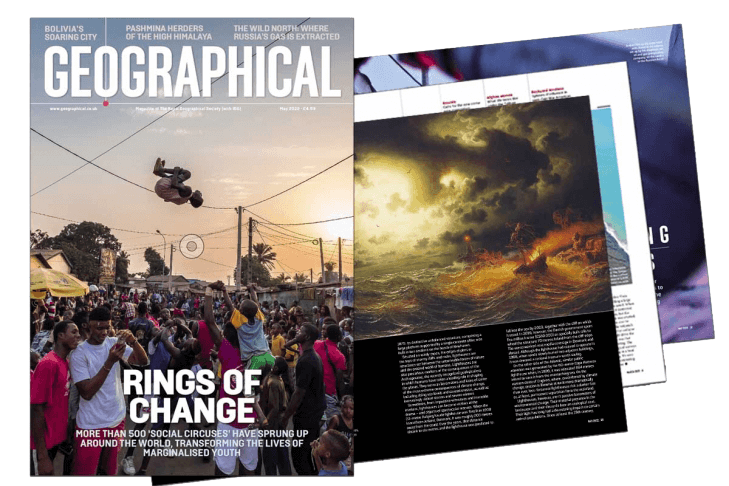 Subscribe to our monthly print magazine!
Subscribe to Geographical today from just £3.40 per month. Our monthly print magazine is packed full of cutting-edge stories and stunning photography, perfect for anyone fascinated by the world, its landscapes, people and cultures. From climate change and the environment, to scientific developments and global health, we cover a huge range of topics that span the globe. Plus, every issue includes book recommendations, infographics, maps and more!