Rory Walsh meets Britain's tallest man, keeping watch over the South Downs
---
View • Rural • South East England • Web guide
In Wilmington, Illinois, drivers on Route 66 cruise past the Gemini Giant. This 30-foot fibreglass statue, wearing a space helmet and holding a rocket, is one of several unusual advertising props lining the highway. Fittingly given his name, the Gemini Giant has a twin, some 4,000 miles across the Atlantic in another place called Wilmington.
The Long Man of Wilmington stands on the grassy slope of Windover Hill in East Sussex. With a stave in each hand, he keeps watch over the surrounding fields. The Long Man's name comes from his elongated body, which appears in proportion when directly below. Spanning 226 feet, he is Britain's tallest hill figure, 46 feet taller than the Cerne Abbas Giant in Dorset.
Like the Cerne Abbas Giant, the Long Man has become a famous landmark. The stark form seems so familiar that upon glimpsing it from Wilmington Priory car park, I almost wave and call hello. The sight of the Long Man up on the hillside has inspired generations of visitors, to reverence and irreverence alike. The fi gure has featured in art and poetry, plus been adorned with huge hats and underwear for pranks and campaigns.
Theories about the Long Man's origins are shrouded in folklore. Is he a fertility symbol? Celestial calendar? Pagan god? Heading across the fi elds towards his feet, his bright white outline looks like ancient chalk. Windover Hill is part of the South Downs, the chalk ridge that rolls through Hampshire and Sussex. Thin chalk soils can be cut back with basic hand tools. As a result, people have carved chalk landscape figures from at least the Bronze Age.
The Long Man, however, is not what he seems. For starters, he is younger than he looks. In 2003 archaeologists used soil analysis to date him to the mid-16th century. Furthermore, his pallid pallor has man-made rather than natural causes.
Though relatively simple to create, chalk figures are difficult to maintain. Grass and vegetation grow back quickly so the chalk needs regular 'scouring', a tiring and time- consuming process. Chalk downland is also prone to soil creep. Windover Hill ripples like a sea, the waves accelerated by hungry sheep and earthworms.
Add erosion from the elements and the Long Man may have vanished. In 1874, the outline was re-laid in bricks. He was set in concrete in 1969 and is regularly repainted. Like us all, Britain's tallest man is a product of his environment and subject to the laws of nature.
Stay connected with the Geographical newsletter!
In these turbulent times, we're committed to telling expansive stories from across the globe, highlighting the everyday lives of normal but extraordinary people. Stay informed and engaged with Geographical.
Get Geographical's latest news delivered straight to your inbox every Friday!
---
Go to the Discovering Britain website to find more hikes, short walks, or viewing points. Every landscape has a story to tell!
Latest posts by Rory Walsh
(see all)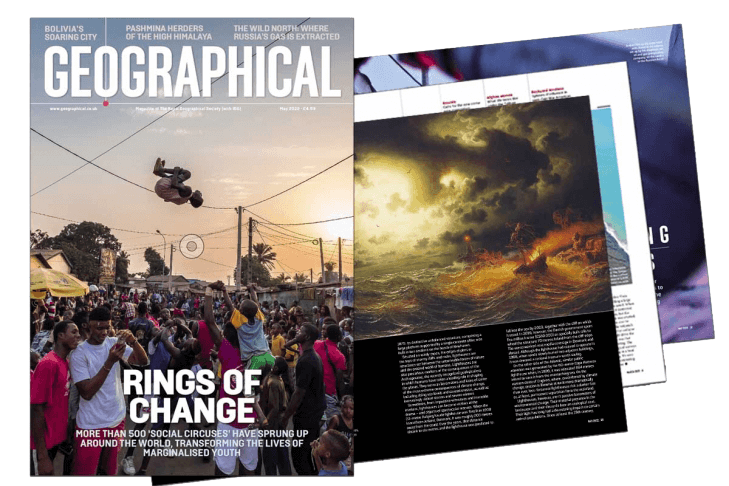 Subscribe to our monthly print magazine!
Subscribe to Geographical today from just £3.40 per month. Our monthly print magazine is packed full of cutting-edge stories and stunning photography, perfect for anyone fascinated by the world, its landscapes, people and cultures. From climate change and the environment, to scientific developments and global health, we cover a huge range of topics that span the globe. Plus, every issue includes book recommendations, infographics, maps and more!