Widespread protests are forcing the UK to confront the fact that racism remains prevalent in towns and villages across the country
---
By Abigail Spink
'Black is powerful, black is beautiful and black lives matter' protestors chanted in unison across the grounds of Colchester Castle in Essex on Sunday, before kneeling in silence for eight and a half minutes in honour of George Floyd. Floyd was a 46-year-old black American man from Houston who was killed by white police officer Derek Chauvin in Minneapolis on 25 May. His death has led to the eruption of what some are calling the largest civil rights movement in history.
Gathered in the centre of England's oldest market town, a sea of demonstrators listened and nodded in agreement as a young protestor spoke: 'This is bigger than you and me. Not only are we fighting for justice, equality, and basic human rights, but we are also fighting for future generations and our unborn kids who should be able to go outside and not have to worry about whether they'll make it home alive. Black lives matter is not a social media trend, it's not a bandwagon. It's a whole movement, it's a revolution. We are making history.'
Another speaker added: 'This isn't London or America, this is Colchester, Essex. This is happening right now where you are. This affects all of us.' People continued to relay personal accounts of injustice that had occurred in schools, the workplace, and when encountering the police. Their words shattered the illusion that racism is an issue confined to the other side of the Atlantic and the UK's 'more troubled' urban centres, reinforcing what black Britons across the country have been expressing for decades. 
Historian and broadcaster David Olusoga said earlier this week that UK demonstrators are so passionate because people are seeing 'parallels and echoes' between their own lives, their relationship with the police, and George Floyd's death. He urged people, before shrugging off racism as a distant problem, to look introspectively at 'our home grown varieties' and understand how it is 'deeply hard-wired into our culture, into our language and into the way we interact with each other.'
Peaceful protests have occurred in almost every UK county, uniting people across 150 towns. From the Welsh valleys to the Scottish Highlands, people have joined forces to show support for the Black Lives Matter movement. Marching, kneeling, and standing two metres apart in town squares, high streets, and parks have all become acceptable methods of demonstrating as the coronavirus pandemic still looms.
While small-town movements may seem peripheral to the triumphant displays of unity and uprising playing out in cities such as London and Bristol, their gravity is nonetheless being felt as they work to build awareness of injustices closer to home and previously overlooked. A demonstration that occurred on the streets of Kirkcaldy on 7th June, a town on the east coast of Scotland, urged authorities to readdress the case of Sheku Bayoh, who died under suspicious circumstances while in police custody in Kirkcaldy in 2015. His family is still fighting for justice but with renewed hope that pressure from activists will result in judicial action. 
The permeation of the movement into the farthest-flung corners of the country is breeding hope among supporters that Britain might finally be confronting the pervasive legacies of its racialised history. As statues memorialising slave traders and imperialists are losing their places in our cities, so too are the insidious endorsements of white supremacy upheld in the names of cobbled streets, roads, pubs, and signs found across suburban landscapes.
Stay connected with the Geographical newsletter!
In these turbulent times, we're committed to telling expansive stories from across the globe, highlighting the everyday lives of normal but extraordinary people. Stay informed and engaged with Geographical.
Get Geographical's latest news delivered straight to your inbox every Friday!
A group of residents from Ashbourne, a town in the Derbyshire Dales, are pushing for the bust of a black man with cartoonish features to be removed from a prominent pub sign, stating on their petition that 'it is harmful and instills a dangerously cavalier attitude towards this kind of caricature-style portrayal of black people that served to help keep them oppressed for hundreds of years.' Wrexham's campaign to change the name of a pub named after a slave trader alongside Exeter's efforts to change the name of its central 'black boy road', highlight the reach of colonial-age racism and its largely unacknowledged role in shaping the fabric of contemporary society.
Scarlett Robbins, a 16-year-old student who assisted in organising a protest in Ross-on-Wye, a small market town in the West Midlands near the Welsh border, expressed the importance of not being left out of the global conversation despite skewed demographics in rural areas. She said: 'You often find the most discriminative people in rural/quiet areas, as they are not exposed to as much diversity as bigger towns and cities. Therefore it is important to educate these places as much as you can, hopefully our protest bought these issues into the light for our community, and hopefully we helped educate and change people's minds on the matter.'
She continued: 'It's incredibly important that communities from all over come together to show their support for the Black Lives Matter movement. Not only does it show our solidarity, but it also shows that if a small majority-white and conservative town can support the movement, then anyone can.'
Other instances, however, suggest that there is still much work to be done to support countryside dwellers and tackle both covert and blatant forms of racism. As protestors gathered peacefully in the centre of Hoddesdon, a town in the Lea Valley of Hertfordshire, they were met with violent threats, racist slurs and derogatory heckles from an opposition group. As one organiser explained to the Herfordshire Mercury: 'I have been aware of the racism in this town for ages, experiencing microaggressions throughout school and in the town, but I had always felt relatively safe. Being involved in organising this protest made me realise the sheer number of racists that surround me and the blatant ignorance of these people.'
Another added: 'Counter-protesters made Nazi salutes at us, used disgusting language towards one lovely speaker, told us to go back to Africa and kept referring to black on black murder (which in itself as a statement is racist as no other ethnic group gets told they have "white on white" crime or "Asian on Asian" crime/murder). At some moments the men made monkey noises and gestures, drank through many beers, and sang football chants to try and block out our noise.'
Expressing her regret at the situation, one of the organisers, Jeyda, concluded: 'What was supposed to be a peaceful act of solidarity turned into a circus, a show and dance, a platform for hate to take such a form. None of us could've expected that, nor did I know how to digest this reality of my hometown.'
The scene certifies what academics Neil Chakraborti and Jon Garland found in a 2004 study, that for members of minority ethnic communities living in the less urbanised parts of the country, 'problems of racism can in fact be more distressing and prolonged as its victims find themselves living in a "double-bind" situation: on the one hand, minority ethnic groups are "invisible" in that their needs are not accounted for by existing policy and service provision; and, on the other, they are all too visible to local residents.'
While national protests have already made impressive strides towards uprooting the issue of systemic racism, it seems that we have only reached the tip of the iceberg in what is destined to be a long fight. As Jesse Bernard wrote in 2017, it is vital that Britain addresses the concerning familiarity of its xenophobia and wakes up to 'a wide range of black British voices that exist not only in large, urban areas but also the farthest corners of the country. These are important stories, and if we continue to overlook them, it will damage any attempts to tackle how racism affects our society.'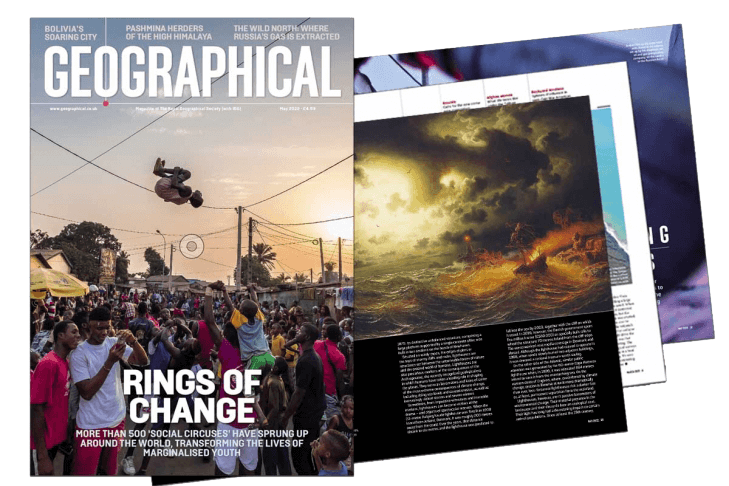 Subscribe to our monthly print magazine!
Subscribe to Geographical today from just £3.40 per month. Our monthly print magazine is packed full of cutting-edge stories and stunning photography, perfect for anyone fascinated by the world, its landscapes, people and cultures. From climate change and the environment, to scientific developments and global health, we cover a huge range of topics that span the globe. Plus, every issue includes book recommendations, infographics, maps and more!
Stay connected with the Geographical newsletter!
In these turbulent times, we're committed to telling expansive stories from across the globe, highlighting the everyday lives of normal but extraordinary people. Stay informed and engaged with Geographical.
Get Geographical's latest news delivered straight to your inbox every Friday!