Scorching temperatures hit Europe, set to continue as heatwave hits countries including Italy, Poland & Spain with temperatures up to 48C
---
Across Europe, a heatwave has been recorded in numerous countries in the wake of the hottest June on record – which caused unprecedented sea surface temperatures and record low Antarctic sea ice extent – and temperatures are expected to hit 44C in parts of Spain later this week.
Previously, the highest temperature in Europe was recorded on 11 August 2021, with a temperature of 48.8C in Floridia, an Italian town in the Sicilian province of Syracuse. Experts believe the record may be broken in this July heatwave, which Italy, Spain, France, Germany and Poland are all facing.
Only on Monday, it was announced that the planet had the hottest few days on record in July, according to the World Meteorological Organisation.
---
Enjoying this article? We have thousands more for you.
Get immediate access to over 1,000 Geographical magazines in our archive back to 1935.
Sign up today and you will soon be travelling back through time reading all our amazing features of the last eight decades PLUS... you also get to enjoy every new issue of Geographical each month going forward in both print and digital formats.

Simply press the button below to choose the perfect package for you.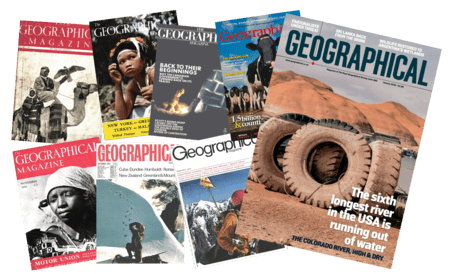 ---
Related articles
In Italy, an anticyclone – a high-pressure area – is coming from the south, with temperatures expected to soar to above 40°C as the heatwave affects most of the country.
Between 9 and 10 July, in some Italian cities – including Rome, Naples, Taranto and Foggia – land surface temperatures were recorded at 45ºC, and along the east slopes of Mount Etna in Sicily, temperatures reached over 50C. This data was only recorded in the late morning – at around 11:30 am – so temperatures would have only increased past these levels.
Land surface temperature is significantly hotter than air temperature – and is calculated using satellite instruments able to measure the real amount of energy radiating from the Earth. Monitoring land surface temperature is vital in forecasting weather and climate patterns, monitoring fires, and for farmers to optimise the irrigation of their crops.
Temperatures continue to rise
While the July heatwave continues, so does the onset of El Niño – the natural phenomenon which warms the Pacific Ocean, potentially leading to a further increase in global temperature and the number of weather records broken.
'Climate warming amplified this year by El Niño severely affects food production, water availability as well as our health,' said Mission Scientist of the Land Surface Temperature Monitoring mission, Benjamin Koetz.
A recent study in Nature Medicine highlighted the effect that increasing temperatures have on our global population – more than 60,000 people died due to summer heatwaves across Europe last year, with the highest mortality rate in Italy, Greece, Spain and Portugal.
In the wake of these high temperatures, the Red Cross has urged both tourists and locals to be cautious and pay attention to individuals who may be vulnerable to these higher temperatures.