Just over a decade ago, the wildlife of Rwanda's Akagera National Park was on the verge of being lost. But as the country continues to rebuild after its turbulent past, work is underway to bring the park's ecosystems back to life, with communities at the heart of its success
---
Words and images by Graeme Green
That's the big bull,' whispers Drew Bantlin, gesturing towards a large white rhino. 'Be careful, he can be a bit funny. He seems to be curious about you.' The solid, dinosaur-esque animal eyes us for a while, before deciding that we pose no threat and returning to his grazing and lazing among the thickets. If he was curious, the feeling's mutual. It's fascinating to be so close to these animals, which are usually viewed from far away, our feet planted on the same ground. 
White rhinos, including this group of 12 spread out over the grass around the Kilala Plains, are new arrivals to Akagera National Park in Rwanda, having been moved here in 2021 as part of the largest ever single translocation of the species, which saw 30 flown in from South Africa. 'The logistics of moving 30 animals from South Africa to Rwanda is pretty remarkable,' Bantlin, Akagera's conservation and research manager, tells me. 'It was very stressful. But all the animals are doing really well. It's great for Akagera. It brings diversity to the park.' 
Unlike black rhinos, white rhino didn't exist in Akagera historically, but the park was judged to be a perfect location for them. Bringing rhinos to Akagera was about creating a safe haven and breeding stronghold to support the long-term survival of the species, whose numbers are declining across Africa due to poaching for their horns. Several of the animals have stumps where their horns should be; they were intentionally dehorned when they were in South Africa. It's a jarring sight, but one of the surest ways to keep them alive. 
If all goes according to plan, the Akagera population could potentially provide animals to other parks in Rwanda or abroad in the future. 'It's about not having all of our eggs in one basket,' Bantlin explains. 'If we have all of the white rhinos that are still alive in a handful of places that are under pressure, we need to look at moving some of those animals to places that tick the boxes ecologically and that are secure, so we can build up stronger populations.'
The idea of Akagera as a safe haven is a sign of just how far its fortunes have risen in a short time. I spend several days inside the park, exploring the grassy plains and rolling green hills, where Masai giraffes and elephants wander among acacia trees. There's a vast papyrus-covered swamp and more than ten lakes, where the eyes of crocodiles and hippos watch from the silvery surfaces. Today, the park is home to 133 elephants, about 80–100 leopards, around 40 lions, 29 critically endangered black rhinos, 30 white rhinos, 85 Masai giraffes and around 480 bird species. But just over a decade ago, most of the animals inside the park had been wiped out.
Akagera contains Central Africa's largest protected wetland and Rwanda's last remaining refuge for savannah-adapted species such as zebras, buffalo and giraffes. Originally created in 1934 by the Belgian government, which occupied Rwanda at the time, Le Parc National d'Akagera sits in the country's east, which wasn't heavily populated during Belgian rule due to the problematic wildlife and tsetse flies. The 2,500-square-kilometre area, a tenth of the country, was protected for conservation and science, as well as trophy hunting – a natural paradise home to around 30,000 buffalo, 10,000 impala and more than 300 lions. The Akagera River, to the east, forms a natural border with neighbouring Tanzania. 
Stay connected with the Geographical newsletter!
In these turbulent times, we're committed to telling expansive stories from across the globe, highlighting the everyday lives of normal but extraordinary people. Stay informed and engaged with Geographical.
Get Geographical's latest news delivered straight to your inbox every Friday!
Everything changed with the 1994 Rwandan genocide, which saw around 800,000 people, mainly Tutsis, but also moderate Hutus, killed by Hutu extremists in around 100 days. Seventy per cent of the Tutsi population lost their lives, amounting to ten per cent of the total Rwandan population. Roadblocks were implemented and the Rwandan army, along with a militia called the Interahamwe, went door to door, killing men, women and children. Sexual violence against women and girls was widespread. Many Rwandans fled for their lives. 
'After the tragic genocide against the Tutsi, a lot of refugees came back home with all their livestock, which put a lot of pressure on Akagera,' the park manager, Ladis Ndahiriwe, says when we meet at the park HQ. The government reallocated the park's land in 1997, giving more than half to people to settle and raise cattle, shrinking the protected area to 1,122 square kilometres. Cows were easy targets for lions and herdsmen retaliated by poisoning the predators. By 2001, all of Akagera's lions and many of the other animals were dead. 
In 2010, the Rwandan government invited non-profit conservation organisation African Parks to help manage the space. 'When African Parks signed the management contract with the Rwanda Development Board, the park had been overrun with more than 30,000 cattle,' Ndahiriwe explains. 'Human–wildlife conflict was out of control. There were no more lions or rhinos. The rhinos had probably been hunted for their horn. It was a low point. There were only 5,000 animals in the park. 
It's a must to have a national park in Rwanda,' he adds. 'So they built an electric fence from north to south, 120 kilometres, to make sure the park is protected. On the other side, there's the Akagera River, which is a natural border. With a very good fence and good law enforcement, the park was ready to bring back wildlife.'
The fence and the well-equipped, well-trained law enforcement team have been essential to bringing Akagera back to life. But instead of just cordoning the area off, African Parks has worked to support and collaborate with many of the 500,000 people who live around the park's boundaries. 'It's about communities and sustainability,' Ndahiriwe says. 'To protect the natural zone, we have to work with the community. Without them, we can't do anything.' 
'We manage the relationship between the park and the communities with the "three Es": education, engagement and enterprise,' explains Fiston Ishimwe, African Parks' deputy community liaison manager, at the Akagera Community Centre in Nyankora, just outside the park entrance. Education outreach is designed to communicate 'why it's important the park is a park and not a farm', and includes a monthly radio broadcast. Students, local leaders and community representatives are taken into the park to see the wildlife and learn about conservation. 
The Rwandan government directs ten per cent of the park's tourism revenue to community projects, including schools and hospitals. Regular meetings also mean local people are involved with decision-making and are able to raise issues. 'On this side of the fence, there are still some hippo, leopard, hyena…' Ishimwe says. 'Sometimes hippos raid crops, or hyena and leopard kill livestock. We teach people how to live with them and support them with preventative measures.' 
The most effective 'E' is the third: 'enterprise'. At the community centre, beehives hang from the trees and there's a honey-production room. 'There are 11 beekeeping projects with 376 members,' Ishimwe tells me. 'Last year, we made 11.5 tonnes of honey, which generated around US$44,000 for members. We give financial support and training for beekeeping.'  
African Parks also helps people learn to breed chickens and grow mushrooms (a good source of protein), and has supported several co-operatives, including sustainable fishing. Local people also produce handicrafts to supply the park shop. 'The efficient management of the park wouldn't be possible without the engagement and involvement of the communities,' Ishimwe explains. 'The solution is not putting law enforcement and rangers everywhere, and not seeing people as the enemies of the park. The sustainable solution is to educate people that poaching or illegal fishing isn't a good way to get their money, but that they can contribute to protecting the park and get a benefit that's much bigger. It's to prevent crime before it happens and to make people feel the park should be there by choice, not by force.' 
Stay connected with the Geographical newsletter!
In these turbulent times, we're committed to telling expansive stories from across the globe, highlighting the everyday lives of normal but extraordinary people. Stay informed and engaged with Geographical.
Get Geographical's latest news delivered straight to your inbox every Friday!
In the colourfully painted town of Nyankora, I meet Aphrodice Uwabakurikiza, member of the Itorero Inyange 2 Akagera co-op, which arranges traditional dance performances for hotels and other tourism businesses. He explains that before 2010, there was little sense of ownership or connection with the park, not least because it was the creation of a former colonial power. 'People used to feel the park wasn't for us, not important,' Uwabakurikiza says, as we sit on a porch by the roadside. 'It was a source of firewood and some meat. We thought the park belonged to the government, to international organisations, but not to us. Now, the communities around here know the park is ours, so we're involved in protecting it. 
'Before, the park wasn't fenced and no-one looked after us,' he adds. 'But now the park is fenced and there are a lot of improvements to people's lives. We understand its importance. We can build a house or buy livestock from what it provides.' 
The park has seen many new arrivals since 2010, with the reintroduction of lions from South Africa in 2015, as well as 18 black rhinos from South Africa in 2017, along with a further five from zoos in Europe in 2019. 'The rhinos and other species coming is like a new product in the business,' Uwabakurikiza says. 'We expect it to bring more tourists. We get a percentage of that money, which we rely on.'
Local feelings about wildlife have also changed for some people. 'I don't see any difficulties living alongside Akagera,' Uwabakurikiza tells me. 'The park has a compensation fund if people lose animals or crops, so we're happy. It's not a big problem anyway, now the park's fenced. Before, I had a piece of land near the park; I used to cultivate it and I'd get nothing because of the animals. But now I grow maize and bananas, and it's safe.' 
The park's fence has been built not just to keep the wildlife inside secure but to stop it getting out and wreaking havoc. As popular as Africa's wild animals are with tourists, for those living alongside them, life can be challenging, with predators occasionally attacking livestock, and elephants and buffalo raiding crops. Sources of food and income can be lost overnight. 'Don't ask, don't ask,' 73-year-old Patrice Mukamurera pleads, throwing her head back and clapping her hands, when I ask if her home and land used to get 'visitors'. 'We came here to Nyankora in 1975 for agriculture. In the morning, we'd look and everything would be gone. The animals – baboons, buffalo, warthog and bushpigs – took it all.
'I'm grateful for the fence,' Mukamurera adds. 'Before the fence, it was never easy to grow anything. We couldn't grow maize because the animals would take it. It was easy to get meat from the park: buffalo, impala, zebra… But I prefer to go to the village and buy my meat from a shop, rather than having no fence and seeing my crops destroyed by wild animals'.
I also spend time with Clementine Muhoza, vice president of the Copabarwi fishing co-op. Members fish the park's lakes under a sustainable agreement with the park's management, systematically rotating between different lakes so that stocks can replenish. 'The park supported and funded us,' Muhoza says. 'I used to do fishing on my own to generate an income. But now, with the co-op, there's more nutrition in my house, more fish. I can pay my health insurance. My kids are going to school. I have no problems.' 
Stay connected with the Geographical newsletter!
In these turbulent times, we're committed to telling expansive stories from across the globe, highlighting the everyday lives of normal but extraordinary people. Stay informed and engaged with Geographical.
Get Geographical's latest news delivered straight to your inbox every Friday!
Inside the park, I go out one morning under misty grey skies with Drew, walking through the rhinos' white-fenced boma and out into the open to meet a team of armed rangers who watch over the recently arrived white rhinos 24/7, looking for signs of illness or injury, as well as protecting them from poachers. 
We watch a trio as they lumber steadily across the grassy plains. In the future, the rhinos could be joined by other species – this time those that historically lived in this region. 'The two we certainly know were here are African wild dog and giant forest hog,' Bantlin tells me when I ask what's next for Akagera. 'Giant forest hog would be really cool, and it also reestablishes some of the previous diversity. African wild dogs are a challenging move, due to human–wildlife considerations. But both of those species are on the table because they used to
be in the park.
'Our hope is that Akagera becomes a safe haven,' he continues. 'Since African Parks took over, we haven't lost any of the key species – rhinos, lions, elephants – to poaching. The vision is to maintain that zero losses of key species to poaching and to continue improving the relationship with communities.'
Even with communities onboard, however, the presence of highly valuable animals, alongside species historically used for bushmeat, means protecting the park is serious business. Bushmeat in particular causes problems. Unlike other countries, such as South Africa, where rhinos are still frequently killed for their horns, there are fewer incidents of horn poaching in Rwanda, but bushmeat poaching continues. 
'The poachers we have in Rwanda don't carry guns,' explains park manager Ladis Ndahiriwe. 'They carry snares. It's linked with poverty. Someone who has a difficult life, his first reflex when he needs money is to go into the park. But we control it.'
Within the village, I pass a pile of 5,571 snares that have been collected inside the park since 2010. Staff in the control room monitor computers for breaches of the fence and animal locations. Several rhino horns have been fitted with tracking devices, while some of the elephants and lions wear collars. A total of 89 rangers and trackers work to keep the animals safe, including a specially trained canine unit. 
Ndahiriwe, who refers to the genocide and the immediate aftermath as 'a time of great upheaval and pain,' notes that Akagera 'is almost unrecognisable today'. Numbers of the key wildlife species have grown from less than 5,000 animals in 2010 to around 12,000 now, and they're still rising. 'The white rhinos arriving is a point of pride for us and for Rwanda,' he says. 'We've created a safe haven that can protect this species for the future. We now need to be vigilant.'
Before the beginning of the Covid-19 pandemic, the park was 80 per cent self-sustaining through tourism. The pandemic has knocked that back, but it's starting to recover. Ndahiriwe's priority is to make the park 100 per cent self-sustaining. 
Akagera's resurgence goes hand-in-hand with a more positive outlook for the country, with Rwandans eager to move on from the violence of the past. 'What's happened has happened,' Ndahiriwe says. 'We're moving on. We can't change the past. We have to see the future. In every department of Rwanda – tourism, conservation, everything – we just go forward.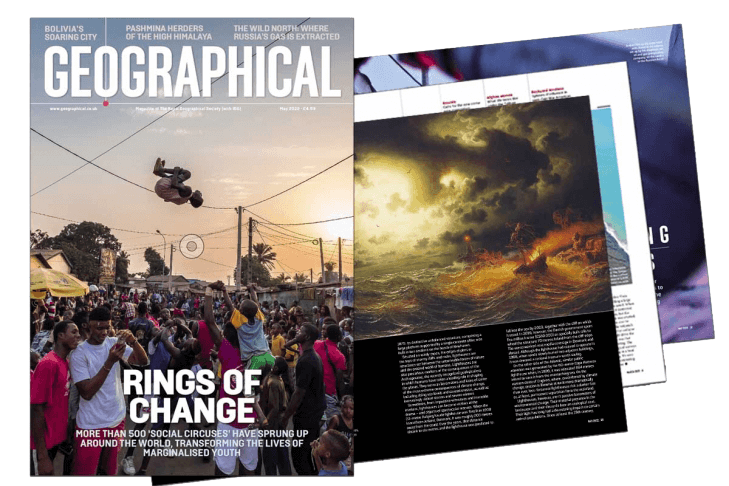 Subscribe to our monthly print magazine!
Subscribe to Geographical today from just £3.40 per month. Our monthly print magazine is packed full of cutting-edge stories and stunning photography, perfect for anyone fascinated by the world, its landscapes, people and cultures. From climate change and the environment, to scientific developments and global health, we cover a huge range of topics that span the globe. Plus, every issue includes book recommendations, infographics, maps and more!