Since leaving the EU the UK has failed to ban 36 pesticides, with 13 considered highly hazardous that have already been banned by the EU
---
The 2016 Brexit vote has led to many changes in the way the UK functions and how it interacts with its closest neighbours. Some of these impacts – such as immigration and trade – are well known. But there are some post Brexit changes that the majority of us are not so aware of.
The types of pesticides and chemicals authorised to be used in the UK since Brexit fall into this category. In 2017 the then environment minister, Michael Gove, said that after Brexit took effect the UK's regulation of chemicals would be 'better" than those of the EU. However campaigners have claimed that this is not the case and that in the three years since Brexit came into force that the UK has failed to ban 36 different pesticides that are now forbidden in the EU. Although it should be noted that thirty of these chemicals were still permitted within the EU at the time of the UK leaving the EU. The other six chemicals were approved by the UK since Brexit but not by the EU.
Of these 36 pesticides UN guidelines considers thirteen of them to be highly hazardous. Four to be highly toxic to bees. One contaminates water and another is highly toxic to many aquatic creatures.
---
Enjoying this article? We have thousands more for you.
Get immediate access to over 1,000 Geographical magazines in our archive back to 1935.
Sign up today and you will soon be travelling back through time reading all our amazing features of the last eight decades PLUS... you also get to enjoy every new issue of Geographical each month going forward in both print and digital formats.

Simply press the button below to choose the perfect package for you.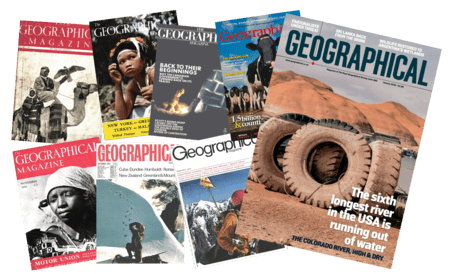 ---
These chemicals though are not just bad news for the bees. They're also bad for people. According to the campaign group Pesticide Action Network UK (PAN UK) most of them contain chemicals that present health risks to humans including:
Twelve that are classified as carcinogens, which means that they are capable of causing different types of cancer, including leukaemia and non-Hodgkin's lymphoma.
Nine are endocrine disruptors (EDCs) which interfere with hormone systems and can cause birth defects, developmental disorders and reproductive problems such as infertility.
Eight are 'developmental or reproductive toxins' which have adverse effects on sexual function and fertility in both adults and children, and can reduce the number and functionality of sperm and cause miscarriages
Two are cholinesterase inhibitors which reduce the ability of nerve cells to pass information to each other and can impair the respiratory system and cause confusion, headaches and weakness.
One of the chemicals is classified as acutely toxic.
The inaction of the UK government has led Nick Mole, the Policy officer of PAN UK to colourfully describe the UK as the 'toxic poster child of Europe'. He went on to say that 'The government has repeatedly promised that our environmental standards won't slip post-Brexit. And yet here we are, less than four years later, and already we're seeing our standards fall far behind those of the EU. With UK bees and other pollinators in decline, and our waters never more polluted, now is the time to be taking steps to protect nature. Instead, the government is choosing to expose British wildlife to an ever-more toxic soup of chemicals.'
By not banning these pesticides UK farmers also run the risk of being financially hit. According to Mole, 'The emerging gap between UK and EU pesticide standards is incredibly concerning for our human health and environmental protections, but also for the future of UK agriculture as our standards fall further and further behind those of our largest trading partner. UK food exports containing pesticides that EU growers aren't allowed to use, are likely to be rejected. Given that the EU still accounts for around 60% of UK agricultural exports, the impact on farmers could be devastating'.
Pan UK is calling for the UK government to, at a minimum, keep pace with EU pesticide standards and to not allow existing UK standards to fall any further.