Unearthing the endemic Hawaiian species that have adapted to life below ground inside lava tubes
---
Beneath the surface of Hawaii lies a subterranean world inhabited by pale, eyeless creatures. The volcanoes that created the island chain also built labyrinthine systems of lava tunnels that extend for kilometres underground. The upper reaches shelter bats and invasive species such as rats, but in the dark zones – the deepest regions of the caves – life has had to adapt. 
Recent exploration of caves on Big Island by a team of researchers from the University of Hawaii at Mānoa has already uncovered species that are new to science. In March, the team was awarded a US$1.29 million grant to continue studying life in the lava tubes. 'It's pretty fortunate to be on a research project where almost every time we go out into the field we actually do discover something new, whether it's a new species or a range expansion,' says assistant professor Rebecca Chong. 
Lava tubes are found where volcanoes produce low viscosity lava, particularly a basaltic type known by its Hawaiian name, pahoehoe. As it cools, it hardens and forms a crust, like ice over a flowing river. The molten core eventually drains away to leave a cavity that drips as it solidifies, leaving speleothems such as stalactites – or 'lavacicles' – helictites and soda straws. In Hawaii, the first colonisers of this space are the life-sustaining roots of the native 'ōhi'a lehua tree, which break through the ceiling and hang like feathery curtains. Some time later, cave-adapted arthropods move in. 
Common features of such creatures include shrunken wings and elongated appendages – expanded non-visual senses suited for life in the dark. 'Species range from sap-feeding insects, known as planthoppers, all the way to detritivores and omnivores, like crickets and millipedes, to a range of top predators,' says Chong. Hawaiian varieties, including the blind wolf spider and the assassin bug, are found nowhere else. Their discovery is significant as the islands have already lost a lot of their endemic biodiversity. 
The four-year research project will document new species and their ranges to form a biodiversity baseline and help answer bigger biological questions about how these subterranean ecosystems form. 'Our grant is primarily focused on the Big Island of Hawaii, because there is so much habitat heterogeneity, but we also want to use what we find to look at how that biodiversity scales across the islands. And then, hopefully, that information can also be used to compare and contrast other island lava tube systems,' says Chong.   
The researchers will survey across five volcanoes on the island, ranging from those that just erupted to the very, very old. Big Island is the youngest island in the chain – it's still forming – and lava tubes can be found in abundance. 
However, these ecosystems have a limited lifespan. Most lava tubes are less than ten metres from the surface and on the older islands, such as Kaua'i, many have weathered away. Life in the caves is intrinsically linked to the landscape above ground, making it susceptible to human activities, climate change and the increasing spread of invasive species. One, an aggressive fungal disease known as rapid 'ōhi'a death, is already decimating the forests that provide a primary source of food for these underground worlds.
Latest posts by Bryony Cottam
(see all)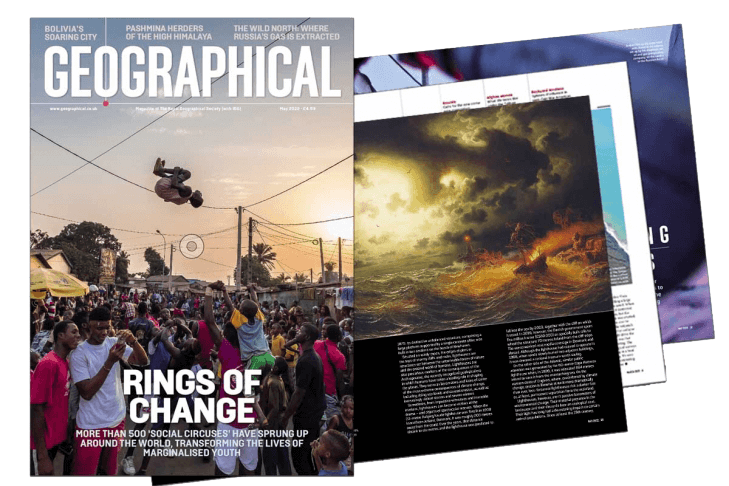 Subscribe to our monthly print magazine!
Subscribe to Geographical today from just £3.40 per month. Our monthly print magazine is packed full of cutting-edge stories and stunning photography, perfect for anyone fascinated by the world, its landscapes, people and cultures. From climate change and the environment, to scientific developments and global health, we cover a huge range of topics that span the globe. Plus, every issue includes book recommendations, infographics, maps and more!
Stay connected with the Geographical newsletter!
In these turbulent times, we're committed to telling expansive stories from across the globe, highlighting the everyday lives of normal but extraordinary people. Stay informed and engaged with Geographical.
Get Geographical's latest news delivered straight to your inbox every Friday!