A new UN treaty is setting out to end the global plastic pollution crisis – but is it doing enough?
---
The Global Plastics Treaty was supposed to be a landmark agreement to combat the global plastic pollution crisis. World leaders from 150 countries came together for talks in Nairobi, Kenya, this week to discuss the draft version. And hopes were high that it would become the first legally binding international agreement to put an end to plastics.
But the negotiators in Nairobi are now being accused of showing 'zero ambition' to truly protect people from the global impacts of plastic pollution. The Plastic Health Council (PHC), a group of leading environmental and public health scientists, argued the draft 'falls short' and is not 'strong enough to protect the health of future generations'.
Four hundred million tonnes worth of plastic is produced globally every year, according to the UN Environment Programme. Of the 16,000 known component chemical ingredients in plastic, many have been linked to health issues such as changes in hormone activity, fertility issues, heart disease and several types of cancer.
---
Enjoying this article? We have thousands more for you.
Get immediate access to over 1,000 Geographical magazines in our archive back to 1935.
Sign up today and you will soon be travelling back through time reading all our amazing features of the last eight decades PLUS... you also get to enjoy every new issue of Geographical each month going forward in both print and digital formats.

Simply press the button below to choose the perfect package for you.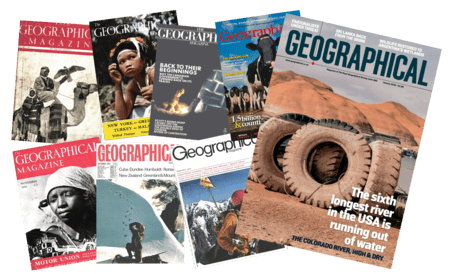 ---
A not insignificant concern, when WWF estimates that the average person ingests around five grams of plastic every week. And that is without the amount of plastic we breathe in and absorb through skin contact.
In an open letter to the congregation, co-signed by 20 scientists, PHC argued for a strict regulation and reduction of plastic production and pollution with harmful chemicals.
---
---
The letter said 'The Global Plastics Treaty is a once-in-a-century opportunity to protect human health from toxic polluting plastic. World leaders cannot afford to leave their populations vulnerable to the toxic effects of plastic'.
But some UN negotiators seem reluctant to heed this warning. Before its third round of talks, the text of the treaty has been subject to a gradual watering down of commitments. Its preamble promises to 'end plastic pollution, including in the marine environment, and to protect human health and the environment'. But it increasingly fails to set out legally binding targets and timeframes for the curtailing and elimination of plastic production, according to the Plastic Health Council.
Sian Sutherland, Co-founder of A Plastic Planet and the Plastic Health Council, said: 'Our message to the delegates is simple. Will you create a UN Plastics Treaty that protects the future profits of the fossil fuel industry or will you create a Treaty that protects the future health of your people?'
On top of this, the treaty includes a clause permitting any party to apply for an 'exemption' or deferral from enacting the policies. That's despite the UN's pledge to tackle plastic pollution by 2024.
The UN's stance on plastic pollution is clear. It has long chronicled its detrimental effects on the health of humans and our planet as a whole.
So the situation in Nairobi raises the question: why are they not making more progress?
The difficulty appears to lie in a conflict of interests. The PHC points the finger at Iran, who according to them, submitted the latest text. As the eighth largest oil producing country in the world, it is possible to see why they may be been 'strongly motivated to weaken the treaty' in favour of an industry dependent on petrochemicals.
But Iran is part of a whole bloc of petrochemical leaders accused of trying to water down the treaty for the benefit of their dominant industries. Since June, Saudi Arabia has spearheaded attempts to slow the proceedings of the treaty down. At the last talk, it advocated for an agreement by consensus rather than by majority so that the objection of any country could lead to the rejection of a treaty clause.
On Saturday, Saudi Arabia started a coalition movement called the Global Coalition for Plastics Sustainability, which includes Russia, Iran, Cuba, China and Bahrain. The group is suggesting that the plastic pollution crisis is as a result of waste management issues rather than its source – plastic production. They are pushing for a focus on recycling. But a growing wealth of research has shown that recycling is ultimately ineffectual at dealing with plastic pollution while new plastics continue to be made.
According to NPR, a number of the groups attempting to slow proceedings can even be linked back to big players in the oil industry including ExxonMobile, Chevron and Total Energies.
For environmental and public health groups the current treaty is simply not enough. Plastic pollution is not only a problem for human health. Plastic penetrates the most remote corners of our planet, from interspersing international waters with deadly hazards for sea animals and toxic microplastics, to choking mangroves and delicate ecosystems in the depths of the jungle.
And of course, these phenomena ultimately make their way back to us. Plastic has been found all the way through our food chains.
'What began as an almost invisible trickle near the beginning of the 20th Century now in the 21st has become a monstrous tsunami,' said Dr John Peterson Myers, founder of Environmental Health Sciences and member of the Plastic Health Council. 'Plastic and plastic chemicals have spread like a scourge to every part of our planet, even inside us at levels known to be hazardous. Yet industry projections based on "business-as-usual" anticipate the volume of plastics created will double by the mid-century.
'We must choose. Will we smother the Earth and ourselves with toxic plastics? Or do we have the courage and foresight to stop the onslaught?'