The combination of conflict and natural disasters has resulted in unprecedented levels of internally displaced people
---
In May, the United Nations Refugee Agency announced a sombre milestone, reporting that the number of people forced to flee their homes passed 100 million in the last year – the highest number of displaced people recorded since the Second World War. 
Many of the people encapsulated within this figure never leave their home country. Internally displaced persons (IDPs) – those who haven't crossed a border as they search for safety – often tend to be overlooked, but they make up more than half of all forcibly displaced people worldwide. The Internal Displacement Monitoring Centre (IDMC) estimates that, at the end of 2021, a record 59.1 million people were internally displaced due to conflict, violence or natural disasters, up from 55 million the year before. 'The situation today is phenomenally worse than even our record figure suggests, as it doesn't include nearly eight million people forced to flee the war in Ukraine,' said Jan Egeland, secretary general of the Norwegian Refugee Council.
The unprecedented figures are largely the result of new and ongoing violence in sub-Saharan Africa and the Middle East. In Ethiopia, 5.1 million internal displacements caused by conflict and violence were recorded in 2021, the highest number for any country since records began. Afghanistan has also experienced a surge in displacement due to increased fighting between the Taliban and the Afghan National Security Forces, which began in May 2020.
Despite the high figures caused by conflict, natural disasters continue to trigger the most internal displacements worldwide: 62 per cent – although this is likely to be a significant underestimate due to underreporting. The number of people still displaced by disasters at the end of 2021 was less than for conflict, in part because many can eventually return home. But as a whole, disasters caused the most movement, sometimes forcing people to leave their homes multiple times. In some countries, conflict and disasters have collided, exacerbating the difficulties faced by IDPs. Between June and September, monsoon floods in Myanmar (which has the eighth-highest number of IDPs) destroyed shelters and sanitation facilities in displacement camps, forcing people to flee once again. 
'We can confidently say that in many conflict-affected settings, we are observing an increasing number of people being displaced due to natural disasters,' says Vicente Anzellini, global monitoring and reporting manager at the IDMC. 'For example, every year, conflict IDPs living in camps in Somalia are being displaced repeatedly by floods. The same reality has been observed in Yemen and Syria.' Unlike conflict, however, the footprint of natural disasters is global. 'Countries such as Germany, Australia, the USA and Japan are also affected, and there should be a greater acknowledgement of this, as well as more cooperation between countries to find solutions,' says Anzellini. 
Of all the displacements caused by natural disasters, more than 94 per cent were the result of weather-related hazards such as storms and floods. Many were pre-emptive evacuations in the face of cyclones and floods in Asia and the Pacific region. Each year, China records some of the highest numbers of disaster displacements; in 2021, 1.4 million people were displaced by floods in Henan province alone. 
As extreme weather events become more frequent, the risk of natural disasters will increase – but it's not just about climate change, insists Anzellini. 'Yes, rain may become more intense because the world is warming. But when intense rain falls in areas that are not resilient to hazards, or lack adequate drainage systems, flood risk increases. In this sense, climate change is one of the many layers of unsustainable development that are contributing to increasing the risks of disaster displacement in cities.'
Stay connected with the Geographical newsletter!
In these turbulent times, we're committed to telling expansive stories from across the globe, highlighting the everyday lives of normal but extraordinary people. Stay informed and engaged with Geographical.
Get Geographical's latest news delivered straight to your inbox every Friday!
Latest posts by Bryony Cottam
(see all)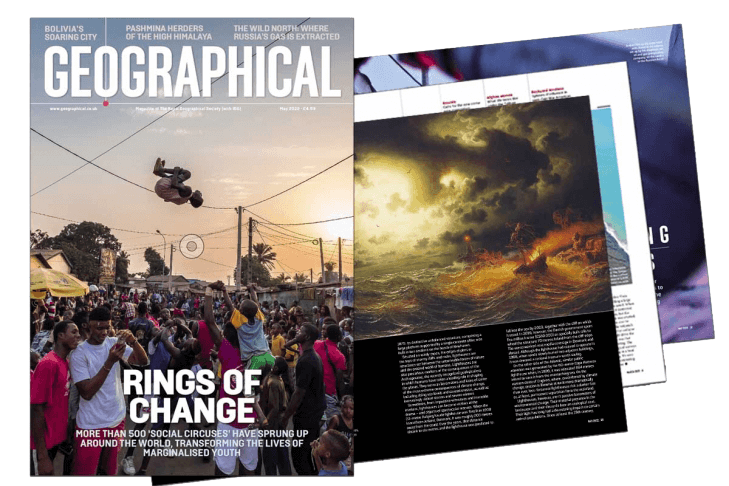 Subscribe to our monthly print magazine!
Subscribe to Geographical today from just £3.40 per month. Our monthly print magazine is packed full of cutting-edge stories and stunning photography, perfect for anyone fascinated by the world, its landscapes, people and cultures. From climate change and the environment, to scientific developments and global health, we cover a huge range of topics that span the globe. Plus, every issue includes book recommendations, infographics, maps and more!