Population levels are rising and nowhere is this felt more keenly than in the world's megacities – urban sprawls that each house over ten million people. But such growth brings with it a host of problems
---
By Mark Rowe
Humans, it seems, are increasingly becoming urban creatures. Barely 60 years ago, only two cities – Tokyo and New York – had the ten million plus inhabitants required to fit the UN's definition of a megacity.
Even by 1970, just 39 million people lived in megacities. By 1990, the number of megacities had risen to ten, collectively home to more than 153 million people or slightly less than seven per cent of the global urban population at that time.
As of 2014, the Earth has 28 megacities worldwide – 16 in Asia, four in Latin America, three each in Africa and Europe, and two in North America. They are home to 453 million people, about 12 per cent of the world's urban dwellers. Shenzhen, described by the Asian Development Bank (ADB) as 'a small village in the mid-1980s', is now home to more than ten million people.
And the forecasters say that this momentum is far from slowing. According to the UN, by 2030 there will be 43 megacities – with all but one of the new ones in Asia (home to 630 million people, 13.6 per cent of the world's projected urban population) or Africa.
Urban expansion
The extraordinary compaction of humanity into megacities is having profound repercussions for the world's resources. Megacities, according to the UN Population Division of the Department of Economic and Social Affairs (DESA), 'are where the pressures of migration, globalization, economic development, social inequality, environmental pollution and climate change are most directly felt'.
The phenomenon of megacities is increasingly concentrated in the global south, a reversal of how things unfolded during the late 20th century. Tokyo remains the world's largest city, with over 38 million inhabitants, but it's now followed by Delhi (25 million), Shanghai (23 million), and then Mexico City, Mumbai and São Paulo, each of which have around 21 million inhabitants. Osaka has just over 20 million, as does Beijing. The New York–Newark area and Cairo complete the top ten most populous urban areas with around 18.5 million inhabitants each.
Stay connected with the Geographical newsletter!
In these turbulent times, we're committed to telling expansive stories from across the globe, highlighting the everyday lives of normal but extraordinary people. Stay informed and engaged with Geographical.
Get Geographical's latest news delivered straight to your inbox every Friday!
Yet by 2030, New York–Newark will have been pushed down to 14th on the list. Four more Indian cities – Chennai, Hyderabad, Bangalore and Ahmadabad – are projected to become megacities by that time. Meanwhile, Africa's three megacities – Cairo, Kinshasa and Lagos – are expected to be joined by Dar es Salaam, Johannesburg and Luanda, while in Latin America, Bogota and Lima appear on schedule to join this increasingly less-exclusive-by-the-decade club.
By 2025, Delhi's population is expected to rise swiftly to 36 million people, while China, which already has six megacities, will have three more, according to DESA. The ADB reckons that matters are unlikely to rest there: Asian urbanisation still has a long way to go, with the number and size of cities growing ever larger.
In 2010, the urban share of Asia's population was 43 per cent, compared with the worldwide share of 52 per cent. By 2050, the urban share in Asia is projected to reach 63 per cent. Guanghua Wan, principal economist at the ADB, says that globalisation and heightened economic competition will almost certainly cause megacities to proliferate. 'Megacities in Asia are inevitable, due to the large populations, particularly in China, India, Indonesia and Bangladesh,' he says.
Mass migration
To gauge just where megacities may be going, and what that means for the planet, it's probably worth asking how a megacity evolves. How does it coalesce and balloon in size, seemingly exponentially, from a smaller city?
Several drivers are at play according to Erik Swyngedouw, professor of geography at the School of Environment and Development at Manchester University. Among the key factors is mass migration from the countryside, which is accelerating as globalisation increasingly frames 21st century life. 'The only thing that rural people can do is to move somewhere where they hope to have some chance of survival, and cities are historically the place to which people mass migrate,' he says. 'This is happening as a result of the disintegration of the social conditions in which they've lived, making it difficult for them to continue to survive in the ways they traditionally have.'
Swyngedouw cites China as a key example of why megacities emerge. 'You have this extraordinary transformation of agricultural practice and an equally extraordinary expansion of demand for unskilled labour in cities,' he says. 'Increasingly, food and agriculture are organised globally, and we've seen an accelerating process that takes away traditional livelihoods.'
As Swyngedouw points out, that by itself doesn't explain why megacities bloom out of large cities. 'Megacities are indeed mega. It's precisely in places such as this that people who don't know what to do can find a way of surviving,' he says. 'There's a variety of activities. What makes megacities so attractive to people is that they're integrated into the global system. The accelerated growth of megacities is tightly linked to the increase of global infrastructures.'
Flood risks
The way in which megacities grow – often without an overarching controlling vision – only adds to the issues that they bring with them. This is largely due, says DESA, 'to the challenges of providing urban jobs, housing, energy and infrastructure to mitigate urban poverty, expansion of slums and a deterioration of the urban environment'.
Infrastructure supply lags behind demand, basic public services – such as water connections and solid waste disposal – don't reach the majority, and many residents live on marginal land where, says the ADB's Wan, 'they face risks from flooding, disease, and other shocks'.
Stay connected with the Geographical newsletter!
In these turbulent times, we're committed to telling expansive stories from across the globe, highlighting the everyday lives of normal but extraordinary people. Stay informed and engaged with Geographical.
Get Geographical's latest news delivered straight to your inbox every Friday!
A 2012 ADB report concluded that 'crowded cities whose growth in numbers is not matched by a growth in infrastructure are vulnerable: susceptible to crime, pollution and, among other risks, flooding'. More than 550 million urban Asians were considered to be at risk of coastal and inland flooding in 2010. This is projected to rise to 760 million by 2025. 'The pace of urbanisation has not only led to traffic snarls and massive pressure on resources such as water and sanitation, it has also created slums – 61 per cent of the world's slum dwellers are in Asia – and contributes to rising crime levels.'
If current trends continue, by 2030, urban land will have expanded by as much as 3.3 million square kilometres, up to five times as much as in 2000, according to the Cities and Biodiversity Outlook (CBO) project, the world's first global analysis of how projected patterns of urban land expansion will affect biodiversity and ecosystems. This, says the CBO, will result in 'a considerable loss of habitat in key biodiversity hotspots' in cities that are located in biodiversity-rich areas such as floodplains, estuaries and coastlines.
Unsustainable growth
UN Habitat, a body that looks at urban futures, says that 'car-centred urban models are still the widespread norm, with strict zoning policies dividing urban space into residential, commercial, and industrial areas. These horizontally sprawling cities find it gradually harder to deal with an ever-increasing urban population.' They aren't sustainable over the long term, according to a UN Habitat report, 'owing to overwhelming negative externalities, such as congestion, infrastructure issues, pollution, and social [break-up]'.
'Water and air pollution have local impacts, while the climate and energy impacts of these cities are of a global scale,' says Barbara Evaeus, global communications manager for WWF International's Earth Hour City Challenge. 'Water, and what will happen with fresh water, is a major issue. It will throw natural ecosystems out of kilter and will have impacts on agricultural areas nearby that feed cities. These risks and factors will be compounded by climate change, with changes to the frequency of flooding and drought, and the availability of food, as well as sea-level rises that infiltrate freshwater systems.'
Beijing has the lowest per capita water availability in China – just 100 cubic metres a year, which is less than five per cent of the national average and far below the internationally defined scarcity of less than 1,000 cubic metres per person per year. Yet, there may be hope that Beijing can unpick some of the problems it faces, and offer a template to other megacities on how to use resources more sustainably (see Water Logged box, overleaf).
Legal issues
Many observers identify another issue as more important than access to, and the use of, resources: the rule of law. Just how on Earth do you – or can you – govern a city of 20 million, or even 30 million people?
'The difficulties with gaining access to water, health or fuel are structured through the absence of a coherent government,' says Swyngedouw. 'The megacities of the global south aren't governed or governable in the way that Tokyo or London or New York are governed. The things we're familiar with – housing, infrastructure, policing, allocation of land – are only possible in a highly truncated and uneven way.
Stay connected with the Geographical newsletter!
In these turbulent times, we're committed to telling expansive stories from across the globe, highlighting the everyday lives of normal but extraordinary people. Stay informed and engaged with Geographical.
Get Geographical's latest news delivered straight to your inbox every Friday!
'You find some well-organised government in the small, middle class and hermetically-sealed off elite areas,' he continues. 'But most people live in megacities where there is no state. They live in organisations of self-management and self-help, completely out of reach of standard state government. The social polarisation is extraordinary, leading to tension, riots and conflicts.'
Dhaka, the capital of Bangladesh, has been cited as one of the worst examples of how to construct a megacity (see Dire Dhaka box, previous page). 'Everyone has recognised the problems with Dhaka,' says Dr Bruno Parolin, who formerly worked at the faculty of the Built Environment, the University of New South Wales in Sydney. 'The master plans for the city since 1945 have recognised the issue of rapid growth, the deficiencies around high-density populations, the need to disperse this population and jobs. But these plans have generally been given lip service; most of them have been failures. You end up with reactive rather than proactive planning.
'There has been little understanding of the evolution of urban space – and that has been a problem with most of the megacities of Asia,' he continues. 'The plans also have little political clout. What we learn from Dhaka is the need for solid institutions, a solid planning process.'
This point is echoed by the ADB's Wan. 'The single most pressing issue is the shortage of, and lag in, the supply of urban-development expertise to plan, design and govern megacities,' he says. 'Most governments in Asia aren't prepared or equipped to effectively manage the rapid wave of urbanisation that's sweeping Asia. This is particularly serious at the megacity level. Failed megacities will face rising crime levels, social unrest and an increasingly unbearable, unsustainable living environment.'
In such a context, the negative impacts of megacities appear formidable. 'The dynamic consequence of megacities is that every day, the incoherent functioning of these cities is predicated on the extraordinary use of the world's resources,' says Swyngedouw. 'The sociological implications of megacities are devastating in the long run for the world's natural base. The extraordinary challenge is how to make these places tick.'
More positively, Wan says that models for running a megacity are at hand. 'There are good examples where megacities are well-governed, such as Tokyo and, more recently, Seoul,' he says. 'Within China, Shanghai is managed better than other megacities. Two major factors are essential to ensure good governance: expertise and adequate financing. The latter is closely related to the level of economic development.'
Engines of the world
The resoundingly bleak picture of the polluted, overcrowded, crime-ridden megacity is strongly countered by those who believe that megacities, if judiciously governed, can be a force for good. DESA's World Urbanization Prospects report describes them as 'the engines of the world economy and centres of innovation, where many solutions to global problems are being piloted'. The report points out that urban living is often associated with higher levels of literacy and education, better health, greater access to social services, and enhanced opportunities for cultural and political participation.
'Megacities are a positive force, not a negative one,' says Eduardo Moreno of UN Habitat. 'They generate high densities of population, and that's good for infrastructure such as housing. You also get the economics of agglomeration [where offices or companies cluster close to one another], which are fundamental for economic growth. Megacities are also conducive to economic development. The more people that live in these cities, the more opportunities there are for innovation, creativity and jobs.'
Moreno also argues that megacities aren't as chaotic as some observers suggest. 'It's wrong to say that megacities are growing with a lack of control,' he says. 'Unlike how many people think, social capital comes when you have interaction between social and economic groups. In rural areas, the exchanges are between poor people and other poor people. In cities, they're between rich, middle class and the poor. Megacities are very clear drivers of growth. On average, megacities produce two to three more times GDP than other cities. There are also more intangible benefits from all this interaction, such as the empowerment of women.'
Swyngedouw also identifies beneficial elements: 'They can be positive; it's extraordinary if you look at everyday life,' he says. 'It works. There's creativity, inventiveness – it's nothing short of remarkable. When I visit these places, I'm struck by how well life functions.'
Dumping ground
The CBO also finds plenty to praise, highlighting Kolkata, Mexico City, Montreal, Nagoya, New York City and São Paulo as examples of megacities that boast high levels of biodiversity.
In Mumbai, Sanjay Gandhi National Park's dense semi-evergreen forests are home to 280 bird species, 150 species of butterfly, and 40 species of mammal – including a small population of leopards – and protects 104 square kilometres entirely within a megacity.
In São Paulo, 21 per cent of the city is covered by dense forest, with 1,909 plant species and 435 animal species – 73 of them endemic to the Brazilian Atlantic rainforest.
Mumbai has also moved to tackle the issue of the phenomenal amount of waste it produces – about 6,500 tonnes per day of municipal solid waste and about 2,400 tonnes per day of construction waste. For almost 40 years, all of this went to the Gorai Dump, a 20-hectare open site in Mumbai's western suburbs.
Situated next to a creek and close to residential areas, the dump caused significant environmental damage and was one of the unhealthiest places in Mumbai. In 2009, the site was closed and covered, and a power plant is now being built there that will run on methane gas from the decomposing waste.
Wan concurs that, given the right circumstances, megacities can work. 'Megacities, if managed well, can be positive as they allow Asia to profitably ride the globalisation wave by producing and exporting goods and commodities competitively.'
But he warns that policymakers need to be nimble. 'Asia's current urbanisation is different from historical experience in terms of speed and scale, and is generating and confronting unprecedented challenges,' he says. 'But it also comes with forces that, if properly managed, can help to address the challenges.'
Satellite cities
So is it possible to reconfigure existing megacities and make them better places to live? Wan believes that better transport planning and more mixing of housing and office space are needed. 'At the micro-level, satellite cities must be developed to deflect burgeoning populations out of megacities,' he says. 'The key is to link the main and satellite cities by rail-based transport systems, not highways'.
'There's talk of US$350 trillion of investment in infrastructure in the next decade [in cities in the global south], so it's important to get it right and make sure the development is sustainable' says Evaeus. 'When you look at megacities, you look at them through two different lenses: one for the cities in the global south and another for those in the north. The big cities in the north have lots of technology that can mitigate their impact. It's important that technology gets transferred to cities in the global south.
'If city planners use projections for climate change impacts, they can plan a city by not developing coastal areas, leaving them as natural barriers,' he continues. 'If you build-in public transport rather than cars, and manage food sustainably, you'll greatly reduce the impacts. Living in a city, your footprint can be smaller than in the suburbs, where you may be car-dependent.'
Swyngedouw believes that to succeed, megacities must avoid replicating the formats of cities in the developed world. 'A lot can be learned from these practices and how people manage to live more or less decent lives,' he says. 'Historically, we've been used to having energy, water and health centrally organised. In megacities, that approach doesn't work. You see ingenious community efforts to support health and schools. The community transport systems that operate in Johannesburg and Cape Town are remarkable.
'We're seeing the rise of insurgent citizenship,' he continues. 'Those who seem to be excluded seem to be beginning to articulate their rights. What does it mean to be a citizen in a megacity of 25 million people? What will be the forms of governance? The election cycles we have in the West just don't work in megacities. My hope or pessimism is structured by the way in which local people begin to organise themselves to fight for a different trajectory for megacities.'
Meta-cities
The issues around megacities appear to be emerging just as rapidly as the cities are growing. The UN already distinguishes megacities from those that are even larger. Now, we have the term 'meta-city' to describe conurbations of more than 20 million people.
China plans to merge nine cities in the Pearl River Delta, including Shenzhen, Hong Kong and Guangzhou. This would create a 41,000-square-kilometre urban area (that's 26 times larger than Greater London), with integrated transport, energy and telecommunications systems. Moreno believes that this throbbing entity will be home to an almost unfathomable 120 million people with, he says, 'no urban discontinuity'.
Similar meta-cities are evolving in Japan – the Tokyo-Osaka-Nagoya region will soon be home to 60 million people – and in Brazil, where 43 million people are projected to coalesce around São Paulo. 'The new meta-city regions are better planned – they're not accidents. It's a conscious undertaking of national development,' says Moreno.
'We have to accept that we can't not have megacities,' says Swyngedouw. 'They will keep on expanding and it's unlikely that people will move en masse back to the countryside. The world we live in is an urbanised world.
'Cities have always been the laboratories of the future, but that doesn't answer the question of how that laboratory will turn out,' he continues. 'It may be quite nasty. These places are very explosive – that's what happens in a laboratory. The challenge is to decide which bits of the laboratory we want to support, and which bits we should avoid.'
Parolin admits to being temporarily lost for words when he tries to identify how megacities function. 'They still work,' he says. 'There's some amazing self-organisation that takes place, even though people have to put up with some quite horrid conditions. Despite the limitations, it always amazes me. It says something about the resilience of these kinds of places.'
Meanwhile, Evaeus wonders if megacities – and even meta-cities – will be just one part of the problem of urbanisation. '[The existing] megacities are meeting their natural restrictions and borders; it's the cities with one million-plus people that will be taking real leaps,' he says. 'These issues will get even more magnified.
'I'm confident the solutions exist and with good governance, they can be delivered,' he continues. 'The question is whether politicians will be courageous enough to do what's needed. It isn't a big sacrifice we're asking to be made, even though things such as cycling to work rather than driving the same distance are presented as hardships. A different mindset is needed.'
---
Keep reading…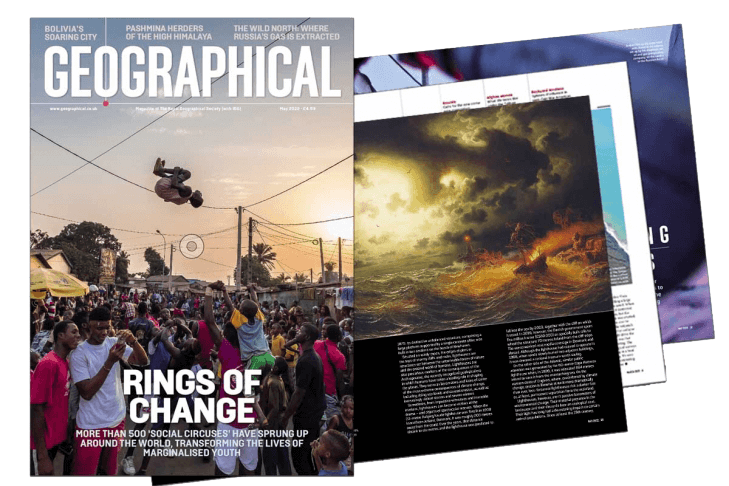 Subscribe to our monthly print magazine!
Subscribe to Geographical today from just £3.40 per month. Our monthly print magazine is packed full of cutting-edge stories and stunning photography, perfect for anyone fascinated by the world, its landscapes, people and cultures. From climate change and the environment, to scientific developments and global health, we cover a huge range of topics that span the globe. Plus, every issue includes book recommendations, infographics, maps and more!