Black Girls Hike founder Rhiane Fatinikun has received the 2022 RGS-IBG Geographical Award. Geographical caught up with her to talk about the challenges she's faced, and engaging marginalised communities in science and the outdoors
---
Rhiane Fatinikun was an hour and a half late for the first hike she organised. It was a drizzly day in 2019 when she met the 14 women who were waiting for her to lead them on a walk around Hollingworth Lake in Rochdale, the rough directions for which were taken from a page of the Manchester Evening News. She hadn't been expecting so many people to turn up and, with little time to try out the walk in advance, was 'just winging it'. Since then, she's left her full time job in the civil service to focus on her social enterprise: Black Girls Hike.
On 6 June, Fatinikun was awarded the Geographical Award at the 2022 Royal Geographical Society (with IBG) medals and awards celebration, where she says she 'met some really incredible people'. But Fatinikun has achieved plenty herself, having received the award for her hard work over the last three years in enabling and empowering black women and girls to connect with and enjoy being in the outdoors. It's not been without its challenges, including horrendous threats and discriminatory posts she's faced on social media. 'Every day is literally a school day,' she says in reference to everything she has had to learn between that first hike, when the community was still a small group in Manchester, and now, when it's grown to having 20 leaders across the country.
Despite calls for greater representation and more inclusion, the British countryside and many outdoor organisations remain unmistakably white places to be. A 2020 report from Friends of the Earth revealed that almost 40 per cent of people of BAME backgrounds live in England's most green space-deprived neighbourhoods. Black Girls Hike has created opportunities for many black women to take their first steps into the outdoors. While some people Fatinikun meets might have tried other hiking groups before, some have had no exposure to the outdoors whatsoever. 'We have a lot of people in our London group who never travelled anywhere in the UK,' she says, adding that people in urban, often transient areas can find it difficult to find like-minded communities with which to experience the outdoors.
---
Q: Some people may not understand how black women could feel excluded from outdoor activities. Why might the outdoors not feel like a place that everyone can go out and enjoy, and why is it so important that groups like Black Girls Hike exist?
RF: Simply because we're not represented in the outdoors. It gives you this notion that it's not something for you, it's not something that you and your community are welcomed into. And because we experience microaggressions all the time in our daily life, at work or when going into shops. I don't understand why when marginalised communities say, 'We don't feel comfortable going out into the countryside,' people ask: 'Why?' I'm like, well, because of everything else, you know? I think that people's reservations are completely justified because of what they experienced on a day-to-day basis, and how they have been historically excluded from that space.
Groups like Black Girls Hike are so important for empowering and enabling people. We're giving people the confidence and the skills to go into those spaces, surrounded by people that are like-minded and non-judgmental, and then they can build upon that experience until they feel confident to adventure independently. Because it's not just about challenging stereotypes in the wider outdoor community, it's about challenging the stereotypes within our community as well. Sometimes, when you've been historically excluded from something, it just becomes normalised. You don't see yourself doing that thing. So the idea is also to expose people to it and show them that they can enjoy it too. You actually don't experience that much hostility in the outdoors, it's very welcoming the majority of the time, although you do get the odd microaggression. I've often noticed, when walking past other groups, that they smile at us, because they like to see us out there enjoying the outdoors.
Q: Are there any hikes or activities that you have organised for Black Girls Hike that stand out for you?
Stay connected with the Geographical newsletter!
In these turbulent times, we're committed to telling expansive stories from across the globe, highlighting the everyday lives of normal but extraordinary people. Stay informed and engaged with Geographical.
Get Geographical's latest news delivered straight to your inbox every Friday!
RF: Our first London walk, in Epping Forest, was during the lockdown in August 2020. We had over 100 people turn up and the sight of us all being there was so powerful.
Then, one of our first activities that we did outside of hiking was a caving trip to Alum Pot, which you're winched down into through this beautiful opening that leads through to Long Churn Cave. A lot of people in the group had reservations about squeezing themselves into these tiny holes and I know a lot of them really had to push themselves out of their comfort zone, but it was such an amazing team experience, everyone was motivating and encouraging each other.
Q: It's fantastic that groups like Black Girls Hike exist, but there are many other outdoor activity groups and organisations all over the country. What should they be doing to make black women feel welcome, and to support them to take on key roles and to lead activities themselves?
RF: I think it would be to lead by example. When you actually look at the makeup of outdoor organisations that talk about wanting to improve inclusion and diversity, there is no inclusion, there is no diversity. They're all very white and middle class, and they can't relate to other people because they're just in this echo chamber. So if you're wanting black people to feel like we can take up leadership roles in the outdoors, have black leaders in your organisation. Show people that that is something they can aspire to.
Q: Of course, although you don't need to have any particular interest or background in geography to enjoy the outdoors, there are some skills such as map reading that can be very useful. How do you think schools could engage more young people in Geography to help them get more enjoyment from, and feel more confident about, getting outdoors?
RF: I think part of it is providing access to resources. I did a talk recently for the Duke of Edinburgh Award at Buckingham Palace, and the people there collecting their Gold Awards weren't fully representative of British society.
It's also reshaping it and making it fun and engaging for people. When I'm out in the Peak District on our walks, we see young people on their Duke of Edinburgh who sometimes look like they're in hell! So it's about making it an engaging experience and showing them the fun aspects of the outdoors, how to picture it as a playground, and trying to instil that knowledge that helps you adventure better. We're currently doing an ongoing project with the Open University with the goal of encouraging more marginalised communities to get into the environmental sciences. Our leaders are receiving training from scientists at the university who accompany us on hikes and teach us about certain aspects of the landscape so that we can confidently communicate this information to others when we go on walks. We planned our first geographical information walk in April at the Seven Sisters. We've also been to the Peak District, where we do a lot of our walks, and learned about the sunken road where there's been a landslip on the side of Mam Tor, as well as how some of the local caves were formed. It's really interesting, and it's nice to be able to share those titbits of information.
Q: Where do you most want to take Black Girls Hike next?
RF: I really want to do the Welsh Coast path, but I also want to do more in the Scottish Highlands, and I really want to go to the Isle of Skye. To be honest, now I've started adventuring outside and have realised how nice the UK is, I would forever have a bucket list because there's just so many places that you could go.
Stay connected with the Geographical newsletter!
In these turbulent times, we're committed to telling expansive stories from across the globe, highlighting the everyday lives of normal but extraordinary people. Stay informed and engaged with Geographical.
Get Geographical's latest news delivered straight to your inbox every Friday!
In terms of where we're going more generally, we just recruited three people, so now we have a staff of five, including me, and a board of directors. We've just become a training provider for Mountain Training and we're trying to put together a more structured training programme so that people can learn hill walking skills and outdoor first aid. And then if they want to develop into other aspects of the outdoors, we can support them to become a Mountain Leader, maybe a climbing instructor. We've got some people at the moment training to be paddleboard instructors.
We're also going to be doing a lot more youth projects moving forwards; we've just received some funding from the Arts Council to do a project with the Wildlife Trust and a group of youth volunteers based in Greater London. We also partnered with the RSPB to offer a 12 month Introduction to Conservation traineeship for an 18 to 25 year old in the greater London area, which I was really happy about because conservation is one of the areas where there's not that much diversity. So I'm really proud that we're helping create these pathways for people, but also being the role models that can inspire them to actually consider it in the first place.
Latest posts by Bryony Cottam
(see all)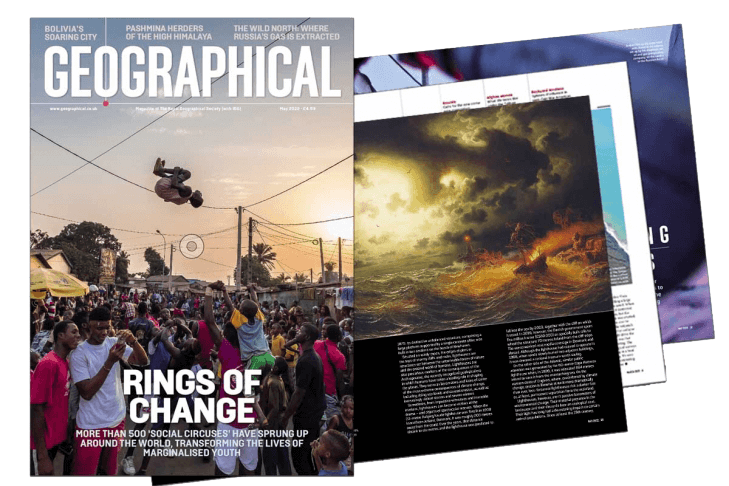 Subscribe to our monthly print magazine!
Subscribe to Geographical today from just £3.40 per month. Our monthly print magazine is packed full of cutting-edge stories and stunning photography, perfect for anyone fascinated by the world, its landscapes, people and cultures. From climate change and the environment, to scientific developments and global health, we cover a huge range of topics that span the globe. Plus, every issue includes book recommendations, infographics, maps and more!