Exeter's rugby team finds itself in the middle of a global dispute about the use of Native American mascots in sport
---
By Abigail Spink
Feather headdresses, tribal war paint and ceremonious battle cries have been characteristic of Exeter's rugby scene since 1999 when its premiership team, fondly known as 'the Chiefs', followed the path of American sports franchises and adopted Native American iconography as part of a major rebrand. This soon meant that the figurehead of an Indian Chief was emblazoned on club merchandise, a puppet-like Big Chief mascot entertained crowds at half time, punters could buy drinks from the Mohawk and Wigwam bars, and fans began to brandish foam tomahawks and perform the infamous Tomahawk Chop to show support in the stands.
Now, as hundreds of sports teams across the US are reconsidering their imagery after lengthy protests from indigenous activists, including the Washington Redskins which recently became Washington Football team and the Cleveland Indians which dropped its red-faced caricature mascot Chief Wahoo last year, the Chiefs are increasingly finding themselves in hot water over their depiction and imitation of Native American people.
In 2016, Dr Rachel Herrmann, a historian at Cardiff University, connected Exeter's branding to a long and historically violent tradition of non-indigenous people stereotyping, misappropriating and commercialising indigenous cultures. She explained in a blog post that like that of many American teams, the Chiefs fan culture stems from the unsettling colonial practice of 'playing Indian' which made use of harmful and cliched tropes about Native Americans during the expansion of the frontier, concluding that: 'the use of Native American imagery today stems from a sense that Euro-Americans have a right to Indianness, a right to remake it, and a right to profit from it.'
In the same year, Dr Stephanie Pratt, an Exeter-based academic and member of the Crow Creek Dakota (Sioux tribe) stated in an interview with the Express & Echo that attending a Chiefs match made her uncomfortable and angry, explaining that 'this is a trivialisation of a culture, a people and their way of life. It is a product of bad Hollywood films and the Disneyfication of American Indian life and cultures. It should have no place in a sporting event.'
Four years on, even in the wake of a new anti-racism movement, the Chiefs are standing their ground in their refusal to reconsider club imagery. After heightened pressure, the club made a brief statement at the end of July, summarising that the use of the chiefs logo should be seen as an act of honour towards indigenous communities. It was concluded however that: 'the one aspect which the board felt could be regarded as disrespectful was the club's mascot – Big Chief – and as a mark of respect have decided to retire him.'
While the club has refused to comment further on the issue, a debate among fans has continued to reign across social media, with many firmly dismissing accusations of racist and derogatory behaviour, and critics pushing for a 'much needed' revision of iconography.
Spearheading the movement is Exeter Chiefs for Change (ECFC), made up of both members and non-members of Native American communities. In response to the club's decision to drop the mascot but keep all other elements of paraphernalia after a month-long campaign by the group, ECFC stated on their Facebook page: 'It's incredibly disappointing that Exeter Chiefs has thrown away this opportunity to show itself as an inclusive club. Indigenous peoples have made it clear time and time again that all uses of their imagery in this way are offensive, harmful, and unacceptable. Exeter's refusal to fully listen to these pleas is tone-deaf and sticks two fingers up not only to them but to all minorities.'
Stay connected with the Geographical newsletter!
In these turbulent times, we're committed to telling expansive stories from across the globe, highlighting the everyday lives of normal but extraordinary people. Stay informed and engaged with Geographical.
Get Geographical's latest news delivered straight to your inbox every Friday!
A spokesperson from the group strongly refuted the common defence that indigenous iconography should be seen as a means of honouring the communities it seeks to represent, telling Geographical: 'It's hard to see how something which is a reductive caricature hotch-potch of the most stereotypical aspects of Native American culture, mixing outdated cartoon versions of elements from across different tribes can be an honour. We know that neither the club nor the fans have used the Native American-style imagery with negative connotations and that the association was always intended to be positive. However, now we have learned that is not how it is perceived by those the honour and respect was directed toward, intention becomes irrelevant.
'We've heard from Indigenous peoples that the many issues with mascots include how they contribute to their loss of cultural identity by allowing others to control their image. They give an outdated image which further cements the perception from many that they are a historical or extinct group of people rather than a current, living, modern group, therefore also further undermining their efforts for equal rights in other areas.'
ECFC's comments point to the broader issue of representation and the lack of autonomy many indigenous people have over how they are perceived, discussed and depicted by the mainstream media. In 2001, Dr Debra Merskin wrote that the dominant way we have learned about Indianness is 'from textbooks, movies, television programs, cartoons, songs, commercials, fanciful paintings, and product logos', addressing how popular stereotypes such as the 'mystical environmentalists or uneducated, alcoholic bingo-players confined to reservations' have traversed generations and work to inform false understandings of Native American life, obscuring the lasting effects of colonial dispossession.
It remains possible however, that somewhere in the middle of the debate a middle ground can be located. In 2016, Dr Stephanie Pratt suggested that reaching out to, learning from and collaborating with an indigenous community would be an appropriate step for the Chiefs to take to eliminate the stereotypes informing their imagery. She offered to act as a go-between should the club wish to make contact. Similarly, Melanie Squire, co-founder of Iroquois Roots rugby in Ontario, in a recent letter to the Chiefs published by ECFC, condemned its use of imagery but offered her constructive advice, which would help 'ensure rugby is an inclusive and safe space for all'.
Many are holding out for additional revisions after BT Sport announced its axing of the Tomahawk Chop chant from its manufactured crowd reactions last week, but the club's enduring silence on the matter suggests little room for further negotiation. The Siksika Nation of Alberta, in an analogous turn of events, may be preparing to reclaim long sought after Crowfoot regalia from Exeter's Royal Albert Memorial Museum in the coming months. It remains to be seen however whether the right to fair representation will ever be returned to those it was wrongfully taken from.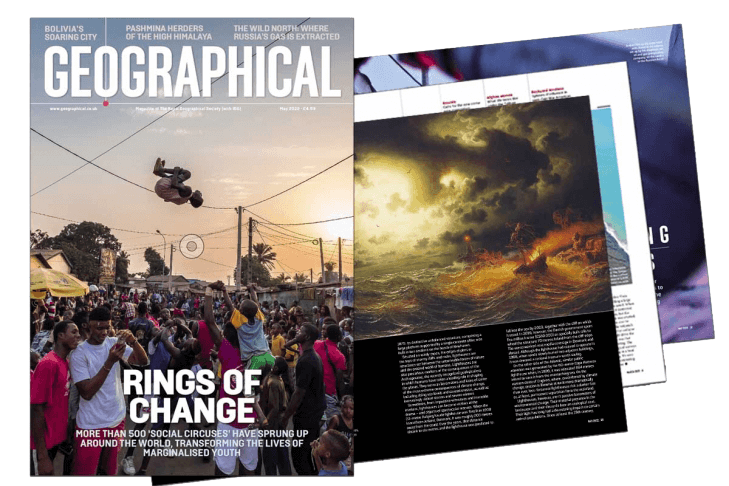 Subscribe to our monthly print magazine!
Subscribe to Geographical today from just £3.40 per month. Our monthly print magazine is packed full of cutting-edge stories and stunning photography, perfect for anyone fascinated by the world, its landscapes, people and cultures. From climate change and the environment, to scientific developments and global health, we cover a huge range of topics that span the globe. Plus, every issue includes book recommendations, infographics, maps and more!