Big oil companies have long known about climate change, but they still take no notice, says Marco Magrini
---
Barely noticeable in 2005; major economic consequences in 2038; global catastrophic effects in 2067.' These were the words written by scientist John Laurmann for a presentation to a secretive committee in 1980. The committee didn't belong to the government, but to the American Petroleum Institute, a lobbying group. He was referring to the effects of unrestricted fossil-fuel use. 
Laurmann's prediction could well come true, or be surpassed. The current escalation in abnormal temperatures (the most drastic being recorded at the poles) appears to be in line with 'major economic consequences' in 16 years' time.
While the fossil-fuel industry was well aware of the climate threat in 1980, since then, global oil consumption has soared from 65 million to 100 million barrels a day. Now, four decades later, you would expect every single oil and gas major to be aligned with the Paris Agreement's goals. But none of them are.
Oil Change International, an advocacy organisation, in its Big Oil Reality Check report, measured the climate pledges of BP, Chevron, Eni, Equinor, ExxonMobil, Repsol, Shell and Total against ten 'Paris benchmarks'. They were all designated as 'insufficient' or worse. Furthermore, the eight companies are found to be involved in some 200 expansion projects. The IPCC's recommendation – leave as much oil, gas and coal in the ground as possible – is ignored to say the least.
MORE CLIMATEWATCH COLUMNS
In the litigation-prone USA, two dozen states and cities have sued the oil majors, arguing that they misled the public on the climate crisis. Now that the crisis is here, they will likely be challenged in courts worldwide. Last May in the Philippines, the Commission on Human Rights found them liable for global heating. How much worse will it get when 'major economic consequences' kick in?
The first oil well was sunk in Pennsylvania in 1859. To celebrate its 100th birthday, the American Petroleum Institute organised a convention in New York. It was 1959. Edward Teller, known as the father of the atomic bomb, was invited to speak. 'Whenever you burn fossil fuels you create carbon dioxide… which causes a greenhouse effect,' the physicist said. Ice will melt, sea levels will rise and, eventually, 'the coastal cities would be covered,' he concluded. The oil people were either incredulous or annoyed. Mysteriously enough, they still are.
Latest posts by Marco Magrini
(see all)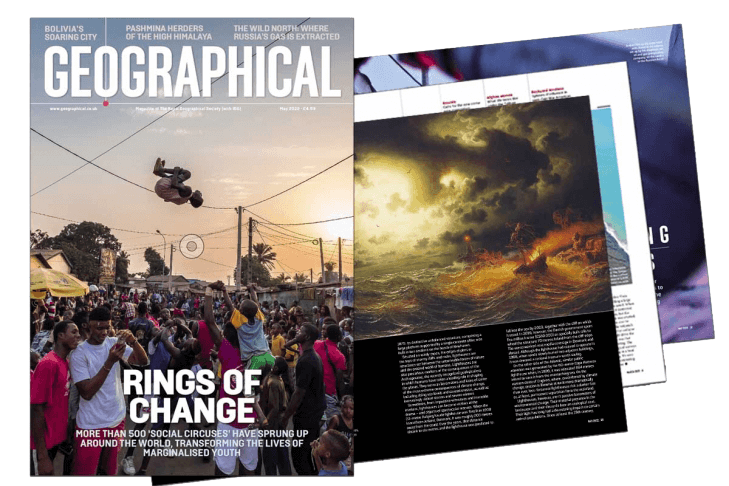 Subscribe to our monthly print magazine!
Subscribe to Geographical today from just £3.40 per month. Our monthly print magazine is packed full of cutting-edge stories and stunning photography, perfect for anyone fascinated by the world, its landscapes, people and cultures. From climate change and the environment, to scientific developments and global health, we cover a huge range of topics that span the globe. Plus, every issue includes book recommendations, infographics, maps and more!
Stay connected with the Geographical newsletter!
In these turbulent times, we're committed to telling expansive stories from across the globe, highlighting the everyday lives of normal but extraordinary people. Stay informed and engaged with Geographical.
Get Geographical's latest news delivered straight to your inbox every Friday!