The world's highest weather station is back in action and revealing alarming facts about climate change
---
The world's highest weather station has been reinstalled near the top of Mount Everest after it was destroyed by high winds in 2020, just seven months after it was first erected.
In May 2019, a team of scientists from a National Geographic Society-led expedition climbed to the mountain's 'Death Zone' to construct five new weather stations in one of the fastest-warming regions of the world. The Balcony Station, named after a small snow shelf that sits approximately 8,430 meters above sea level, stopped transmitting on 20 January 2020 – wind gusts of at least 150 miles per hour had been recorded just an hour before.
Following Covid delays, on 9 May a new and improved station was finally standing in a higher location of 8,810 metres on Bishop Rock, just 50 metres below the summit, on the Nepalese side of the mountain. Around the same time, a team of Chinese researchers also installed a weather station, at roughly the same altitude, on the northern, Chinese side of Everest – or Qomolangma, as it is known by its Tibetan name.
Weather stations on the world's highest mountain provide several benefits, including essential information for guides ahead of an expedition and for rescuers preparing an emergency evacuation. The amount of oxygen available to climbers on the upper slopes has been shown to vary considerably depending on the weather. Data from the stations is also used in climate change research and has so far revealed that high-altitude snow and ice are disappearing much more rapidly than was previously thought. 
---
You might like…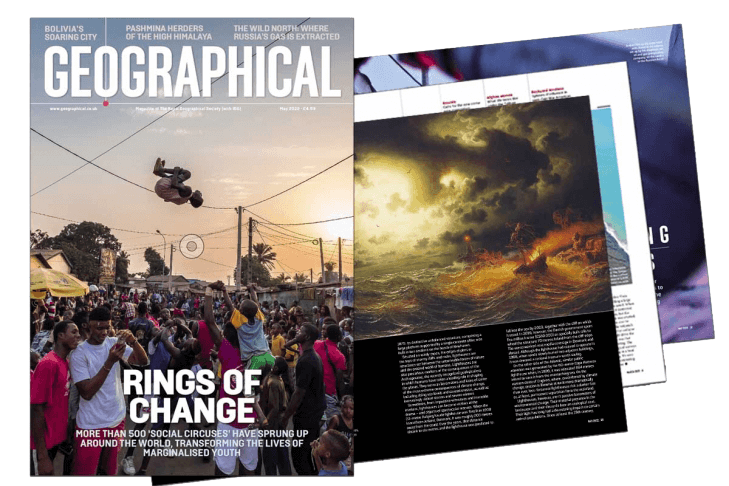 Subscribe to our monthly print magazine!
Subscribe to Geographical today from just £3.40 per month. Our monthly print magazine is packed full of cutting-edge stories and stunning photography, perfect for anyone fascinated by the world, its landscapes, people and cultures. From climate change and the environment, to scientific developments and global health, we cover a huge range of topics that span the globe. Plus, every issue includes book recommendations, infographics, maps and more!