Geographical's pick of the top UK universities offering the best degrees in the field of climate change research
---
The opportunity to study climate change – one of the defining issues of our times – is what attracts many young people to the field of geography and to geography degrees. It used to be that to focus specifically on climate change it was necessary to take a broader undergraduate degree and then pursue the subject at Master's level. This is still a good option and there are several highly regarded Master's programmes available. However, for those looking to focus on climate change at undergraduate level, some UK universities are now offering specific degrees in the subject.
---
Geographical's pick of the courses:
Find our list of climate change degrees below (in alphabetical order) along with UCAS requirements.
Aberystwyth University offers a range of degrees with climate change including:
Biology and climate change BSc
What they say:
'Aberystwyth University's degree in Biology and Climate Change addresses one of the key challenges of contemporary living, namely Climate Change and its impacts on life on our planet. One of the distinctive features of this innovative degree is that cohorts of students from different departments (International Politics, Business, and English and Creative Writing) will work in interdisciplinary learning communities. Students will come together across disciplinary boundaries to identify and communicate the challenges, responses and solutions to Climate Change, both within and beyond their own subject areas.'
Economics and climate change BSc
What they say:
'Through the study of economics, students will gain an understanding of the failures of "conventional" markets to effectively tackle climate change. Drawing on sub-disciplines of environmental and ecological economics, students will develop an appreciation of how local, national and international policies can be developed to provide incentives such as carbon trading schemes and taxes aimed at reducing emissions.'
Business and climate change BSc
'Businesses are a key contributor to greenhouse gas emissions; but they are also part of the solution. Climate change thus represents both a risk and an opportunity to business performance. Businesses that do not respond to the climate challenge are likely to face higher costs in terms of carbon taxes and a reduced customer base. In contrast, more progressive businesses, who adapt by decarbonizing and developing green products are likely to increase their financial, social, and environmental performance – their triple Bottom Line.'
International relations and climate change BA
'International Relations and Climate Change degree is key to understanding this complexity and confronting this global crisis. From the individual to the global level action is urgently required. While individual contributions and efforts to save our planet are important, without local, national, regional and global cooperation and coordination the damage to our climate, environment and ecological systems cannot be slowed let alone reversed. Without states, international organisations, NGOs and social movements working together this existential global challenge cannot be effectively tackled.'
English studies and climate change BA
'Our combined degree of English Studies and Climate Change provides a thorough and critical understanding of the ideological debates that shape the ways we read and write, challenge our perceptions of the places we read and write about, and interrogate who we are.'
Find out more about Aberystwyth University on the Geographical partner page
---
Other geography degree options
---
UCAS tariff: 104
What they say:
'Our climate change degree is the only one of its kind in the south-east of England and is taught by academics whose research is helping people around the world deal with the effects of climate. This programme has been designed to give you specialist scientific knowledge of climate change, as well as an understanding of the social, legal and economic issues associated with emission reduction and climate adaptation. You will gain practical skills in carbon accounting, risk assessment and geographic information systems, which will give you a head-start in your career as these are increasingly important as organisations, large and small, make commitments to reduce emissions and are forced to respond to climate impacts.'
Find out more about Greenwich University on the Geographical partner page
---
UCAS tariff: 112
A Level average offer: BBC (need C or above in Geography or related science)
What they say:
'Climate Change is a pressing and challenging issue facing society. Rising temperatures and sea levels, near global retreat of glaciers, alterations to precipitation patterns and frequent extreme weather events, climate induced changes in biogeographical patterns and loss of biodiversity pose severe threats to contemporary and future societies. The introduction of this new BSc in Climate Change will allow students to investigate the issue using interdisciplinary skills.'
---
UCAS tariff: 112
A levels: BCC
What they say:
'Climate Change BSc (Hons) at University of Northampton is founded on a thorough knowledge and understanding of the underpinning science of changes in the global climate. Students explore the politics and contested nature of sustainable climate solutions through informed debate and discussion. They will develop vital employability skills by actively exploring how the operation of organisations and businesses is underpinned by consideration of sustainability and climate change.'
---
University of Wolverhampton – Geography, Urban Environments and Climate Change BSC (Hons)
UCAS tariff: 96
A Levels: CCC / BCD
'Through Science and in everyday life we understand that climate change is happening all around us. As our planet continues to warm up and climate patterns change, bringing extreme and unpredictable weather, environments will become hotter, drier or wetter, the natural resources we rely upon will become increasingly threatened and all life on Earth will be severely impacted. MSci Earth, Climate and Environmental Change is a new degree designed to develop a strong scientific understanding of Earth system science and how it has shaped today's world. This four year course examines many of the greatest challenges faced in the 21st century including natural hazards, resource security and climate change.'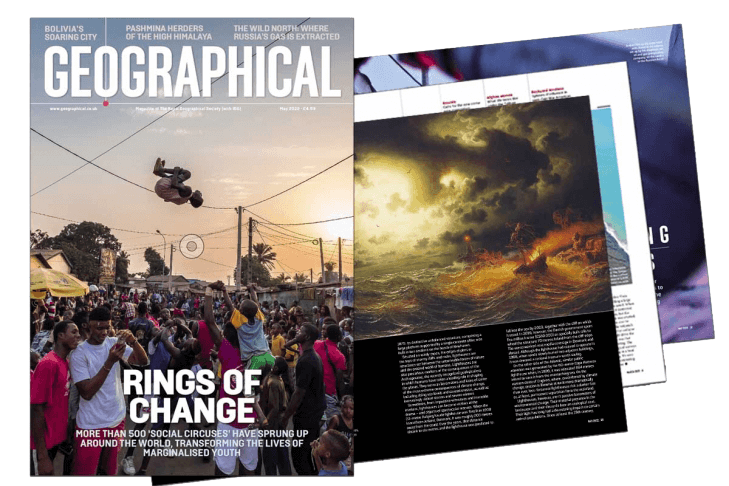 Subscribe to our monthly print magazine!
Subscribe to Geographical today for just £38 a year. Our monthly print magazine is packed full of cutting-edge stories and stunning photography, perfect for anyone fascinated by the world, its landscapes, people and cultures. From climate change and the environment, to scientific developments and global health, we cover a huge range of topics that span the globe. Plus, every issue includes book recommendations, infographics, maps and more!
---
for more great advice on studying geography, check out
---