A new green cemetery in Paris indicates the growing desire among citizens for an eco-friendly death
---
By Abigail Spink
'You'll die of old age, but I'll die of climate change,' read placards at Oslo's 'school strike for climate' in March, warning onlookers of the dangers of a failed climate response. It appears that climate protestors have made the prospect of death central to arguments intended to mobilise public and governmental action, with Extinction Rebellion claiming that 'we are in the midst of a mass extinction of our own making.'
Faced with speculation over the fate of the planet, and the possibility of being absent when the full effects of climate change take hold, many are requesting a new form of sustainable burial that minimises the impact of the human body on the Earth. It may sound morbid, but those in favour argue that post-life planning of this kind could be critical for taking environmental pressure off of future generations.
Paris has recently integrated a green burial site into one of its main cemeteries as part of a broader goal to become carbon neutral by 2050 and one of the most environmentally resilient cities in the world. According to a report in CityLab, 'Parisians will now be able to reduce their carbon footprints even after death' with a 17,000 square foot section of the Ivry-sur-Seine cemetery dedicated to green-burial plots.
This comes in the wake of evidence that suggests conventional burial and cremation processes, rooted in human tradition, are environmentally unfriendly. Largely a result of the chemicals involved in the embalming process leaching into soils and water sources, as well as land allocation and carbon emissions arising from casket manufacture and transportation, the funeral industry has found itself to be environmentally unsustainable, requiring staggering amounts of resources and energy.
According to the Berkeley Planning Journal, conventional burials in the United States use 30 million pounds of hardwood, 2,700 tons of copper and bronze, 104,272 tons of steel, and 1,636,000 tons of reinforced concrete for coffins, caskets and burial vaults. While cremation is thought to be less environmentally demanding, the average bodily burning uses 28 gallons of fuels and emits around 540 pounds of carbon dioxide into the atmosphere, which works out to 250,000 tons every year according to Katrina Spade, founder of the Urban Death Project.
The increasing popularity of green or 'natural' burials is partly in reaction to rising concerns for the long-term feasibility of standard burial methods. Essentially, the green route avoids embalming fluids, vaults and expensive casing, instead involving the use of biodegradable containers that allow the body to decompose naturally. According to the Green Burial Society of Canada, the five principles of green burial typically include direct earth burial, ecological restoration and conservation (using plants to integrate the area into the local ecosystem), using natural bodily preservation methods, communal memorialisation and land-use optimisation (the reusing of graves). Combined, these actions aim to ensure each person has as little physical impact on the Earth as possible.
With its green goal in mind, Paris' cemetery will subsequently avoid the use of gravestones and instead opt for wooden markers that will be replaced every ten years, authorities have claimed. Only biodegradable coffins and urns will be enclosed in the site, and ideally they will be made from locally sourced materials. All interned bodies will be dressed in clothing made from natural fibres and will have avoided chemical preservation, consistent with the city's 2015 decision to totally ban harsh chemicals, including pesticides, in its burial grounds.
Stay connected with the Geographical newsletter!
In these turbulent times, we're committed to telling expansive stories from across the globe, highlighting the everyday lives of normal but extraordinary people. Stay informed and engaged with Geographical.
Get Geographical's latest news delivered straight to your inbox every Friday!
It may have caught media attention, but interestingly France isn't the first European country to rethink its after-life care. Italian company Capsula Mundi was started in 2003, with the aim of changing the way people approach and envision death. Involving biodegradable egg-shaped pods where the departed are placed for burial as 'a seed in the Earth', the project's central message promotes the cyclicality of life. A tree is placed above the burial point, supported by the enriched soil beneath, serving 'as a memorial for the departed and as a legacy for posterity and the future of our planet,' according to the company.
While they're still trying to get their concept off (or in) the ground, founders Anna Citelli and Raoul Bretzel claim they were motivated by two main issues: 'the negative taboo over death, and the environment'. According to the pair, these are the two key concepts of green burials. 'We need to talk about death, to share our fears and our wishes, to find the best way, which is private and personal, to deal with it. This is why we chose to use three symbols of life for our project: the egg, the tree and the foetal position. We believe Capsula Mundi and green burials, in general, could be a consoling and positive option,' they claim.
Sharing Paris' sustainability vision, the founders continue: 'This could be a meaningful way to play our part in fighting deforestation and climate change. Awareness about the environment is rising and lots of people care about their ecological footprint during their life and also death. We strongly believe that green burial options are the future.'
What appears to be a novel and slightly obscure concept now, may indeed be the only option for handling the dead in years to come, as the pressures of the climate crisis mount. 'No field can be forgotten,' in the fight for the environment, claimed Pénélope Komitès, deputy mayor in charge of funerary affairs in Paris. It now seems that the notion of 'leaving our mark' on the planet will be increasingly up for debate.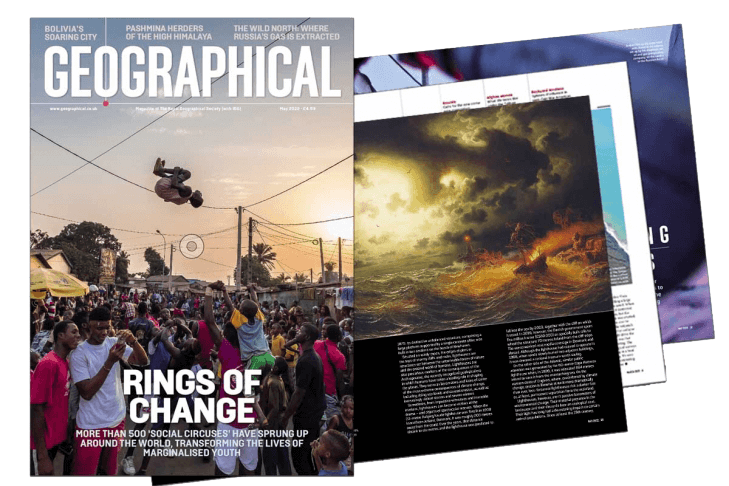 Subscribe to our monthly print magazine!
Subscribe to Geographical today from just £3.40 per month. Our monthly print magazine is packed full of cutting-edge stories and stunning photography, perfect for anyone fascinated by the world, its landscapes, people and cultures. From climate change and the environment, to scientific developments and global health, we cover a huge range of topics that span the globe. Plus, every issue includes book recommendations, infographics, maps and more!