The seagrass meadows around the Kerkennah Islands off Tunisia – one of the most important nurseries for marine life in the Mediterranean Sea – are under siege from illegal fishing
---
Report by Davide Mancini, Sara Manisera and Arianna Poletti
The flat, sandy landscape of the Kerkennah Islands is framed by date palms shaken by the winds blowing in from the Tunisian mainland, about 20 kilometres away. Small refrigerated vans travel along the few roads that run between the islands, making their way to and from the main port, from which a ferry connects the archipelago to the commercial port city of Sfax on the mainland. In Kerkennah, most of the 15,500 population is employed by the fishing industry. The islands are surrounded by one of the most extensive seagrass meadows in the world, which offers an ideal breeding ground for fish, octopus and crustaceans.
When Ahmed Taktak, 54, was a young boy, he could find plenty of octopus just by walking 10–20 metres from the shore into the shallow water that surrounds the islands. After spending around 30 years in Italy, he returned to his birthplace, where he had inherited fishing rights over a few hectares. Ahmed practises charfia, a traditional fishing technique that uses palm trees driven into the seafloor to create channels that funnel fish into traps. This ancient and sustainable technique was listed by UNESCO as an example of intangible cultural heritage three years ago.
Today, artisanal fishers such as Ahmed can barely make a living. The sea is being over-exploited by illegal fishing trawlers, which are having a devastating impact on the seagrass meadow and on fish stocks. Scientists and conservationists fear that uncontrolled trawling in the area could lead to the collapse of the populations of key species needed to sustain the marine environment.
---
Enjoying this article? We have thousands more for you.
Get immediate access to over 1,000 Geographical magazines in our archive back to 1935.
Sign up today and you will soon be travelling back through time reading all our amazing features of the last eight decades PLUS... you also get to enjoy every new issue of Geographical each month going forward in both print and digital formats.

Simply press the button below to choose the perfect package for you.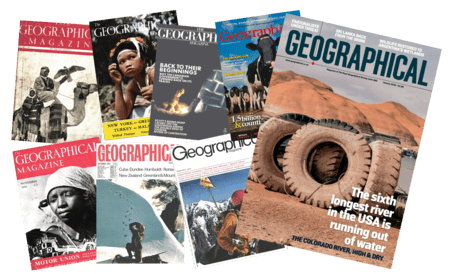 ---
Tunisia has the largest number of people employed in the fishing sector in the Mediterranean and Black seas. Of a total of 40,000 Tunisian fishers, about three-quarters are employed in small-scale fisheries. After the upheaval of the Arab Spring in 2011, many Tunisians moved to the fishing sector as the country suffered an economic crisis that still endures today. While the EU implemented measures to limit the fish takes of European vessels in the Mediterranean, North African countries such as Tunisia saw a surge of barely regulated fishing driven by socio-economic factors and market opportunity. In the central Mediterranean, Tunisia lands more fish than any other country, almost four times the amount recorded by Italy in 2018–20.
Ahmed explains how this is playing out on the islands. 'Fifteen years ago, the best fishing vessel in Kerkennah used gear of 75 horsepower maximum,' he says. 'Today, you see gears between 270 and 800 horsepower. They are not artisanal fishers. They use small boats to do bottom trawling in this area, which is illegal. They don't respect anything – neither the law nor the environment.'
The trawling equipment mounted on these small boats, known in Arabic as kiss (meaning 'bag') boats, is used for bottom trawling, previously the preserve of industrial vessels. Kiss boats are registered as artisanal vessels, bypassing industrial-fishing regulations, including requirements to log and trace their catches. Most of the fish illegally caught by kiss trawlers in Kerkennah is transported to Sfax, where it's mixed with catches from industrial trawlers and then exported.
After a stormy night, the sea around Ahmed's charfia system is calm and crystalline. It should be a perfect day to find trapped fish. However, Ahmed and his friend Mohammed only land a few gilt-head bream, a musky octopus and lots of blue crabs – a species that has invaded the Mediterranean from the warmer Red Sea. Due to the rising temperature of Mediterranean waters, the crustacean is spreading exponentially, particularly in the Gulf of Gabes. 'We call them Daesh, like the Islamic State in Arabic, because of their destructive characteristics,' says Ahmed. 'Wherever you find this crab, there will be no other crustacean left'.
Ahmed and Mohammed take their meagre catch home before returning to the same spot at dusk to lay a long fishing net, desperate to catch more. 'I bring about 60 kilos of blue crab every three days to a local middleman,' says Ahmed. 'He pays me 15–20 dinars [£4–£5] and throws away most of what I have caught because he says they can't be sold. The middlemen buy my blue crab for very little, but I don't have other options.'
He can't sell to the export companies, as they refuse to buy directly from small fishers. Exporters only deal with go-betweens who bring them tonnes of crabs collected by a large numbers of artisinal fishers.
Bending the rules
A 45-minute ferry ride connects the port of Kerkennah to mainland Tunisia. Sfax is one of the commercial hubs in Tunisia and an important shipping port in which many fish exporters are based. The sky is foggy and a strong smell covers the entire city. The nasty-smelling smoke comes from the large, open-air landfills around the city, where the garbage is burned non-stop, causing high levels of air pollution. The mismanagement of the garbage system is becoming an increasing problem, revealing yet another example of the collapse of essential public services in Tunisia.
One of the directors of a major export firm talks to us but insists on remaining anonymous. 'I receive product from 50 different fishing vessels every day,' he explains. 'How can I have real traceability? There isn't a digitised system here – documentation is all done on paper. I would need an encyclopaedia to export'.
His company is solely an export business: frozen products such as rose shrimps, prawns, octopus and squid are sold chiefly to Spain, Italy and France. A few years ago, he was one of the first exporters to find a market for the Tunisian blue crab in Asia, Australia and North America, where they can fetch around US$70 a kilo. He explains that, theoretically, Tunisian law requires that all catches landed by boats starting from its ports are documented, but this doesn't happen in practice. It's easy for the go-betweens to obtain fake certificates to present to exporters.
'I could refuse to buy irregular catches such as undersized octopus or squid,' he tells us. 'But if I do that, my competitors will buy it and export it anyway. The EU has a tracing system adapted for large, industrial fishing vessels, typically used in the Atlantic. But in Tunisia, in terms of certifications, it is all a theatre to keep the EU happy'.
The proliferation of the blue crab around Kerkennah is helped by the lack of predators such as octopus and squid. The cephalopods have been overfished in the area, so there's little to stop the spread of the invasive crabs in the Gulf of Gabes – fishers excluded.
Bottom trawling is an indiscriminate fishing method that catches whatever's on the seabed. Without law enforcement, the kiss-trawling activity is having a devastating impact on the seagrass meadows. A single pass of a beam trawl across the seabed destroys the meadow; it's estimated that it takes between 7.5 and 15 years to recover. The damage to this vast seagrass breeding zone doesn't only have an impact on the local marine life – it has global implications. Seagrass captures carbon up to 35 times faster than tropical rainforests and, even though it only covers 0.2 per cent of the seafloor, it absorbs ten per cent of the ocean's carbon each year, making it an incredible tool in the fight against climate change. The Tunisian seagrass beds are some of the largest known, covering more than 10,000 square kilometres. It's estimated that about 40 per cent of Tunisian fishing is carried out in seagrass areas – increasingly by illegal bottom-trawling.
'Compared to our previous counting in 2018, the number of kiss trawlers has increased by 38.5 per cent,' says Sofian Zerelli of the European NGO Fish Act. Sofian, originally from Tunisia and now living in Berlin, visited all of the ports in the Gulf of Gabes last November to create a record of illegal trawling. His team counted 576 vessels that were mounting kiss trawling gear, docked in different ports, including on the Kerkennah Islands. 'It is very difficult to stop this when the Tunisian authorities in charge of monitoring fishing do not have the resources and do not work together with the Coast Guard,' he tells us.
According to a number of different sources, the National Coast Guard is well aware of the problem, but there's widespread corruption and, in some cases, Coast Guard agents are directly involved in illegal fish trading. The fishing authorities, part of the Tunisian Ministry of the Environment, often lack the equipment and personnel to enforce the law. The Coast Guard has to tackle other issues, such as migration across the Mediterranean to Italy. 'The government needs to create a new authority that is 100 per cent dedicated to fishery law and enforcement, independent from other bodies,' says Sofian. 'This would be a major step towards controlling illegal fishing.'
As most of the fish caught in Tunisia are exported, it should be up to those countries to help regulate this trade. About 80 per cent heads to the EU, but different countries have different attitudes to enforcing the existing rules. In November, the EU IUU Coalition, a group of environmental NGOs that includes the Environmental Justice Foundation, Oceana, the Nature Conservancy, the Pew Charitable Trusts and WWF, published a report entitled Water-tight?, which concluded that this is allowing illegal imports to enter the EU because of lax enforcement in some countries.
For instance, Italy, one of the larger EU importers in terms of volume, received more than 96,000 catch certificates to import seafood from non-EU countries, including Tunisia, during the 2018–19 reporting period. Yet, not a single consignment was challenged. In comparison, in the same period, the UK received 54,278 catch certificates from non-EU countries and sent 43 verification requests about suspicious documentation.
Future hopes
At the end of the day, the sun is setting and Ahmed goes back on his boat. He still follows the lunar phases and only fishes ten days a month, when the tides drive fish into his charfia or his gillnets. Ahmed follows the natural rhythm of the sea. 'I will never do bottom trawling,' he says. 'I don't want to destroy my sea. We need to let the sea rest and let the fish reproduce. This is the only way to have a future on this island.'
---