The plot to restore the ecosystem of the Scottish Highlands
---
Although beautiful, the rolling hills and snaking glens of the Scottish Highlands are, in fact, landscapes that have been damaged by human beings. Much of the Scottish Highlands was once coated in a rich blanket of trees that formed the 'Great Forest of Caledonia'. Over the centuries most of this forest was lost to agricultural incursions. Vast tracts of old-growth forest were removed; species like wolves, lynx, boar and even bear were hunted out; and the ecosystem services of diverse forests and peatlands were altered.
At one former deer-hunting estate north of Inverness, a process of restoration is taking place. Workers at Alladale Wilderness Reserve have planted more than two million trees; red squirrel, golden and white-tailed eagle numbers have soared; wolves could one day join their ranks. For this small team of young rangers and conservationists, the vision of a restored wilderness stretches far into the future.
Land management approaches are a theme of this month's magazine. Chile is full of stunning landscapes, but its people can't always gain access to them. Now, a bold campaign to create a breathtaking national park on the outskirts of Santiago could become the biggest conservation story in Chilean history. We speak with contributor Matt Maynard about the 'Queremos Parque' movement.
Click here to listen on Apple Podcasts!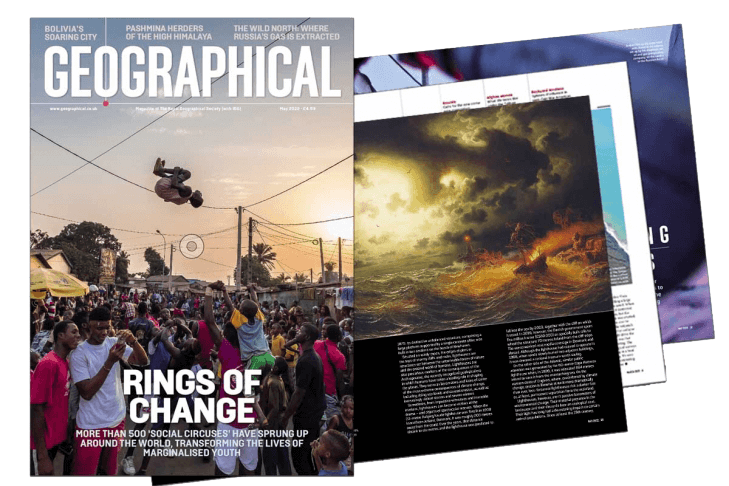 Subscribe to our monthly print magazine!
Subscribe to Geographical today from just £3.40 per month. Our monthly print magazine is packed full of cutting-edge stories and stunning photography, perfect for anyone fascinated by the world, its landscapes, people and cultures. From climate change and the environment, to scientific developments and global health, we cover a huge range of topics that span the globe. Plus, every issue includes book recommendations, infographics, maps and more!