Geographical, the magazine of the Royal Geographical Society (with IBG), has become an invaluable teaching resource for geography departments everywhere.
With its mix of highly informative, authoritative and educational content, covering everything from global cultures and environmental issues to the latest developments in geopolitics, Geographical is essential reading both in and out of the classroom
---
Give every student in your school access to Geographical's archive and every issue going forward for the next 12 months with our digital subscription
Keep up to date with the world, its people and places through our news pages and topical features on nature and conservation
Explore far-flung cities, towns and villages. Meet their inhabitants and immerse yourself in their culture
Discover weird and wonderful wildlife. Learn more about the world around you through insightful features and stunning photography
FULL OFFER
Any student can instantly access Geographical on your school or university network and save them for reading elsewhere
Access to EVERY Geographical for the last 80+ years (archive back to 1935)
Fully searchable archive great for research or lesson content
IP authenticated access – no requirement to login with username and password
Remote/EzProxy access for registered users off-site, as well as Shibboleth authentication
Digital access works across platforms, including website, iOS and Android native apps
ONE SUBSCRIPTION • ONE PRICE • ALL ACCESS
Pricing
The special subscription price for your whole school – that's EVERY student – is just £200 per year. This is for unlimited access to all issues for the last 80-plus years (dating back to our very first issue in 1935). Your staff and students can access the digital issues and archive on most the most popular platforms and devices including desktop PCs and Macs,  Apple and Android mobile devices and tablets.
Click here for further information or click below to place your order.
ELIGIBILITY
This offer is open to secondary schools, often referred to as a high school or a senior high school, worldwide – schools who provide secondary education, between the ages of 11 and 19 depending on location, after primary school and before higher education
SPECIAL OFFER – SCHOOLS MAGAZINE COLLECTION
Get Geographical along with NINE other carefully selected titles including BBC History, BBC Wildlife, Prospect magazine and New Internationalist in the Exact Editions Schools Magazine Collection.
Stay connected with the Geographical newsletter!
In these turbulent times, we're committed to telling expansive stories from across the globe, highlighting the everyday lives of normal but extraordinary people. Stay informed and engaged with Geographical.
Get Geographical's latest news delivered straight to your inbox every Friday!
Covering topics from geography, politics, music and philosophy, the subscription collection for schools offers IP authenticated and remote access to this wide range of titles with over 1,500 combined issues.
The digital access works across platforms, including website, iOS and Android native apps. CLICK HERE for more details on this great packaged subscription.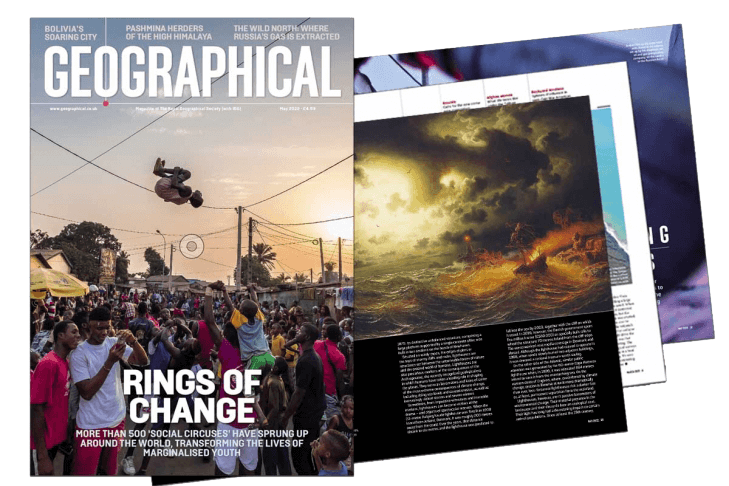 Subscribe to our monthly print magazine!
Subscribe to Geographical today from just £3.40 per month. Our monthly print magazine is packed full of cutting-edge stories and stunning photography, perfect for anyone fascinated by the world, its landscapes, people and cultures. From climate change and the environment, to scientific developments and global health, we cover a huge range of topics that span the globe. Plus, every issue includes book recommendations, infographics, maps and more!