Photographer Muhammad Amdad Hossain documents the different sides of life in his home country of Bangladesh
---
Ever since he was a child growing up in Chittagong, Bangladesh, Muhammad Amdad Hossain has been fascinated by photography. Lacking access to a proper camera, he started out taking pictures with his mobile phone, but soon realised he needed to upgrade. It was in 2016, with a loan from a rural NGO and the support of his parents, that he finally managed to purchase a DSLR camera and his photographic journey truly commenced. 
'Travel and documentary photography are the areas of my interest and I have a fascination for portrait photography,' he says. 'Travel and photography go hand in hand and I have been travelling near and far to depict interesting human stories for the last few years. My passion is to explore the different aspects of human life and document them.'
Now aged 22 and in the final year of a political science course at Chittagong College under the National University of Bangladesh, his work has gone from strength to strength, winning more than 30 awards and being featured in magazines and newspapers around the world. For Amdad, it's important to capture both the beauty he sees before him and the many socio-economic problems he encounters in his home country. It's something he views as a responsibility, not just an interest. 
'As a documentary photographer, it is my responsibility to showcase the socio-economic issues, as well as the impact on human life,' he says. 'I strongly believe in the power of photography in changing people's perspective towards social changes and issues.' But, he's keen to emphasise that hope often shines through. 'My photographic journey is not only to capture the social, political and financial issues and conflicts, but also to portray the artistic beauty and enduring power of the human spirit.'
---
Muhammad Amdad Hossain's…
INSPIRATION
Honestly, my inspiration comes from seeing other award-winning photographers in Bangladesh, with the support of my family and winning the awards.
PURPOSE
The purpose of photography is to communicate and document moments in time. When you take a photograph and share it with others, you're showing a moment that was frozen through a picture. This moment can tell someone many things, from the environment to what people are doing.
Stay connected with the Geographical newsletter!
In these turbulent times, we're committed to telling expansive stories from across the globe, highlighting the everyday lives of normal but extraordinary people. Stay informed and engaged with Geographical.
Get Geographical's latest news delivered straight to your inbox every Friday!
Advice
I would advise you to learn all about photography, study and take regular photographs. Never be stopped. Then something good will happen.
---
More photography articles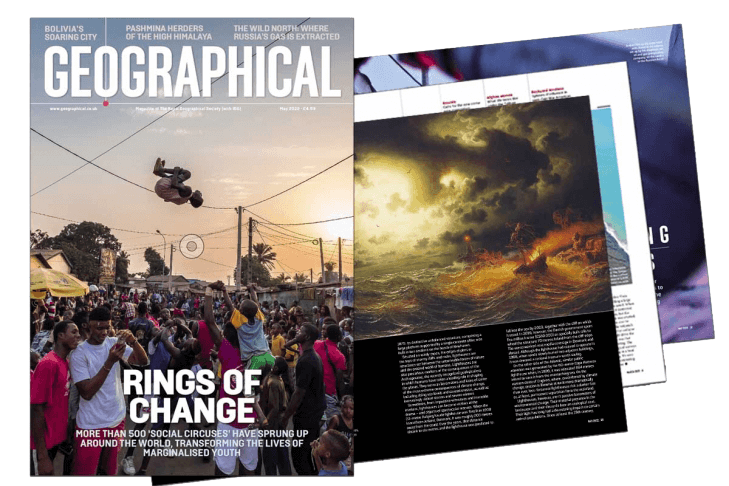 Subscribe to our monthly print magazine!
Subscribe to Geographical today from just £3.40 per month. Our monthly print magazine is packed full of cutting-edge stories and stunning photography, perfect for anyone fascinated by the world, its landscapes, people and cultures. From climate change and the environment, to scientific developments and global health, we cover a huge range of topics that span the globe. Plus, every issue includes book recommendations, infographics, maps and more!