Heatwaves are a bigger killer than other climate disasters, such as floods and hurricanes. Cities are starting to wake up to the threat
---
By Catherine Early
The citizens of Athens are used to heat. With average summer temperatures of 30–35°C, hot weather is regarded as part of life there. But last summer, when temperatures peaked at 43.8°C, was different, recalls Eleni Myrivili. 'There were all these wildfires and there was ash falling from the skies and it really felt like a post-apocalyptic scene,' she says.
Myrivili is the city's chief heat officer (CHO), a new role created in the aftermath of the summer disaster. The Greek capital is one of several cities around the world that have created such a role in the past year – a reflection of the growing awareness of the danger that extreme heat can pose to human health.
A number of recent studies have painted a grim picture for the future liveability of cities. If greenhouse gas emissions continue at high levels, many cities could warm by as much as 4°C, according to the UN Environment Programme (UNEP). Rapid urbanisation and the heat island effect are causing urban areas to warm at twice the average global rate. Even if temperatures are kept within 1.5°C of warming – the level governments have committed to under the Paris Agreement – 2.3 billion people could be vulnerable to severe heat waves, the UNEP said.
Researchers from the USA have found that exposure to extreme heat has tripled since the 1980s in more than 13,000 cities worldwide, due to both growing urban populations and rising temperatures. Some 17 per cent of cities experienced an extra month of extreme heat days each year. For every day on which temperatures exceeded 35°C, death rates increased by 4.7 per 100,000 people for those aged over 64. According to research by the Grantham Research Institute on Climate Change and the Environment, in 2018, temperatures reached dangerous levels in eight cities around the world, including Delhi, Karachi and Dhaka.
Studies have also exposed the extra risk posed by inequality. Many of the worst-affected cities are the most densely populated and the poorest. Developing countries are especially vulnerable to sustained high temperatures as most are located partially or entirely within the tropics and typically include unplanned settlements.
But even in rich countries, the differences are stark. Last year, researchers from the University of California, San Diego published research showing that three-quarters of US neighbourhoods with more black, Hispanic and Asian residents experience hotter temperatures during summer heatwaves than nearby white neighbourhoods, mainly because non-white neighbourhoods tend to be more densely built up, with buildings and pavements that trap heat, and also have fewer trees to cool the local environment.
Poorer people are also less likely to have access to air conditioning. In any case, these make overheating worse as waste heat emitted onto the street further warms cities. Air conditioning units also contain hydrofluorocarbons, which have a global-warming potential that can be hundreds to thousands of times that of carbon dioxide.
Stay connected with the Geographical newsletter!
In these turbulent times, we're committed to telling expansive stories from across the globe, highlighting the everyday lives of normal but extraordinary people. Stay informed and engaged with Geographical.
Get Geographical's latest news delivered straight to your inbox every Friday!
As global temperatures rise, heat-related illnesses are becoming a financial risk to cities. In Phoenix, Arizona, emergency room visits and hospitalisations due to heat-related illnesses cost US$7.3 million every year, according to research by US-based conservation organisation The Nature Conservancy (TNC).
Robert McDonald, a lead scientist at TNC, studies the impact of extreme heat on cities and their inhabitants, and how it can be mitigated. He has noted an increase in attention paid to the subject as the science has improved and several fields have come together. 'Major heatwaves were some of the first events that were really clearly attributed to climate change, and climate modelling has produced some quite scary projections of how hot many places will get,' he says. 'Meanwhile, epidemiology literature has become much better at relating heat events to excess mortality. And then, in ecology, we've started to work more with health data and scientists about the connections between heat, health and nature, such as tree cover.'
The health threat from heatwaves is huge, but often underestimated, McDonald says. When people think about death risk from climate change, hurricanes and floods usually come to mind. 'But in most years, city heat is the largest weather-related cause of mortality globally,' he says. 'Estimates vary a lot, but it's clearly in excess of tens of thousands of people a year. In particular events, it's much bigger. Some have estimated that the European heatwave of 2003 caused up to 70,000 deaths in a couple of weeks. And all of those impacts could get worse, so the challenge is really big.'
Learning from a disaster
In August 2003, a heatwave saw Europe swelter in the highest temperatures it had seen in more than 500 years. France was particularly badly hit, with 15,000 people dying in the record heat. Around a third of these were in Paris, which had to resort to storing bodies in refrigerated lorries as morgues overflowed.
In 2019, another heatwave hit the city. This time, however, it was prepared. A city-wide network of 100 'cooling islands' — spaces such as parks and pools linked by walkways – had been created, so that all residents should be able to walk to a cool island or walkway within seven minutes. Residents can locate them using a smartphone app. The city has also developed a district cooling system using water from the river Seine to lower temperatures in buildings. This and other targeted advice and facilities for the elderly, young and homeless meant that in 2019, just 300 Parisians died due to the heat.
The city is continuing to ramp up its efforts, according to Dan Lert, the deputy mayor of Paris in charge of ecological transition. 'The summer of 2003 will be normal in future,' he says. 'A study published in September predicted 50°C in Paris, so we have to prepare for that – it is our worst-case scenario.'
The cool-islands network is being expanded, with another 300 locations. The plan is to extend this system throughout the city, with a 200-kilometre network that will hopefully reduce the take-up of air conditioning, the use of which can increase temperatures during heatwaves by a further 2–3°C.
The water quality of the Seine is being improved so that people can swim in the river to cool off . The city is hosting the summer Olympic Games in 2024 – open-water swimming events will be held in the Seine, after which these areas will remain open to the public. Schoolyards are being transformed by planting trees, installing water features and making the paving lighter to reflect heat. These will be opened up after classes have finished so that other people can use them to cool down.
The river Bièvre, which was gradually covered over during the early 20th century due to the smell from pollution from tanneries, is to be opened up. A feasibility study is underway and Lert expects to complete the first section in 2026.
Stay connected with the Geographical newsletter!
In these turbulent times, we're committed to telling expansive stories from across the globe, highlighting the everyday lives of normal but extraordinary people. Stay informed and engaged with Geographical.
Get Geographical's latest news delivered straight to your inbox every Friday!
The city is planning to simulate a heat emergency by the end of 2023, involving the city's police, hospitals, firefighters and energy and transport providers, as well as the national weather service, Meteo-France, and climate change research institute IPSL. 'This exercise will allow us to simulate the different impacts on Paris's territory and to improve the preparation of public services in case of extreme crisis,' Lert says.
Coordinated action
Collaboration on the issue among experts in different disciplines, as well as the public and private sectors, is starting to grow. Last year, experts in public health, finance, humanitarian assistance, disaster management, climate science and risk, insurance and public infrastructure joined leaders from several global cities to form the Extreme Heat Resilience Alliance (EHRA). The alliance is led by the US-based Atlantic Council's Adrienne Arsht-Rockefeller Foundation Resilience Center. It's the council that's promoting the idea of CHOs.
Extreme heat has become a 'silent killer' due to the lack of awareness and attention paid to it, says the council's director, Kathy Baughman McLeod. Unlike other climate risks, such as flooding and fire, no public agency has responsibility for it. 'We've been talking about global warming for 60 years and we're only now coming to grips with heat, which is hilarious, in a twisted way,' she says.
The council has seed-funded CHOs in Miami, Freetown in Sierra Leone and Athens, and is aiming to have one in a city on every continent by the end of the year, with the aim of inspiring other cities to follow suit. This is already starting to happen, with the US cities of Los Angeles and Phoenix among those who've copied the model.
The EHRA is also running a campaign for heatwaves to be categorised and named, in a similar way to storms and hurricanes. It believes that this will raise public awareness of the dangers of extreme heat and prompt action from city authorities that's relevant to the level of threat. It's already talking to organisations including the US National Oceanic and Atmospheric Administration, the World Meteorological Organization and the UK's Met Office.
'If you hear that Hurricane Jack is coming, and it's category three, you know what that feels like and what to do to prepare for it,' says Baughman McLeod. 'If it has a name, it begins to have a brand and a social media hashtag and it gets you to pay attention.'
A three-category system has been developed that could fit any of the world's cities. The system differs from that used for hurricanes in that it links the category to the health risk. For example, a category two heatwave would trigger warnings that people could feel nauseous and that elderly people are at risk.
Stay connected with the Geographical newsletter!
In these turbulent times, we're committed to telling expansive stories from across the globe, highlighting the everyday lives of normal but extraordinary people. Stay informed and engaged with Geographical.
Get Geographical's latest news delivered straight to your inbox every Friday!
The idea is being piloted this year in Seville, Spain, and Athens. 'The key thing is to get everybody agreed that the categorisation methodology works,' Baughman McLeod says. Data fed into a specially designed system every 15 minutes will be used to decide if the heat level warrants a category. The information will also be sent to a public information system for local officials, emergency managers and public health agencies.
The silent killer
Heat can have an impact on humans in a number of ways, including affecting the ability to sleep, work and study, but at extreme levels, it's lethal. Heatstroke symptoms range from light-headedness and nausea to organ swelling, cell-signalling disruption, unconsciousness and death.
Even healthy humans who are acclimatised to heat and have access to drinking water can be killed by a combination of extreme temperature and humidity as the body loses its ability to cool itself through sweating.
The measurement of this combination of heat and humidity is known as the 'wet bulb temperature'. A study published in 2020 found that two cities – Jacobabad in southern Pakistan and Ras Al-Khaimah in the United Arab Emirates – have already reached a wet bulb temperature of more than 35°C, judged to be the human body's limit of survivability, on some days.
Stacking solutions
Recognition of the power of so-called 'nature-based solutions' to support adaptation to climate change has also been growing. Trees and green spaces can both prevent flooding by soaking up water during heavy rain and provide shade and help to further cool the surrounding area as water is released from leaves into the atmosphere via evapotranspiration.
The city of Medellín in Colombia has demonstrated the cooling power of trees. Unplanned development had eliminated green spaces and caused temperatures to rise 6°C above average. To combat this, between 2016 and 2019, 36 corridors of trees and other vegetation were planted along major roads and waterways, with vulnerable neighbourhoods prioritised. Covering more than 36 hectares, these areas have already seen temperature reductions of up to 4°C.
But expanding green spaces is only part of the solution, McDonald says. 'Trees help, but they can't mitigate all of the projected climate change impact. Typical street trees might cool a street by 1–2°C, but in some of the forecasts, cities might become 3–4°C hotter on average. We're in a situation where we need to stack up as many solutions as we can.'
The answer, instead, is a broader, whole-system strategy. This is being advocated by the UNEP, which published guidance at the COP26 climate talks last November to support cities in tackling extreme heat through a multi-pronged approach, starting with reducing temperatures at an area-wide scale by planting trees and expanding green spaces, or by painting roofs and pavements to make them reflect heat, or installing shade cloth above walkways.
Further interventions should target a reduction in the need for cooling in buildings through better design, with cities setting more stringent rules for the energy performance of buildings. Finally, cooling needs should be met more efficiently, such as through district cooling systems. This idea is used to good effect in Toronto, Canada, which uses Lake Ontario's cold water to cool surrounding neighbourhoods.
Preparing for extremes
One of the challenges public health officials face is the uncertainty around the timing and extent of heatwaves. The 'heat dome' phenomenon experienced in British Columbia last summer, which caused temperatures in the town of Lytton to peak at 49.6°C – beating the previous national record high temperature by 4°C – was deemed by climate scientists to be a 'one-in-1,000-year event'. So how can city and health authorities protect their populations from the unimaginable?
Sneha Sachar, a consultant with US 'think and do tank' the Rocky Mountain Institute (RMI) and one of the authors of the UNEP report, said that there are simple measures that cities can take as contingency planning, such as creating a system for public heat alerts and setting up community spaces, in particular for vulnerable populations who may not have any other way of dealing with extreme changes in temperature.
Co-author of the report and RMI senior fellow Iain Campbell points out that many actions to lower temperatures, such as allowing public access to waterways, reduced traffic and increased green space, bring added benefits in making the city more liveable. 'It may well be that the impact of rising heat is the catalyst for doing some of these measures, but these are smart things to do anyway, and there's a lot of it that doesn't come at a huge cost,' he says.
The UNEP guidance contains case studies from 80 cities from around the world that are leading the way. Cities that have progressed the most are typically those that have already borne the brunt of extreme heat, such as Ahmedabad in India, Sachar says. In May 2010, temperatures in the city reached a high of 46.8°C, killing an estimated 1,300 people. Since then, the city authorities have created annual heat-action plans, a public warning system and access to drinking water and cooling spaces for vulnerable people. A programme to install 'cool roofs' has seen thousands of low-income homes painted with heat-reflective paint. In 2019, cool roofs became mandatory on all municipal, commercial and government buildings in the city. Ahmedabad's actions have been credited with saving more than 1,000 lives a year.
In Freetown, new CHO Eugenia Kargbo is planning a combination of tactics to combat rising temperatures, which are being exacerbated by population growth as people move to the city from rural areas because subsistence farming can no longer sustain them. Areas around the city are undergoing rapid deforestation as people cut trees to makes homes in informal settlements.
Kargbo's team is collecting data on who is most vulnerable to extreme heat, and where they are, to inform a public communication system. Green spaces will be created to reduce heat and shade covers provided for market areas to protect traders. Vertical greenery and green roofs will be needed, too, as land for tree-planting is scarce, especially in the informal settlements and central business district, Kargbo explains.
Athens has a similar strategy, with its pilot of the heatwave-categorisation system going live this summer. This will be a 'game changer' for public attitudes, Myrivili believes. 'It will create a better capacity to communicate heatwaves through the media,' she says. Over time, she wants to reduce people's reliance on cars to free up space for the creation of cooling green areas. Changes of this sort will take at least ten years, she believes. 'It's a big race – modern cities have become death traps.'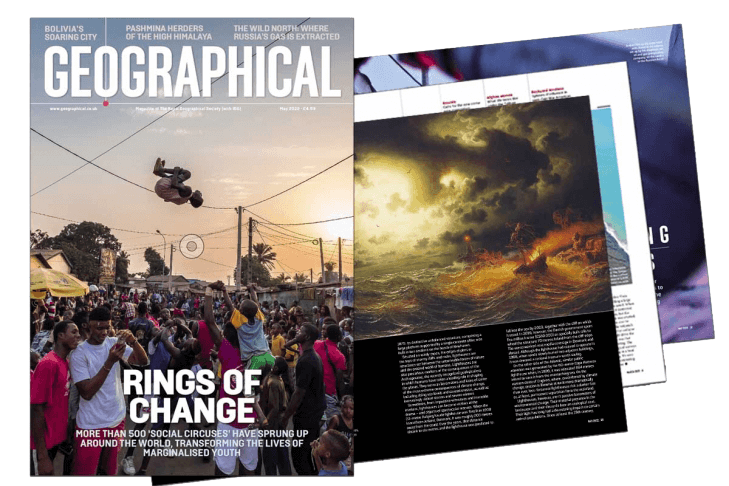 Subscribe to our monthly print magazine!
Subscribe to Geographical today from just £3.40 per month. Our monthly print magazine is packed full of cutting-edge stories and stunning photography, perfect for anyone fascinated by the world, its landscapes, people and cultures. From climate change and the environment, to scientific developments and global health, we cover a huge range of topics that span the globe. Plus, every issue includes book recommendations, infographics, maps and more!