The global impacts of the tobacco industry on the young, on workers, on the economy, on health services and on crime
---
Rocco Rorandelli has spent more than a decade travelling the world documenting and photographing the impacts of the tobacco industry
Around the world, more than 1.2 billion people are addicted to cigarettes – about half of whom will die as a consequence of the habit. The World Health Organization puts the annual global cost, including health care and lost productivity, at nearly US$2 trillion. Children are not only targeted to fill the ever-depleting ranks of consumers but are forced into hard labour to produce the crop. In some countries, the demand for land to produce tobacco is the biggest single cause of deforestation.
---
Cigarette manufacturers target the young
Globally, an estimated 50 million 13–15-year-olds smoke cigarettes or use smokeless tobacco products. According to the Tobacco Atlas produced by the University of Illinois, Chicago, in many developing countries, tobacco use is now more common among teenagers than it is among young adults.
---
A global industry making trillions of cigarettes each year
Six trillion cigarettes are produced each year. The trade is dominated by a handful of multinationals, the largest being the state-owned China National Tobacco Corporation, which makes 2.5 trillion cigarettes a year, followed by Philip Morris (990 billion cigarettes a year worth more than US$47.1 billion).
---
Enjoying this article? We have thousands more for you.
Get immediate access to over 1,000 Geographical magazines in our archive back to 1935.
Sign up today and you will soon be travelling back through time reading all our amazing features of the last eight decades PLUS... you also get to enjoy every new issue of Geographical each month going forward in both print and digital formats.

Simply press the button below to choose the perfect package for you.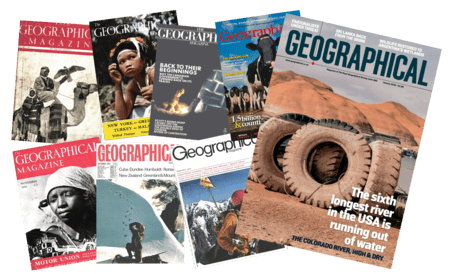 ---
---
Cigarette smuggling is a key part of the industry
A number of studies have found multinational producers complicit in cigarette smuggling, which they see as a way to secure long-term market share. Up to six per cent of the total global trade in cigarettes involves cross-border smuggling.
---
Tobacco impacts on the health of workers
The World Health Organization's first global treaty, in 2008, was to combat the problems of child labour and the health risks common to tobacco production.
---
One tree is cut down to produce every 15 packs of cigarettes
Tobacco is grown in 125 countries by an estimated 33 million farmers, often directly supported by tobacco companies. It's a labour-intensive, low-yield crop that needs high levels of pesticides. UNICEF has calculated that if food were grown in its place, 20 million hungry people would benefit.
---
Tobacco is a global health
Each year, more than 8.7 million people die from tobacco use. Most of those deaths (7.4 million) are attributed to direct tobacco use, while the remaining more than 1.3 million deaths are attributed to exposure to secondhand tobacco smoke. Around 80 per cent of these deaths happen in low- and middle-income countries.
---