The role of the British Monarchy is largely ceremonial, but in many countries royals still wield significant power
---
On 9 September 2015, Queen Elizabeth II became the longest reigning monarch in British history, surpassing the reign of her great-great-grandmother Queen Victoria. This week, she will become the first British Monarch to celebrate a Platinum Jubilee, following 70 years of service.
There are 43 sovereign states in the world today that still have a monarch as head of state. Of these, the Queen heads up 15. Her powers may be largely ceremonial, but there are still plenty of monarchs who wield significant power. Here, we have divided all of the world's monarchs into three categories:
---
Ceremonial Monarchy
In these countries, the monarch holds little to no power, but performs social or cultural duties
Andorra: Co-Prince Emmanuel Macron and Co-Prince Archbishop Joan-Enric Vives Sicília
Two monarchs for one microstate
The Principality of Andorra is one of the world's smallest countries, with a population of fewer than 80,000, yet it has two heads of state. Andorra is in fact one of the last remaining diarchies, an ancient form of government in which two people rule jointly. First founded in 1278 as a treaty between the bishop of Urgell and the Count of Foix, the agreement has lasted into the 21st century. Andorra's co-princes are the current bishop of Urgell (Joan-Enric Vives Sicília) and the president of France (Emmanuel Macron), who each appoint a personal representative to represent them in matters of the state.
Belgium: King Philippe
Bhutan: Jigme Khesar Namgyal Wangchukin
Cambodia: King Norodom Sihamoni
Denmark: Queen Margrethe II
Japan: Emperor Akihito
Lesotho: King Letsie III
Liechtenstein: Prince Hans Adam II
Luxembourg: Grand Duke Henri
Malaysia: Sultan Badlishah
Netherlands: King Willem-Alexander
Norway: King Harald V
Spain: Filipe VI
Samoa: Tuiatua Tupua Tamasese Efi
Sweden: King Carl XVI Gustaf
The only indigenous monarchy in Oceana
For 165 years the South Pacific Island nation of Tonga (a group of more than 170 islands) was ruled by absolute monarchs. The first modern king of Tonga was Taufa'ahau, who converted to Christianity and took on the title of King George (after King George III of the United Kingdom) Tupou I in 1845. However, a pro-democracy movement began to take shape during the late 20th century, leading to demonstrations and riots by the early 2000s. In 2010, the country held its first ever democratic elections and the monarchy's power was drastically curtailed.
Tonga: King Tupou VI
United Kingdom: Queen Elizabeth II
The Commonwealth realms
Today, the Queen is recognised as the head of state of 15 countries, or Commonwealth realms, including the UK. All are members of the Commonwealth of Nations and most were formerly territories of the British Empire.
United Kingdom
Antigua and Barbuda
Australia
The Bahamas
Belize
Canada
Grenada
Jamaica
New Zealand
Papua New Guinea
St. Kitts and Nevis
St. Lucia
St. Vincent and the Grenadines
The Solomon Islands
Tuvalu
Former realms
On 30 November 2021, Barbados became the world's newest republic and the latest country to officially remove Queen Elizabeth II as head of state. In an overnight ceremony in the capital city, Bridgetown, Dame Sandra Mason was sworn in as the new president of Barbados.
Barbados is the first country to have replaced the Queen with a president since Mauritius in 1992. Three others did the same prior to that: Dominica in 1978, Trinidad and Tobago in 1976, and Guyana in 1970. Earlier this year, Jamaica's prime minister implied it may make a similar move in the future, leading to questions about the future of the remaining Commonwealth realms.
---
Powerful Monarchy
In these countries, the monarch holds and actually exercises some power over citizens or government
Bahrain: King Hamad bin Isa al-Khalifa
Jordan: King Abdullah II
A change of constitution
In 2016, the parliament of Jordan passed several constitutional amendments, giving the king additional powers, including the right to appoint the head of a top court and members of the Senate. Opponents have called the move a setback following gains made during the Arab Spring in 2011, when Abdullah promised reforms that would eventually limit his powers, not increase them.
Stay connected with the Geographical newsletter!
In these turbulent times, we're committed to telling expansive stories from across the globe, highlighting the everyday lives of normal but extraordinary people. Stay informed and engaged with Geographical.
Get Geographical's latest news delivered straight to your inbox every Friday!
Kuwait: Sabah Al-Ahmad Al-Jaber Al-Sabah
Monaco: Prince Albert II
Morocco: King Muhammad VI
A break from the past?
Following in the footsteps of his father, King Mohammed VI's first years of office in Morocco were spent taking actions that appeared to put the nation on the path to democracy, including sacking long-time interior minister, Driss Basri, believed responsible for many of Morocco's worst human rights violations. In 2011, following the Arab Spring, he announced a series of reforms that would limit the monarchy's power. More recently, however, he has stamped his authority, including in 2017 when he sacked four ministers and barred five former ministers from ever taking official duties.
Qatar: Emir Sheik Tamim ibn Hamad Al Thani
Thailand: Maha Vajiralongkorn
The wealthiest monarch in the world
Since ascending to the throne in 2016, Thailand's King Maha Vajiralongkorn has taken several actions to expand his influence. Under the country's Lèse-majesté laws it is a crime to insult the king, with a penalty of up to 15 years imprisonment per instance. However, the king's huge wealth has drawn criticism. In 2020, Thailand's government budgeted over $1 billion to finance the monarchy, despite its estimated $40 billion in assets. Mass anti-government protests followed, with activists calling for reforms of the monarchy. In 2021, a top Thai court declared this move as unconstitutional. Pro-reform activists have voiced concerns that Thailand could return to being an absolute monarchy.
---
Absolute Monarchy
In these countries, the monarch holds supreme autocratic authority
Brunei: Sultan Haji Hassanal Bolkiah
Eswatini: King Mswati III
Africa's last absolute monarchy
The Kingdom of Eswatini (still commonly known as Swaziland) is Africa's last remaining absolute monarchy. Current ruler King Mswati III instigated the country's name change in 2018, saying he was fed up of being confused with Switzerland. But the kingdom could be at a turning point following pro-democracy demonstrations in 2021 and early 2022 that called for an end to the monarchy.
Oman: Sultan Haitham bin Tarik
Saudi Arabia: King Salman
Vatican City: Pope Francis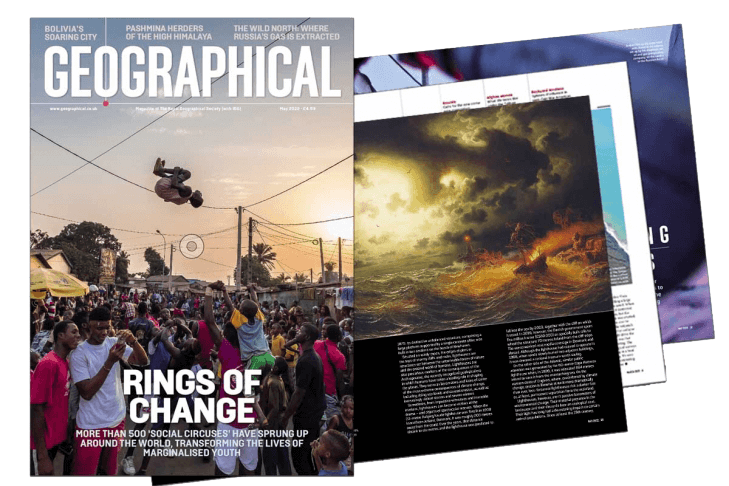 Subscribe to our monthly print magazine!
Subscribe to Geographical today from just £3.40 per month. Our monthly print magazine is packed full of cutting-edge stories and stunning photography, perfect for anyone fascinated by the world, its landscapes, people and cultures. From climate change and the environment, to scientific developments and global health, we cover a huge range of topics that span the globe. Plus, every issue includes book recommendations, infographics, maps and more!