Rory Walsh investigates a trio of strange 'roads' in the Scottish Highlands
---
View • Rural • Scotland • Web Guide
Landscapes can be read like books. Scenic views stimulate our eyes and imagination, and we usually like to know their story. One example is Glen Roy, a U-shaped glacial valley 24 kilometres north of Ben Nevis. From Roy Bridge on the A86, a twisty road winds through the valley east of the River Roy. The slope-sided mountains provide a vast backdrop of browns and greens. After six kilometres, a small car park appears inside a tight loop of the road that recalls an oxbow lake. Here visitors can enjoy a panoramic view of a strange sight.
Three parallel lines, one above the other, run horizontally across the rock faces. Some stretches are more distinct than others, but they ring the entire glen. Local legends claimed they were ancient roads, created when the valley was densely wooded. Mythical king Fionn MacCumhail, or Fingal the Giant, supposedly built them so he could ride through the forest on horseback.
From the 18th century, the 'Parallel Roads of Glen Roy' fascinated scientists seeking a more plausible explanation. Among them was Charles Darwin, who visited Glen Roy in 1838. Darwin and others suggested that the Parallel Roads were raised beaches, the remnants of a lost coastline created by a sea that had once reached further inland. There aren't any seashells or other marine remains here to support this theory, however.
Then, in 1840, Swiss geologist Louis Agassiz found the solution: the Parallel Roads were the traces of an Ice Age glacial loch. Agassiz realised that a glacier spanning Glen Roy could become a dam, trapping water in the valley. A loch formed that was large enough for the wind to generate waves. It was these lapping waves that cut horizontal ledges into the valley's sides. As the glacier gradually receded, the water level dropped in three distinct stages, carving the Parallel Roads in descending order.
Discover more about Britain…
Many people stopping at this view already know how the Parallel Roads were created. For those who don't, interpretation boards in the car park explain the geological and historical details. It's no coincidence that there are similar panels at so many famous viewpoints. Landscapes are always being subjected to human interpretation. The Parallel Roads of Glen Roy reveal the extent of that interpretation, from popular legends of galloping kings to scientific theories about lost seas. This Highland valley reflects our natural curiosity about the world around us, our place within it and the stories we create when faced with a mystery.
---
Enjoying this article? We have thousands more for you.
Get immediate access to over 1,000 Geographical magazines in our archive back to 1935.
Sign up today and you will soon be travelling back through time reading all our amazing features of the last eight decades PLUS... you also get to enjoy every new issue of Geographical each month going forward in both print and digital formats.

Simply press the button below to choose the perfect package for you.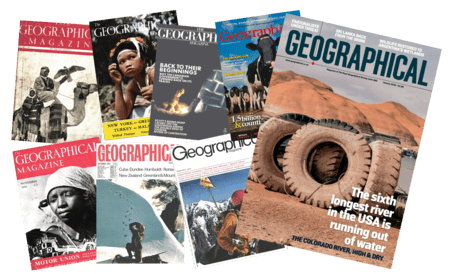 ---
---