Photographer Mario Heller took to the railways to better understand the people and landscapes of Kazakhstan
---
In December 2021, Kazakhstan celebrated the 30th anniversary of its independence from the former Soviet Union. Just before the milestone, photographer Mario Heller took a 7,500-kilometre train journey around the country, spending 225 hours over 17 days on Kazakh railways.
The state railway company is the country's largest employer, with 146,000 employees. However, the railway network is only 16,000 kilometres long – far less than Germany, even though the area of Kazakhstan is the same as that of Western Europe. The majority of the country consists of vast plains, sometimes merging into hills, and almost half is covered by sand or gravel desert. The only mountainous area is in the southeast, where the Tian Shan range runs along the border with China and Kyrgyzstan, and where the snow leopard, Kazakhstan's national animal, lives within spruce forests.
To learn something about the history of the country, Mario talked via a translator to his fellow passengers. These included Marat, who has worked as a conductor for more than 30 years and who talked about his early life in Turkmenistan; 83-year-old Adylet, who gave his opinion on politics: 'Anyone who still mourns the Soviet Union today is out of his mind'; and 52-year-old Mayra, who challenged Mario to an arm wrestling match, which she duly won.
Younger passengers gave their views on the state of Kazakhstan today, taking a more philosophical approach: 'Most of the time, the train runs on time, but every now and then it makes extraordinary stops… It's the same in real life, you should always be ready to stop at the right time, even if it seems an unusual halt,' said Aliya. In some ways, her journey mirrors the rocky 30 years of Kazakhstan's independence, the first of which were especially hard. In 1991, the country's GDP fell by 11 per cent and inflation reached 147 per cent. Between 1992 and 1994, a sharp rise in unemployment saw 1.1 million people leave the country.
Today, Kazakhstan is ruled by an authoritarian regime. Nursultan Nazarbayev, the octogenarian former president who steered Kazakhstan to independence, only resigned in 2019 and still rules in tandem with his handpicked successor, Kassym-Zhomart Tokayev. Rumblings of discontent with the regime have become increasingly apparent in recent years. Mass protests in January 2022 rang with chants of shal ket! ('old man out!'), a phrase referring to both Nazarbayev and the regime at large. But although newcomer Tokayev talks a lot about political reform and has promised a move to democracy, signs so far are distinctly unpromising.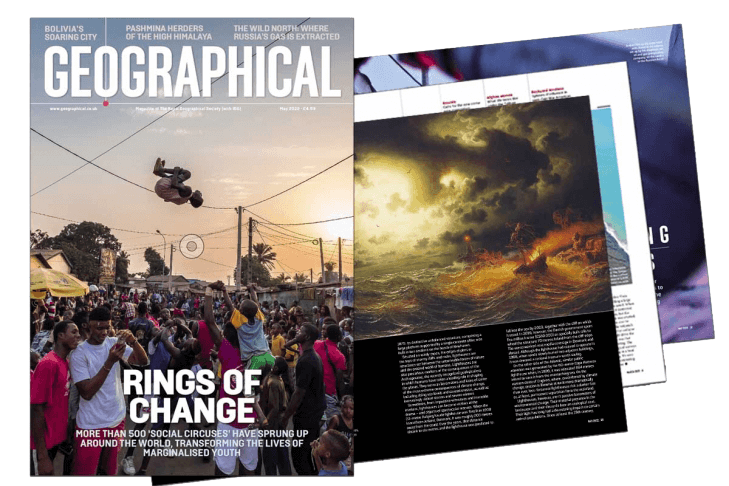 Subscribe to our monthly print magazine!
Subscribe to Geographical today from just £3.40 per month. Our monthly print magazine is packed full of cutting-edge stories and stunning photography, perfect for anyone fascinated by the world, its landscapes, people and cultures. From climate change and the environment, to scientific developments and global health, we cover a huge range of topics that span the globe. Plus, every issue includes book recommendations, infographics, maps and more!