Benedict Allen reflects on a lifelong passion of exploration and asks the question, 'What does it mean to be an explorer in modern times'
---
Review by Joanna Grochowicz
Benedict Allen's Explorer, originally published last year but recently released in paperback, is an ode to exploration in the sense of 'allowing a place to make a mark on you'. It's a modern take on what can seem a rather quaint and outmoded term – explorer – offering a fascinating perspective on a highly eccentric career choice.
Passions and obsessions laid down in childhood are rarely laid to rest. For many, they creep into adulthood as hobbies. Allen's own childhood was spent devouring expedition narratives, reading about explorers, navigators and trailblazers. Unlike many youngsters who dream of embarking on journeys both dangerous and life-affirming, Allen followed through.
A more conventional pathway would see a young enthusiast join somebody else's expedition. Not so Allen, whose disdain for the notion of 'traveller as intruder' and whose desire for knowledge of remote communities saw him not only reject the relative safety and comforts of a support crew and communications, but also eschew sponsorship and brand alliances. His method of approaching in a state of weakness and 'unknowing' may not have been entirely intentional in those early days.
---
Enjoying this article? We have thousands more for you.
Get immediate access to over 1,000 Geographical magazines in our archive back to 1935.
Sign up today and you will soon be travelling back through time reading all our amazing features of the last eight decades PLUS... you also get to enjoy every new issue of Geographical each month going forward in both print and digital formats.

Simply press the button below to choose the perfect package for you.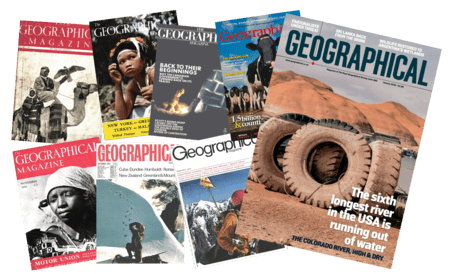 ---
'Well, it's all out of your system now…' Allen's mother offers rather optimistically when her 23-year-old son returns from a 437-kilometre journey through the jungles of South America. She had sent him on his way with bacon and egg sandwiches. What parent doesn't celebrate tenacity of purpose in their offspring? But the terrible condition of her son on his return must have been sobering.
Had he recorded his journey properly, we're told, it may have constituted 'the last geographically significant crossing of the Amazon'. Alas, inexperience, 'the thorns, the vines, their ants', and the young man's own survival got in the way. Two strains of malaria wouldn't have helped either. But it didn't cure him of his obsession.
Later, Allen would travel to Papua New Guinea and take part in what seems to Western eyes a particularly brutal initiation ritual, where severe beatings over six weeks culminate in painful tattooing that leaves the young men with the rough markings of crocodiles. Unsurprisingly, his experiences with the tribe made a mark on Allen both physically and emotionally.
At the book's heart is his return to the Niowra tribe 30 years later with a documentary film crew, ostensibly to offer wheelchair-bound BBC commentator Frank Gardner a chance to fulfil his childhood dream of glimpsing the elusive bird of paradise. For Allen, there's far more at stake.
Unprepared emotionally, he's 'trailed by ghosts'. His best friend is now dead, as are people who had become what amounted to family. Many others seem hellbent on extracting as much as they can from him – money, laptops and watches. The uncomfortable nature of homecoming is palpable.
'Don't forget you are part of their cultural heritage,' says the director of the film crew, who admits to receiving special instructions from BBC bosses to 'break Benedict' and to 'break Frank' in the interests of a more riveting programme.
It hardly seems necessary. There's more than enough drama with Gardner's fragile health and Allen himself experiencing a profound sense of displacement after the years he's spent focusing on being a dad in suburban Twickenham.
Attempting to reconcile his two 'incompatible selves', Allen admits to 'floating along exactly like one of the Niowra dead spirits in their unhappy state, not sure which people or existence I am committed to.'
Of course, blending in was never an outcome he could achieve. 'Everyone knows who you are. You're the white man who was happy to eat the same shit that we ate.'
It's an entertaining read, replete with interesting characters, plenty of genuinely delightful episodes and images that aren't always palatable. There's the 'leathery handshake – it was as if they were wearing gardening gloves'; the face with 'skin layers coming away as do certain types of potatoes when overboiled'; and the quaint image of the 23-year-old idealist being passed like an unravelling parcel from person to person in the Amazon.
At times it can sound a bit Indiana Jones. There are occasional mawkish passages, but the pace never falters and Allen's reflections are genuine and intriguing.
'What we need is for you to express a final compelling sentiment…Try to wrap everything up with an ending,' the Director says. Easier said than done. Allen needs every one of these 270 pages to elucidate what may be the most profound experiences of his life.
Society needs individuals like Benedict Allen – risk takers, those prepared to embrace extreme discomfort, who find 'tramping through the quagmire more compelling than spells of relative ease'. And we need such individuals to write books, so those of us who prefer hardship on the page to 'in the field' can share in the experience while eating our bacon and egg sandwiches.
---