Ed Yong's book An Immense World reveals the peculiar and different ways animals have of perceiving reality
---
Book of the month: An Immense World by Ed Yong
Review by Bryony Cottam
In his 1974 essay 'What is it like to be a bat?', US philosopher Thomas Nagel argued that other animals experience a world that is unlike anything we can experience or describe. Bats, for example, perceive the world through a sense that is utterly foreign to us: echolocation. You could try to imagine what it might be like to be a bat, but it would still only be you, acting like a bat. 'I want to know what it is like for a bat to be a bat,' Nagel wrote. 
In An Immense World, Ed Yong takes us on a tour of our own world as we may never experience it. We learn that the elephant fish uses its electric field to sense its surroundings and communicate with other fish; that bats, dolphins and even humans have evolved echolocation to navigate through darkness; and we find out how turtles read the Earth's magnetic field like a map. These ways of perceiving the world are happening around us all the time; Yong explains how the simple act of clipping a microphone onto a plant covered in tiny, rumbling treehoppers can be an intrepid act of sensory exploration into a hidden world. 'Science-fiction authors like to conjure up parallel universes and alternate realities, where things are similar to this one but slightly different,' he writes. 'Those exist!'
The fact that these other worlds go mostly unnoticed doesn't mean that they're unimportant – we're simply biased by our own senses. To help us better understand their limitations, Yong quickly introduces the concept of 'Umwelt', a term coined by the Baltic–German biologist Jakob Von Uexküll. The literal translation of the German word is 'environment', but Uexküll didn't use it to refer to an animals' actual surroundings, rather to the world that they can sense: their perceptual world. If you picture an animal as a house, then its senses are its windows; they look out onto the world, but never give a full representation of what surrounds it. 
An Immersive World reveals these different windows to us one by one, dedicating a chapter to each, from the most universal chemical senses of smell and taste to sight (arguably our largest window), colour, pain and heat, and on to the mechanical senses – touch, vibration, hearing and echolocation – before finally covering the electric and magnetic senses. This isn't a comprehensive overview; the book also briefly touches on proprioception and equilibrioception, internal senses so important that we take them for granted. Nor is it organised by order of importance. In fact, in his introduction, Yong repeatedly insists that this isn't a book of lists or of league tables. Each sense has its pros and cons. You won't discover which animal has the best sense of smell, an accolade Yong describes as meaningless. 
Instead of asking how good an animal's sense of smell is, Yong says we should be asking how important smell is to that animal. The study of animals has been so influenced by what we experience with our own sensory system, or what we could learn to our advantage, that we have often overlooked what's important for them. 'How much have we missed about an elephant's mind because we've ignored its primary senses?' asks Yong. 
An Immense World covers what are often complex scientific concepts while remaining eminently readable, and weaves in many delightful details from the animal kingdom. Did you know that leopard urine smells like popcorn or that some frogs, when they're stressed, emit a smell similar to curry? That said, Yong is a Pulitzer-winning science journalist and it shows. The book isn't quite as long as it seems at first because a sizable chunk is dedicated to notes and references – 1,085 of them. (I've seen some criticism that the book's many footnotes – there are often two to three per page – break up the narrative, but most contain bonus gems of information, definitely worth having.)
Stay connected with the Geographical newsletter!
In these turbulent times, we're committed to telling expansive stories from across the globe, highlighting the everyday lives of normal but extraordinary people. Stay informed and engaged with Geographical.
Get Geographical's latest news delivered straight to your inbox every Friday!
Finally, Yong arrives at the obvious conclusion: we need to preserve the silence and the dark. Humanity's heavy footprint on the Earth is bombarding our varied landscapes with artificial light and sound, befuddling the organisms that rely on the gentle moonlight to migrate, or the relative quiet of the oceans to communicate. 
Senses are incredible attributes, allowing animals to make sense of the chaotic world around them, transforming it into 'things we can react to and act upon'. But these same senses are liabilities in a changing and increasingly man-made world, says Yong. We still know so little about the behaviours of many animals that we may not understand the consequences of their disappearance until it's too late. And while some species are adapting to these changes, many can't – or at least, not quickly enough.
Latest posts by Bryony Cottam
(see all)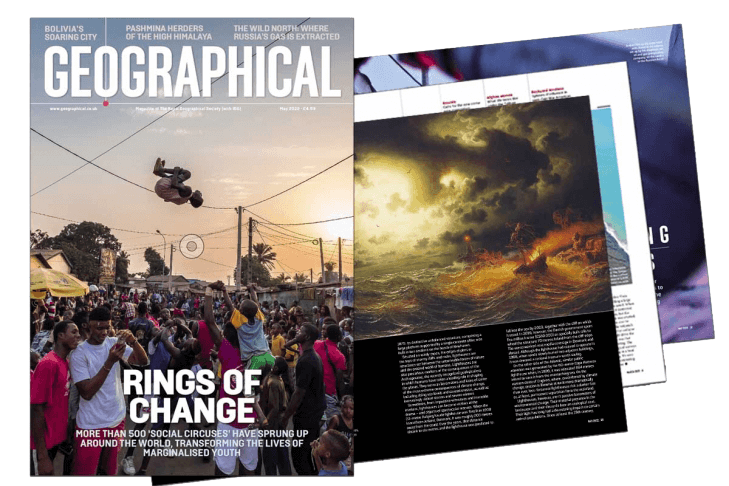 Subscribe to our monthly print magazine!
Subscribe to Geographical today from just £3.40 per month. Our monthly print magazine is packed full of cutting-edge stories and stunning photography, perfect for anyone fascinated by the world, its landscapes, people and cultures. From climate change and the environment, to scientific developments and global health, we cover a huge range of topics that span the globe. Plus, every issue includes book recommendations, infographics, maps and more!