Studying geography at the University of Leeds will provide you will the knowledge and experience to stand out from the crowd – with world-class facilities and academic staff who are actively engaged in cutting-edge research
---
At the School of Geography, our renowned teaching and research is developing future decision-makers and industry leaders. We're conducting pivotal research all over the world – engaging with government, tackling global issues and trying to make a real difference. From working in some of the remotest places on Earth to tackling urban development and cultural change closer to home, our academics are experts in their fields, bringing you closer to the latest research and pressing topics.
At Leeds, we want to offer our students the chance to cultivate their own path, which is why our undergraduate degrees are highly flexible with optional modules that allow you to specialise in either human or physical geography, or choose modules from a mixture of both.
Studying geography at Leeds puts you in the centre of some of England's most exciting landscapes, set in a thriving metropolis surrounded by rolling countryside. With the Yorkshire Dales on your doorstep, the fieldwork opportunities are extensive — with students undertaking field trips locally and internationally too.
All our undergraduate geography courses are accredited by the Royal Geographical Society and are influenced by real-world research, so you'll always be at the cutting edge of geographical discoveries.
At Masters level, we offer opportunities to develop expertise in topics like geographical information systems, urban data science and river basin management, all supported by specialist facilities and research institutes at the university.
---
Why study at Leeds
Undergraduate degrees
Masters degrees
Fieldwork
One of geography's most dynamic aspects is the emphasis it places on 'real world' learning. To really appreciate geography you have to see for yourself how river ecosystems work, or why cities develop as they do.
Our courses give you the opportunity to take part in fieldwork across the world, as part of your degree.
---
Careers and employability
Our close working relationships with a large number of key companies means that, throughout your degree, you'll be exposed to industry and prepared for a career in a professional environment.
Stay connected with the Geographical newsletter!
In these turbulent times, we're committed to telling expansive stories from across the globe, highlighting the everyday lives of normal but extraordinary people. Stay informed and engaged with Geographical.
Get Geographical's latest news delivered straight to your inbox every Friday!
University of Leeds students are among the top five most targeted by top employers according to The Graduate Market 2022, High Fliers Research. Our graduates have secured positions such as:
Programme Assistant, AMREF Health Africa UK
Development and humanitarian worker, World Food Programme
Hydrometry and Telemetry Officer, Environment Agency
Location Planning Analyst, Javelin Group
Service Development Manager, Transport for London

Online taster courses
Join our two-week taster course, Planet Earth: Understanding and Protecting our Environment, which is free to study and delivered via FutureLearn. You will discover the processes of the hydrosphere, the geosphere, and the biosphere and explore the impact of human activity and climate change on our planet. This is a great way to find out what it's like to study these topics at undergraduate level.
---
Meet us
It's the whole student experience you get at Leeds which makes us different. Get involved in research, tailor your course and take advantage of life-changing opportunities. Find out how at our Open Days. 
Contact us
Telephone: 0113 3436719
Email: [email protected]
Twitter: @SoGLeeds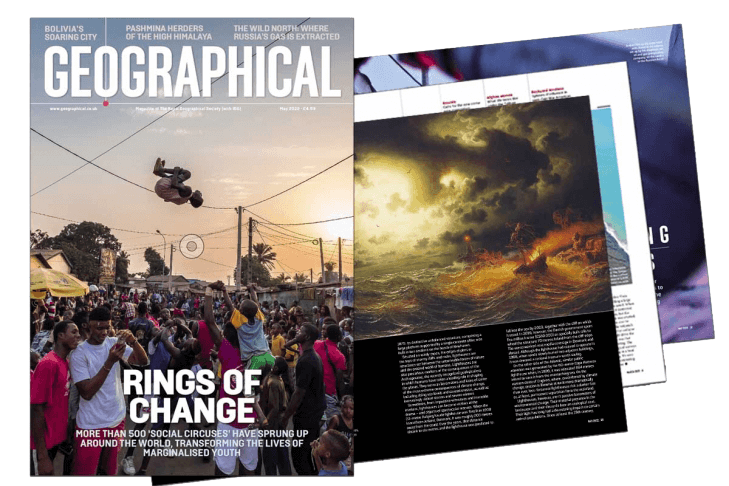 Subscribe to our monthly print magazine!
Subscribe to Geographical today from just £3.40 per month. Our monthly print magazine is packed full of cutting-edge stories and stunning photography, perfect for anyone fascinated by the world, its landscapes, people and cultures. From climate change and the environment, to scientific developments and global health, we cover a huge range of topics that span the globe. Plus, every issue includes book recommendations, infographics, maps and more!