Study Climate Change, Physical Geography, and Environmental Science at Natural Resources Institute, University of Greenwich and learn from researchers responding to real-world problems
---
The National Resources Insititute introduced a NEW Climate Change BSc (Hons) in 2021
If you're passionate about the environment, global warming, food shortages and growing the green economy and want a career that makes a difference in the world, our climate change degree is for you.
Climate change is the defining environmental challenge of our time. Join the climate response by studying a degree that gives you the knowledge and skills you need for a career working to combat the climate emergency.
Our climate change degree is the only one of its kind in the southeast of England and is taught by academics whose research is helping people around the world deal with the effects of climate.
This programme has been designed to give you specialist scientific knowledge of climate change, as well as an understanding of the social, legal and economic issues associated with emission reduction and climate adaptation. You will gain practical skills in carbon accounting, risk assessment and geographic information systems, which will give you a head-start in your career as these are increasingly important as organisations, large and small, make commitments to reduce emissions and are forced to respond to climate impacts.
You will be studying under the guidance of leading experts from our Natural Resources Institute (NRI) at the University's Medway campus. NRI has a long history of addressing global challenges around the world and has won three Queen's Anniversary Prizes for Higher and Further Education for its innovative, environmentally-focused research.
---
Physical Geography & Environmental Science BSc (Hons)
Stay connected with the Geographical newsletter!
In these turbulent times, we're committed to telling expansive stories from across the globe, highlighting the everyday lives of normal but extraordinary people. Stay informed and engaged with Geographical.
Get Geographical's latest news delivered straight to your inbox every Friday!
The Physical Geography and Environmental Science degrees at the University of Greenwich are delivered by the Natural Resources Institute (NRI), a specialist institute with a reputation for international excellence and more than 100 years' expertise and experience in global food security, sustainable development, and poverty reduction.
Our research-informed teaching is delivered by world-leading scientists and practitioners in international development who inspire learning through discovery, sharing and most importantly, the application of knowledge.
Our innovative degrees make the most of the very latest learning strategies and assessment techniques and are designed to provide our fully qualified graduates with all the necessary skills to secure employment. Our graduates can find opportunities in a range of areas, including geographical information systems and remote sensing, conservation, ecology, environmental management and auditing, development and climate change. Some go on to further study (MSc and PhD) or use their degree as a stepping stone to other general science careers or teaching, while others apply the wide range of transferable skills obtained to work in other fields such as marketing, administration, information technology or management.
---
CONTACT
To find out more about our programmes, come and visit the Natural Resources Institute at the University of Greenwich: Natural Resources Institute, University of Greenwich, Central Avenue, Chatham Maritime, Kent ME4 4TB

Tel: +44 (0) 20 8331 9000

Email: [email protected]

Contact the Programme Leader: Physical Geography & Environmental Science Dr Peter Burt ([email protected]) Climate Change Dr Conor Walsh ([email protected])

University Open Days:https://www.gre.ac.uk/events/opendays

University website: www.gre.ac.uk

NRI website: www.nri.org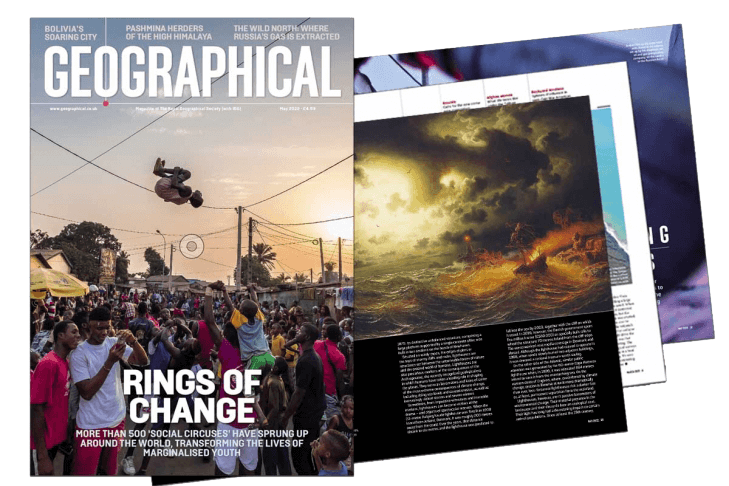 Subscribe to our monthly print magazine!
Subscribe to Geographical today from just £3.40 per month. Our monthly print magazine is packed full of cutting-edge stories and stunning photography, perfect for anyone fascinated by the world, its landscapes, people and cultures. From climate change and the environment, to scientific developments and global health, we cover a huge range of topics that span the globe. Plus, every issue includes book recommendations, infographics, maps and more!