Choose a world-class education and a bright future studying geography at Queen's University Belfast
---
Geography at Queen's provides a diverse and exciting environment to study. The department was established nearly one hundred years ago and has a rich and vibrant history of geographical research and teaching. Building on that longstanding reputation, degree programmes look to the future and equip students to tackle the urgent challenges that we all face.
At Queen's, students are empowered with the advanced knowledge and skills crucial to developing innovative solutions to real-world problems. Geography is embedded in the School of Natural and Built Environment, which has created exciting opportunities to learn from like-minded disciplines such as environmental planning and archaeology.
Available degree programmes:
Learn more about available degrees from Queen's programme director and climate scientist, Dr Donal Mullan:
These programmes are expansive in their scope and include a full range of physical and human geography modules. From year 2, students can pursue their interests in either physical or human options or retain a combination of both. There is also the opportunity to take one module in a related subject outside the programmes.
What do final year students think?
---
Geography degree highlights
Fieldwork
In the second year, students are offered a choice of three popular residential field trips to Mallorca, Malta or Belgium. Led by our passionate and engaging staff, these trips are always a highlight of the overall student experience. Local fieldwork is also built into many optional modules across the degree programmes.
Study abroad opportunities
There are many exciting opportunities to study abroad, with options to spend one semester or one academic year in continental Europe, USA, Canada or Australia. There is also the chance to undertake a three-week summer school at one of a number of leading Chinese Universities.
Excellent facilities
The Geography building houses a modern lecture theatre, a number of adaptable classrooms, the Centre for GIS and Geomatics, a Map Library, a scientific laboratory for analysing water and sediment samples, and a student resource room. Queen's University also provides a unique and beautiful campus, including a new state-of-the-art library and Student's Union. Studying in the rejuvenated city of Belfast brings its own rewards, and benefits from good flight connections to major UK cities and towns, along with highly competitive student accommodation and living expenses.
---
What about jobs?
Queen's equips students for employment. In recent years, the geography department has developed two year-long employment-based modules. The first is offered in second year and is designed to help student successfully navigate the graduate jobs market. It draws on the university's expertise and industry links, as well as from graduate students and the university's excellent careers service. The second is offered in third year and places teams of students with a range of partner organisations such as Belfast City Council, Belfast Hills Partnership and Habitat for Humanity. Each team works on a project developed with the partner organisation that utilises their geographical skills and knowledge to produce creative and practical products and solutions.
Stay connected with the Geographical newsletter!
In these turbulent times, we're committed to telling expansive stories from across the globe, highlighting the everyday lives of normal but extraordinary people. Stay informed and engaged with Geographical.
Get Geographical's latest news delivered straight to your inbox every Friday!
Graduates have an excellent track record of securing employment, in line with geography students nationally. Many go on to secure graduate level jobs that draw on the knowledge skills acquired over the degree programme. Students will benefit from meeting some of these high-flying graduates during the second-year employment module.
---
Contact
For full details of the programmes available and the benefits of studying in Belfast, visit Queen's University Belfast landing page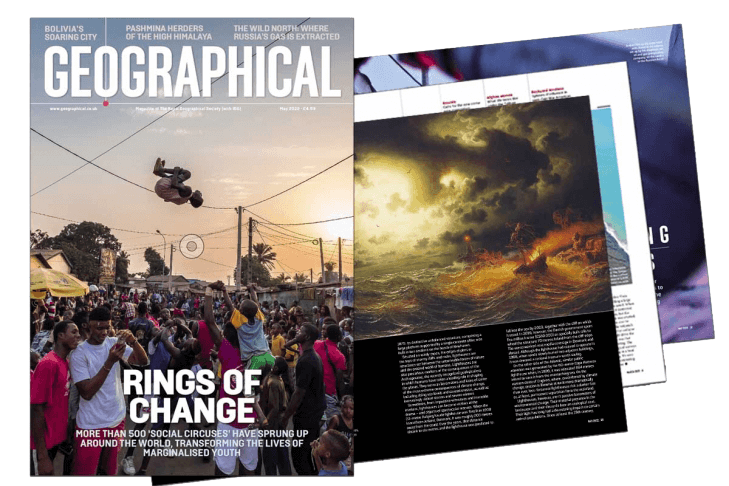 Subscribe to our monthly print magazine!
Subscribe to Geographical today from just £3.40 per month. Our monthly print magazine is packed full of cutting-edge stories and stunning photography, perfect for anyone fascinated by the world, its landscapes, people and cultures. From climate change and the environment, to scientific developments and global health, we cover a huge range of topics that span the globe. Plus, every issue includes book recommendations, infographics, maps and more!